Tutorial
groovyPost.com - The premier source for tech news, tips, reviews and the best how to galleries on the internet.
Cork Tile Accent Wall (00:01:14) To dress up her living room, a homeowner installs a cork tile accent wall. Power-Outage Light Kit (00:01:15) Installing a power-outage light kit helps homeowners in emergencies. Under-Rug Heating Pad (00:01:06) A rug heating pad helps warm a drafty bedroom and keeps toes toasty. Slide Lid Shed Adds Storage (00:01:11) A homeowner adds extra storage to the backyard with a sturdy slid lid shed.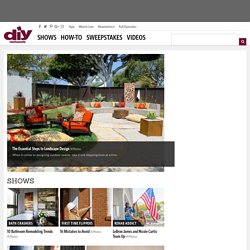 How To Make A Bridesmaid Paper Flower Hair Accessory Make your wedding budget go further by making your own beautiful paper flower hairpieces for your bridesmaids. In this e... Digital Photography Tips: Exposure, Shutter Speed And Aperture These digital photography tips give you a guide to the exposure, shutter speed and aperture of your digital camera. It ... London: 5 Best Shopping Areas London is a shopper's heaven, offering everything from world-famous department stores, to quirky street stalls, to speci...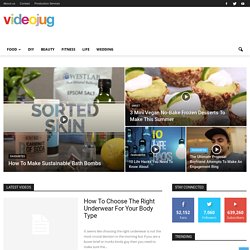 SQL (Structured Query Language) is a computer language aimed to store, manipulate, and query data stored in relational databases. The first incarnation of SQL appeared in 1974, when a group in IBM developed the first prototype of a relational database. The first commercial relational database was released by Relational Software (later becoming Oracle). Standards for SQL exist. However, the SQL that can be used on each one of the major RDBMS today is in different flavors.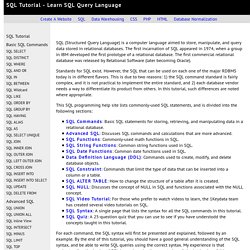 Online Web Tutorials - Free Online Web Tutorials