Travel
Tokyo: 10 Things to Do — 10. Daimaru's Kimono and Yukata. Most departing visitors leave town from Tokyo Station.
Before you go, check out the Daimaru department store next door — just outside the station's Yaesu entrance. The kimono shop on the 10th floor is not geared to tourists; it's where Japanese ladies come to order custom-made ensembles. The samples on display, and the price tags attached, will take your breath away. Tokyo trivia: 40 facts to wow your mind. Think you know this city?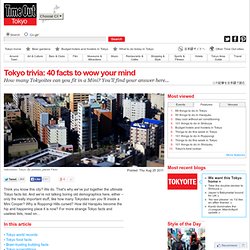 We do. That's why we've put together the ultimate Tokyo facts list. And we're not talking boring old demographics here, either – only the really important stuff, like how many Tokyoites can you fit inside a Mini Cooper? What to tip your waiter (almost) everywhere in the world. Plnnr - plan the perfect trip, automatically!
---