Travel
Tokyo: 10 Things to Do — 10. Daimaru's Kimono and Yukata
Most departing visitors leave town from Tokyo Station. Before you go, check out the Daimaru department store next door — just outside the station's Yaesu entrance. The kimono shop on the 10th floor is not geared to tourists; it's where Japanese ladies come to order custom-made ensembles. The samples on display, and the price tags attached, will take your breath away.
Tokyo trivia: 40 facts to wow your mind
Think you know this city?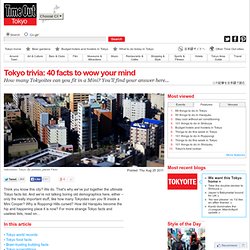 What to tip your waiter (almost) everywhere in the world