Things to Make this Winter
Shelf Elves. Total Time 1 hour Ages school-age When Christmastime arrives, Prep & Landing elves spring into action.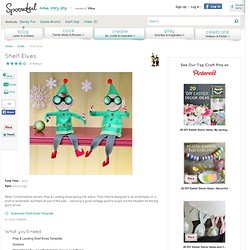 True, they're designed to sit comfortably on a shelf or windowsill, but that's all part of the plan -- securing a good vantage point to scope out the situation for the big guy's arrival. Clay Christmas Decorations. My Backyard Monsters - Free Crochet Minion Amigurumi Pattern! ♥ Petals to Picots: Crochet Your Way to a Beautiful Centerpiece – Free Ball Pattern Included. Mother's Day is coming and I want a bright and cheery centerpiece to adorn my dining table … something colorful and perfect to keep on the table for Spring and Summer.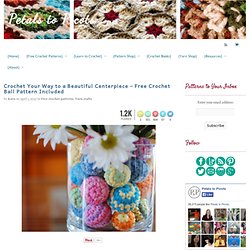 Why not a crocheted centerpiece! I had an idea … so, off to my local yarn shop for some Lily Sugar 'n Cream cotton yarn. After a little brainstorming and experimentation, I finally came up with something I love!! CROCHET PATTERN PDF Crochet Flapper Hat with by sarahndipities. <div id="javascript-nag" class="notice"><p> Take full advantage of our site features by enabling JavaScript.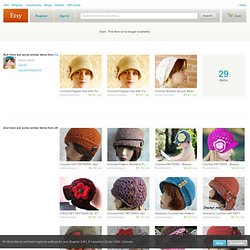 <a href=" more</a>. </p></div> Help Etsy. PATTERN Oversized Hooded Infinity Scarf Cowl by WellRavelled. ***INSTRUCTIONS TO MAKE YOUR OWN COWL only!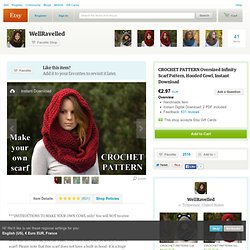 You will NOT receive anything in the mail. ****INSTANT DIGITAL DOWNLOAD* With this DIY tutorial, you can make your own soft, cozy, beautiful hooded scarf! Please note that this scarf does not have a built-in hood- it is a huge scarf that can be pulled up to function as a hood. About.com: Kristen's ruffly felt wreath. Continuing with the fluffy holiday craft theme is this beautiful wreath project from the talented blogger behind domestifluff (i love that name), kristen. inspired by a rosette pillow tutorial on etsy, kristen decided to create her own version for a wreath. though there was "much felt circle cutting involved" kristen loved the outcome, and the fact that it can be used year round. of course, if you want to make it more holiday specific you can choose alternate colors to use- but i love kristen's snowy white version. if you've got a cold "stuck inside" day on your hands, this will be a great one to with friends or family. thanks so much to kristen for sharing!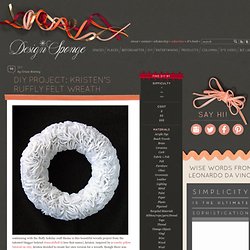 CLICK HERE for the full how-to after the jump! Ruffly felt wreath from Kristen at Domestifluff What you'll need for the wreath:
---