Teaching resources
AQA Maths Resource Zone
Specification finder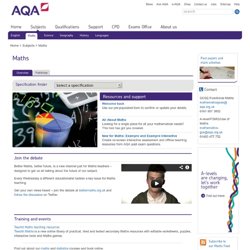 EVLM Central Portal
You are here: Home → Curriculum reviews → Free materials I will try to collect here a list of free or cheap math curriculum resources.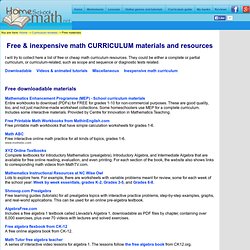 Free & inexpensive math curriculum materials: workbooks, ebooks, downloads, videos, tutorials, and more. - Nightly
Free Online Graph Paper / Grid Paper PDFs Downloadable and very printable, I find these PDFs extremely useful. Tip number one! Though I do return the correct header for a PDF, sometimes Explorer gets confused when downloading...
Maths - Nightly
MathSphere Ltd P.O. Box 7533 Weymouth DT4 4FP tel: 01273 782 786 fax: 01273 785 550 MathSphere Free Resources for children aged 5 to 11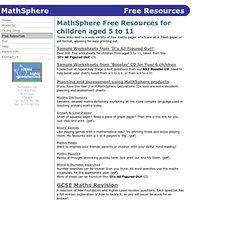 MathSphere - Resources
MathsNet.net
Teachnet UK-Mathematics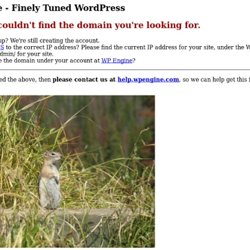 WP Engine - Finely Tuned WordPress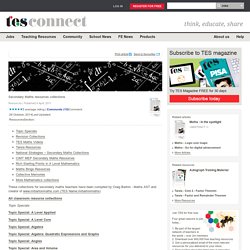 Skip to main content TES the largest network of teachers in the world Jobs
Secondary Maths resources collections
TSM Resources
Transum
MrBartonMaths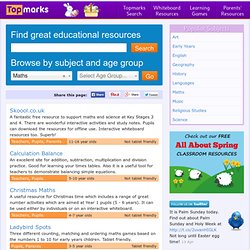 Skoool.co.uk
Mathematics - Topmarks Search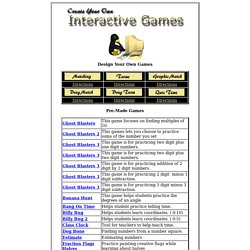 Design Your Own Games Pre-Made Games Matching Game Directions - In this game you can match up words. You have two columns to work in . Type in your words in the first column and the matching words in the second column. You should have at least 8 pairs of words.
Math Powerpoint Presentations
P owerpoint presentations for math - Free Math PowerPoint presentations and Math teacher resources for K-12 Keystage KS and post 16 A level lessonplans, and more. Use and alter these powerpoint presentations freely or any power point template used in this presentations site for other teachers. If you have any powerpoints then please consider submitting them for other teachers to download too. It's all about sharing and helping others. Need a free powerpoint viewer.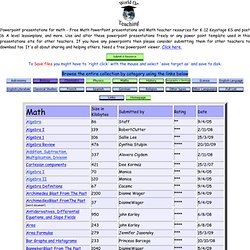 MyMaths.co.uk - Integrate
Maths Links