Public Domain Images
Public Domain High Resolution Images. High-Res Public Domain Children's Images — Public Domain High Resolution Images. "Imagine yourselves, my dear readers, seated on a wild winter night in a Silesian hut in the Riesengebirge, several thousand feet higher than the surrounding valleys, with snow, fathoms deep, everywhere.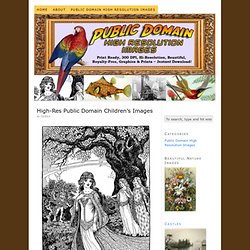 The wild storm rages through the desolate mountains. Within, however, everything is warm and comfortable, and as the matrons and maidens busily spin, in fancy, you can listen with pleasure to their tales of the mighty Mountain Lord." How's that for a set up? Old Book Art. Welcome to » Old Book Illustrations: pictures scanned from old books.
Public Domain Images. WELCOME!
:: You have arrived at the main page for my public domain images. On the following pages you will find hundreds of beautiful images gleaned from my collection of old books, magazines, and postcards. They are all from material printed prior to 1923 and are in the public domain. FREE IMAGES :: You don't have to buy any of the images here; they are all free. However, a few are available at a higher resolution for purchase. Liam's Pictures from Old Books.
---