T-shirt Design
OPEN THEME SEPTEMBER 1 | Springleap.com
The Springleap Creative Blog Welcome to the Springleap Creative Blog! This is where you'll find great design tutorials, blogs and comments from members, as well as articles and interviews on designers and creatives from around the globe. Most importantly, our Creative Blog is a space where we can connect, share, reflect and learn. You will find 6 areas - Everything (all the areas mashed up), Blog (blogs, questions and insights from other Springleapers), Springleap Posts (that's blogs from the Springleap Team and community announcements), Press (Springleap appearing in the Press), Creative Comments (an aggregation of comments being made on designs and work submitted across the site) and Interviews (we interview the winners and other amazing designers we respect).
Tee Fury $5 Grab Bag
Robots In Disguise T-shirt
Tee Madness 2011 - Presented by: IAMTHETREND, Blue Tide Productions, Big Cartel, Threadbird, Sticker Mule, and Full Bleed
Run .Free T-shirt
Regan Smith Clarke: Always Real
Paani Puri T-shirts
Weapon is not a toy, War is Not a Game T-shirt
I constantly hear people with T-shirt brands that sell online complain about the lack of traffic to their site/blog. Whether you're just starting out or have been at the game for a while, the following tips will definitely help alleviate that problem. But remember… its not just a one time fix. The following solutions will take up some of your time, but the rewards will be huge.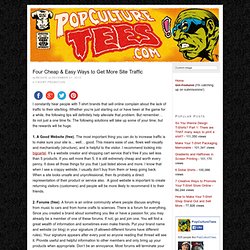 Four Cheap & Easy Ways to Get More Site Traffic | Pop Culture Tees
165547_472769734753_126327394753_5393768_3106645_n
BeastPop ArtWorks
PLEASE DON'T _______ THE WILDLIFE | Tilteed.com - New & Cool Graphic Art T-Shirts every 72 hours!
EXPANSION HOODIE | Tilteed.com - New & Cool Graphic Art T-Shirts every 72 hours!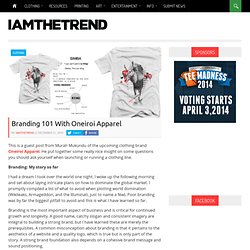 This is a guest post from Murah Mukundu of the upcoming clothing brand Oneiroi Apparel . He put together some really nice insight on some questions you should ask yourself when launching or running a clothing line. Branding: My story so far I had a dream I took over the world one night.
Branding 101 With Oneiroi Apparel
Serenity Sake: Sake Glass (Pair)
Day of the Shirt: daily t-shirt sales
Photos de Shirtoid - Photos du mur
SOLD OUT----------To celebrate Ugmonk's 2nd Anniversary we've created this special Limited Edition Ugmonk Collector's Set. Only 200 of these sets ever made!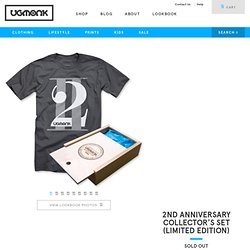 2ND ANNIVERSARY COLLECTOR'S SET<BR>LIMITED EDITION
The Inner Workings Of A Maniac T-Shirt | Best T-Shirts Ever - TShirt Reviews Blog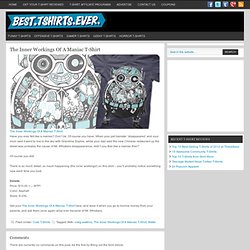 By Dave on November 26, 2010 The Inner Workings Of A Maniac T-Shirt Have you ever felt like a maniac? Don't lie. Of course you have. When your pet hamster 'disappeared' and your mum said it went to live in the sky with Grandma Sophie, while your dad said the new Chinese restaurant up the street was probably the cause of Mr.
New And Limited Edition T-Shirts Released Daily
Ind-One-Sia at my tee Oleh yuliana - Proudly Present Indonesia | GantiBaju
yuka kharisma | , ID | Pop
kOMik | kendari, ID | Alternative
The 5 Pillars of Social Media Marketing | Smedio | The New Media and Social Web Guide for Business and Marketers
Are you allocating budget to Social Media Marketing in 2011? Are you wondering how to boost your social media marketing success? While keeping up with Social Media Marketing Skills demands a lot from your organization, here are excellent tips that will help your business succeed. The other day, I listened to some great tips on LinkedIn, answering the following interesting question: "Social Media Marketing – In-house or Outsource?". I have read all answers and grouped them into five categories that could support your Social Media Marketing Success: Time and Money, Clear Goals, Skills, Engagement, Part of Total Business
Radiohead - All I Need (Alvinissimo Remix) by Alvin Bahar
Lihat Semua - Proudly Present Indonesia | GantiBaju
Kaos Terlaris ! Rekomendasi 5 kaos terlaris minggu ini di gantibaju.com khusus buat kamu. Tee Talk Komentar terbaru dari kaos-kaos yang dijual di gantibaju.com "Mau!
Tron: Legacy 'didn't tank', is the #1 movie in the USA | HIPSTER RUNOFF | THE ALT REPORT
Tron: Legacy is some new Disney movie abt electro, computer games, robots, 3d, and other weird crap that people who drink Mountain Dew would like. However, it seems like Disney did a 'good enough job' of marketing the new Tron movie in order 2 make ppl go see it so it was #1 at the box office. Tron Legacy raked in an estimated $43.6 million on approximately 5,600 screens at 3,451 locations Wonder if Daft Punk made 'the right decision' by co-branding themselves with this movie.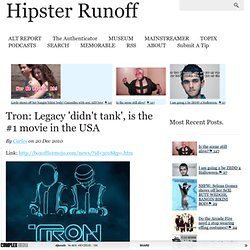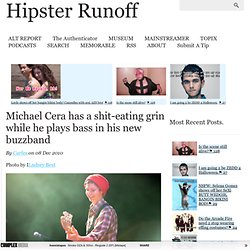 I'm Mikey Cera! I'm in a buzzband! Yay! Look at me so proud shit eating grin Glad I took bass lessons Bc I don't just want to be an indie actor I want to be in an indie bzzbnd I want 2 be happie Playing relevant music Maybe I can get a 10.0 if I go solo But right now I'm 'paying my dues' having 'fun' before I get ahead of myself and go after AnCo/Kanye status. Playing sweet riffs on my bass Just like I played Ellen Page's pussie in Juno I'm so smooth (in a quirky awkward way) Wearing a red beanie [via Team Zissou]
Michael Cera has a shit-eating grin while he plays bass in his new buzzband | HIPSTER RUNOFF | THE ALT REPORT
Tumblr Trends — Darth Vader checks his email on a Mac. 
Microsoft launches HTML5 Labs for developers
Microsoft has launched HTML5 Labs – aiming to give developers a 'stable foundation' to build applications for IE9. The arrival of the latest Internet Explorer this year marked a significant move from Microsoft as it looked to arrest the decline of its browser.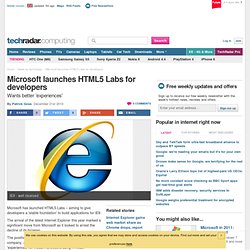 With thriving Asian economies barely skipping a beat during the latest financial crisis, the region has emerged as the single biggest opportunity for travel marketers. And much of that opportunity lies in the digital space. In the past we've faced the challenge of tailoring our marketing efforts to the nuances of different Asian markets. When it comes to digital, we need to be even more careful to not treat Asia as a homogenous lump. Rules of Engagement Overall, Asian netizens are highly active:
Digital Asia: Cultural differences and localising your brand | Sixth Sense
As-I-Lay-Me-Down
SgrStk Apparel Release Tee To Help Friend in Need