March 2012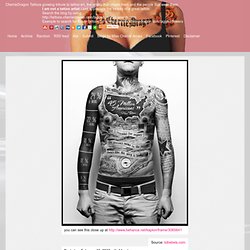 Tattoos - you can see this close up...
CherrieDragon Tattoos growing tribute to tattoo art, the artists that create them and the people that wear them.I am not a tattoo artist I just appreciate the beauty of a great tattoo. Search the blog by using http://tattoos.cherriedragon.com/tagged/ + your search term Example to search for flower tattoos go to http://tattoos.cherriedragon.com/tagged/flowers you can see this close up at http://www.behance.net/kaplon/frame/3065641 Source: bitrebels.com Posted on February 15, 2012 with 14 notes.Tagged with tattoos, tattooed, tattoo, infographic, awesome, .
How Ghana Is Using Social Media to Promote Voter Registration
Ghana's general elections are coming up this December, and to help streamline the voter registration process, the country is now implementing its first-ever biometric voter registration — in other words, using fingerprint technology to help verify identity. Ghana is also using social media to publicize the process, correct misconceptions and increase overall attention about the upcoming elections. The non-partisan project Ghana Decides, launched on March 24, "aims to foster a better informed electorate for free, fair and safe 2012 Elections using online social media tools." It's an initiative under GhanaBlogging, which itself is a membership-based platform to connect bloggers both in and outside of Ghana who write about the country. Getting potential voters to participate in the high-tech fingerprint scanning technology is a huge initiative for Ghana, and it's costing the country $45 million.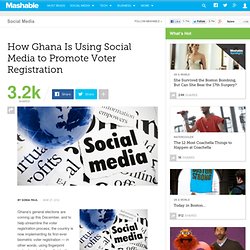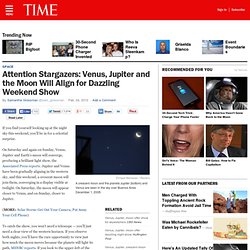 Venus, Jupiter and the Moon to Align for Dazzling Weekend Show
If you find yourself looking up at the night sky this weekend, you'll be in for a celestial surprise. On Saturday and again on Sunday, Venus, Jupiter and Earth's moon will converge, producing a brilliant light show, the Associated Press reports. Jupiter and Venus have been gradually aligning in the western sky, and this weekend, a crescent moon will join them, converging in a display visible at twilight. On Saturday, the moon will appear closer to Venus, and on Sunday, closer to Jupiter.
Lulu's Life
Navy pushing program to recruit more minority SEALs
In nature, most seals are black, with relatively few white ones. The Navy's SEALs have exactly the opposite problem – they're overwhelmingly white, with hardly any blacks. So they're trying to do something about it. It's a fundamental challenge in a democracy with an all-volunteer force: recruits may be drawn from all segments of society, but elite military units – and none is more elite these days than the SEALs, following their dispatch of Osama bin Laden last May – tend to draw from small pools of talent.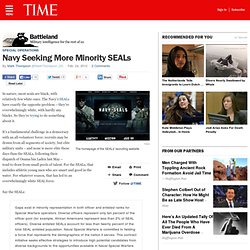 PRICK Magazine - Tattoos - Tattoo, Piercing, and Music Lifestyle Magazine
Landmark Pa. Catholic Church abuse trial begins
Catholic Monsignor William Lynn leaves Philadelphia Criminal Justice Center for a lunch break on March 26, 2012 in Philadelphia during his trial on covering up pedophile abuses. STAN HONDA/AFP/Getty Images (AP) PHILADELPHIA - A landmark church sex abuse case that rocked the Roman Catholic Church went to trial Monday, marking the first time a U.S. church official faced a jury on allegations he endangered the welfare of children by covering for predator priests inside the Archdiocese of Philadelphia. The high-ranking monsignor who's on trial "won't run" from the Catholic Church's sex abuse crisis, his lawyer said as the landmark child endangerment trial began. Monsignor William Lynn supervised more than 800 priests as the secretary for clergy in Philadelphia from 1992 to 2004. He's the first U.S. church official charged over his handling of abuse complaints.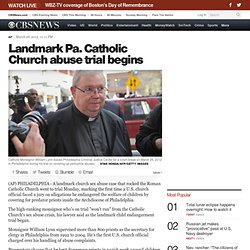 Apple, Google, And Others Agree To Mobile App Privacy Policy Guidelines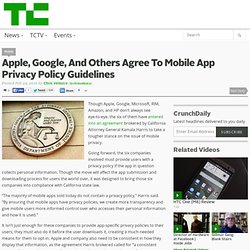 Though Apple, Google, Microsoft, RIM, Amazon, and HP don't always see eye-to-eye, the six of them have entered into an agreement brokered by California Attorney General Kamala Harris to take a tougher stance on the issue of mobile privacy. Going forward, the six companies involved must provide users with a privacy policy if the app in question collects personal information. Though the move will affect the app submission and downloading process for users the world over, it was designed to bring those six companies into compliance with California state law. "The majority of mobile apps sold today do not contain a privacy policy," Harris said. "By ensuring that mobile apps have privacy policies, we create more transparency and give mobile users more informed control over who accesses their personal information and how it is used."
<span style="font-weight:bold;font-size:85%;"> Your browser does not support JavaScript or it is disabled. </span> Not too long ago, most Americans associated tattoos with sailors, bikers and sideshow artists. But tattoos have become more popular in recent years, and the people who get them are as diverse as the styles and designs they choose.
How Tattoos Work"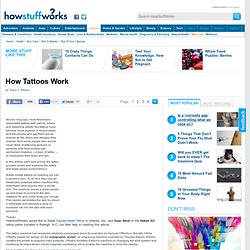 PETA's iconic "Ink, Not Mink" campaign has recruited a long list of fur-free celebrities whose sleeves will always made of ink—and never covered in mink. Check out the tatted stars who know that engraving skin is always better than putting animals in graves for their skin. Dave Navarro Chris Andersen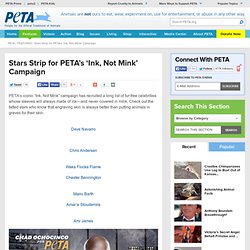 Stars Strip for PETA's 'Ink, Not Mink' Campaign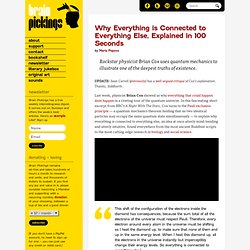 by Maria Popova Rockstar physicist Brian Cox uses quantum mechanics to illustrate one of the deepest truths of existence. UPDATE: Sean Carroll (previously) has a well-argued critique of Cox's explanation. Thanks, Siddharth. Last week, physicist Brian Cox showed us why everything that could happen does happen in a riveting tour of the quantum universe.
Why Everything is Connected to Everything Else, Explained in 100 Seconds
Ashley @ Woman's Center
hide captionPeople march demanding labels for genetically modified food near the White House in Washington, D.C., on Oct. 16, 2011. Ren Haijun/Xinhua /Landov People march demanding labels for genetically modified food near the White House in Washington, D.C., on Oct. 16, 2011.
Activists Say Americans Support Labeling Genetically Modified Food : The Salt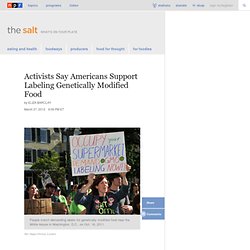 Spring Photos
Urban development: Remember opportunity costs
Ben Smith got the first look at some internal National Organization for Marriage docs released during the discovery process of NOM and American Principles in Action v. Walter McKee. NOM's 2008-2009 board update is one of those items that takes an obvious strategy and puts it in even-more-obvious color.
"The Strategic Goal of This Project is to Drive a Wedge Between Gays and Blacks"
COLOURlovin' fun
'Ghost Ship' from Japan Tsunami Floating Off Canada's Coast
Experts knew debris from the Japanese tsunami would meander toward North America's west coast at some point. While smaller bits and pieces started hitting the shores of Western Canada this year, the first major item, a 150-foot squid-fishing boat, now bobs in the Pacific Ocean about 120 nautical miles off British Columbia's north coast, near Haida Gwaii island. The ship has drifted across the Pacific for about a year, ever since the March 2011 tsunami in Japan sent it out to the open ocean. Now beat up, but still afloat, the "ghost ship" creeps closer to the shore while officials remain uncertain of what to do with it, having now watched it since it was discovered by an aircraft conducting routine surveillance last week. (PHOTOS: After the Storm: Post-Tsunami Japan)
LIFE.com: Old-school LIFE photograph...
Controversy ensued after the Beis Rivkah all-girl high school in Brooklyn, N.Y., pulled from class every 11th grade student who used Facebook and handed them a written ultimatum: delete their accounts from the social networking site and pay $100 to the school, or be expelled, community website CrownHeights.info reports. A school official, who wished to remain anonymous, says that the Facebook crackdown was to restore a level of Tznius -- the Jewish Orthodox code of modesty -- which they claim was on the decline because girls were using the site. Jewish newspaper the Algemeiner spoke to several students about the incident, all of whom requested to remain anonymous, saying the school felt Facebook wasn't compatible with their moral code.
Brooklyn High School Fines Students $100 For Using Facebook, Threatens Expulsion If They Don't Stop
Since we all need a little more connection to our cell phones and other electronic gadgetry, Nokia has developed a plan to send phone alerts right to our bodies. In an application filed with the U.S. patent office, Nokia has plans for a magnetic vibrating tattoo. The device has "material attachable to skin" and can pick up a signal from a magnetic field and then transmit that signal to a person by vibrating the device, right on their skin.
Vibrating Tattoo Could Send Text Alerts Straight to Your Skin
Cherry Blossoms Photos, Cherry Trees Wallpaper, Download, Photos -- National Geographic
3 Words That Guarantee Failure
Kony 2012: Fights, Mobs, Takedowns and Meltdowns, but Very Little Truth
New Pinterest Profiles Debut: See The Changes (PICTURES)
Gay Pride at Military Academies: Norwich University, West Point Holding Gay Pride Week Events
Ethics and Social Media: Where Should You Draw The Line?
Music: She has sang back up for @...
"12 Different Types of Hangovers" by Alex Watt
Drinking Vodka Makes You Talk More Better
Ireland
Publications MTV Studies Millennials In The Workplace: Uses It To Transform Its Own, Maybe Even Yours 03/15
Does Obama's Online 'Consumer Privacy Bill of Rights' Get the Job Done?
10 Reasons Pinterest Booked 10 Million Visitors a Month So Fast
An ancient ocean on Mars, space buckyballs and a star's near-death experience – in pictures | A month in space, February 2012 | Science
5.9-magnitude earthquake strikes southern Taiwan
Facebook Profile Full Of Friends Can Indicate Job Success: Study
Ashley @ Davis Graduate
Zynga's Purchase of Draw Something? 'It's Going To Be Drawsome'