Ashley's Analysis
Motivation. Consciousness. Representation of consciousness from the seventeenth century.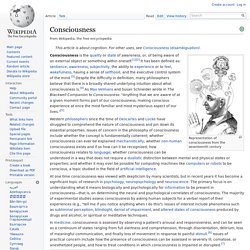 At one time consciousness was viewed with skepticism by many scientists, but in recent years it has become a significant topic of research in psychology, neuropsychology and neuroscience. The primary focus is on understanding what it means biologically and psychologically for information to be present in consciousness—that is, on determining the neural and psychological correlates of consciousness. The majority of experimental studies assess consciousness by asking human subjects for a verbal report of their experiences (e.g., "tell me if you notice anything when I do this").
Issues of interest include phenomena such as subliminal perception, blindsight, denial of impairment, and altered states of consciousness produced by drugs and alcohol, or spiritual or meditative techniques. Etymology and early history[edit] Self-esteem. Self-esteem is a disposition that a person has which represents their judgments of their own worthiness.[5] In the mid-1960s, Morris Rosenberg and social-learning theorists defined self-esteem as a personal worth or worthiness.[6] Nathaniel Branden in 1969 defined self-esteem as "the experience of being competent to cope with the basic challenges of life and being worthy of happiness.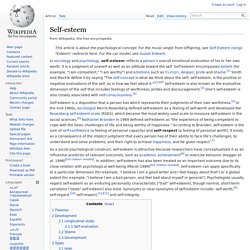 " According to Branden, self-esteem is the sum of self-confidence (a feeling of personal capacity) and self-respect (a feeling of personal worth). It exists as a consequence of the implicit judgment that every person has of their ability to face life's challenges, to understand and solve problems, and their right to achieve happiness, and be given respect.[7] Information processing theory. The information processing theory approach to the study of cognitive development evolved out of the American experimental tradition in psychology.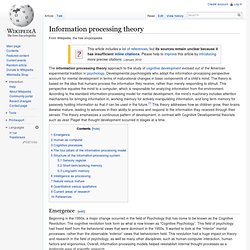 Developmental psychologists who adopt the information-processing perspective account for mental development in terms of maturational changes in basic components of a child's mind. The theory is based on the idea that humans process the information they receive, rather than merely responding to stimuli. This perspective equates the mind to a computer, which is responsible for analyzing information from the environment. Cognitive-Blooms. Sundberg-learning-theories. Types%20of%20Intelligence. Learning. Systems of Instruction. Conditioning. Motivation and Memory. Long-Term Memory. Memory. Myers-Briggs. Carl Jung in 1910.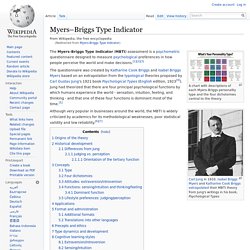 Myers and Briggs extrapolated their MBTI theory from Jung's writings in his book Psychological Types A chart with descriptions of each Myers-Briggs personality type and the four dichotomies central to the theory. The Myers-Briggs Type Indicator (MBTI) assessment is a psychometric questionnaire designed to measure psychological preferences in how people perceive the world and make decisions.[1]:1 These preferences were extrapolated from the typological theories proposed by Carl Gustav Jung and first published in his 1921 book Psychological Types (English edition, 1923[2]).
---