Ashley's Analysis
Representation of consciousness from the seventeenth century. Consciousness is the quality or state of being aware of an external object or something within oneself. [ 1 ] [ 2 ] It has been defined as: subjectivity , awareness , sentience , the ability to experience or to feel , wakefulness, having a sense of selfhood , and the executive control system of the mind. [ 3 ] Despite the difficulty in definition, many philosophers believe that there is a broadly shared underlying intuition about what consciousness is. [ 4 ] As Max Velmans and Susan Schneider wrote in The Blackwell Companion to Consciousness : "Anything that we are aware of at a given moment forms part of our consciousness, making conscious experience at once the most familiar and most mysterious aspect of our lives." [ 5 ] Philosophers since the time of Descartes and Locke have struggled to comprehend the nature of consciousness and pin down its essential properties.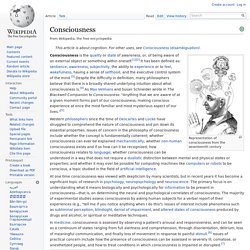 Self-esteem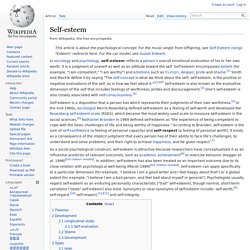 Self-esteem is a term used in psychology to reflect a person 's overall emotional evaluation of his or her own worth. It is a judgement of oneself as well as an attitude toward the self. Self-esteem encompasses beliefs (for example, "I am competent", "I am worthy") and emotions such as triumph, despair , pride and shame . [ 1 ] Smith and Mackie define it by saying "The self-concept is what we think about the self; self-esteem, is the positive or negative evaluations of the self, as in how we feel about it." [ 2 ] Self-esteem is also known as the evaluative dimension of the self that includes feelings of worthiness, prides and discouragement. [ 3 ] One's self-esteem is also closely associated with self-consciousness . [ 4 ] . The four types of behaviors of self-esteem are: disclosure, seeking acceptance, engaging in a pastime, and introspection. [ 5 ]
The information processing theory approach to the study of cognitive development evolved out of the American experimental tradition in psychology . Developmental psychologists who adopt the information-processing perspective account for mental development in terms of maturational changes in basic components of a child's mind. The theory is based on the idea that humans process the information they receive, rather than merely responding to stimuli. This perspective equates the mind to a computer, which is responsible for analyzing information from the environment.
Information processing theory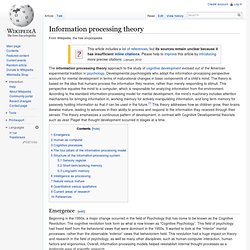 cognitive-Blooms
sundberg-learning-theories
Types%20of%20Intelligence
Learning
Systems of Instruction
Conditioning
Motivation and Memory
Long-Term Memory
Memory
Carl Jung in 1910. Myers and Briggs extrapolated their MBTI theory from Jung's writings in his book Psychological Types . The Myers-Briggs Type Indicator ( MBTI ) assessment is a psychometric questionnaire designed to measure psychological preferences in how people perceive the world and make decisions. [ 1 ] :1 These preferences were extrapolated from the typological theories proposed by Carl Gustav Jung and first published in his 1921 book Psychological Types (English edition, 1923 [ 2 ] ). Jung theorized that there are four principal psychological functions by which we experience the world: sensation, intuition, feeling, and thinking. [ 3 ] One of these four functions is dominant most of the time.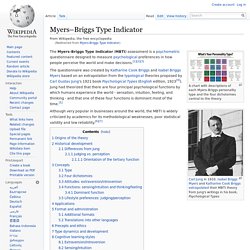 MyersBriggs Chart