Wikipedia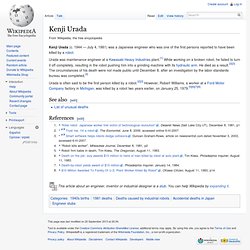 Kenji Urada
Kenji Urada (c. 1944 — July 4, 1981) was a Japanese engineer who was one of the first persons reported to have been killed by a robot. Urada was maintenance engineer at a Kawasaki Heavy Industries plant.[1] While working on a broken robot, he failed to turn it off completely, resulting in the robot pushing him into a grinding machine with its hydraulic arm. He died as a result.[2][3] The circumstances of his death were not made public until December 8, after an investigation by the labor standards bureau was completed.[4]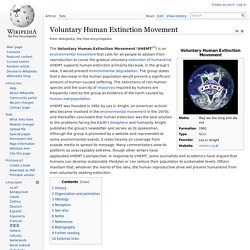 The Voluntary Human Extinction Movement (VHEMT[A]) is an environmental movement that calls for all people to abstain from reproduction to cause the gradual voluntary extinction of humankind. VHEMT supports human extinction primarily because, in the group's view, it would prevent environmental degradation.
Voluntary Human Extinction Movement
The leafy seadragon or Glauert's seadragon,[1] Phycodurus eques, is a marine fish in the family Syngnathidae, which also includes the seahorses.
Leafy sea dragon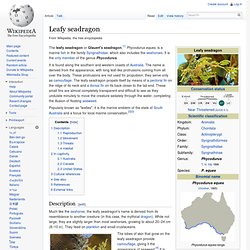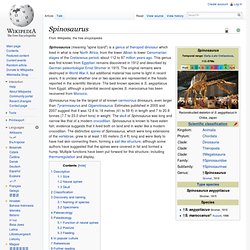 Spinosaurus
Spinosaurus may be the largest of all known carnivorous dinosaurs, even larger than Tyrannosaurus and Giganotosaurus.
Mon (紋?)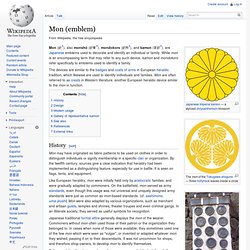 Mon (emblem)
Centralia, Pennsylvania
Centralia is a borough and a near ghost town in Columbia County, Pennsylvania, United States. Its population has dwindled from over 1,000 residents in 1981 to 10 in 2010,[2] as a result of a mine fire burning beneath the borough since 1962.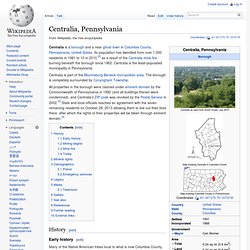 The Jevons paradox has been used to argue that energy conservation may be futile, as increased efficiency may increase fuel use. Nevertheless, increased efficiency can improve material living standards. Further, fuel use declines if increased efficiency is coupled with a green tax or other conservation policies that keep the cost of use the same (or higher).[3] As the Jevons paradox applies only to technological improvements that increase fuel efficiency, policies that impose conservation standards and increase costs do not display the paradox.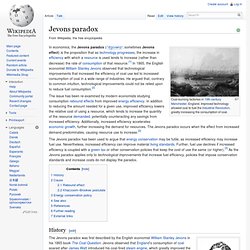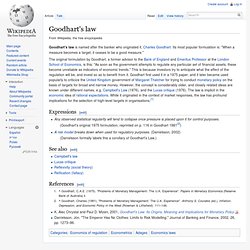 Goodhart's law is named after the banker who originated it, Charles Goodhart.
Goodhart's law
Theo Jansen
Theo Jansen (born 1948) is a Dutch artist. In 1990, he began what he is known for today: building large mechanisms out of PVC that are able to move on their own, known as Strandbeest.