Wikipedia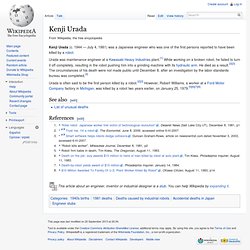 Kenji Urada
Kenji Urada (c. 1944 — July 4, 1981) was one of the first persons reported to have been killed by a robot. On July 4, 1981 , Urada was employed as a 37-year old maintenance engineer at a Kawasaki Heavy Industries plant. [ 1 ] While working on a broken robot, he failed to turn it off completely, resulting in the robot pushing him into a grinding machine with its hydraulic arm . He died as a result. [ 2 ] [ 3 ] The circumstances of his death were not made public until December 8, after an investigation by the labor standards bureau was completed. [ 4 ]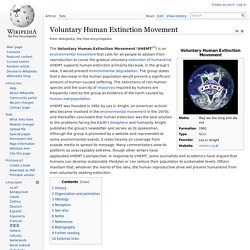 The Voluntary Human Extinction Movement ( VHEMT [ A ] ) is an environmental movement that calls for all people to abstain from reproduction to cause the gradual voluntary extinction of humankind . VHEMT supports human extinction primarily because, in the group's view, it would prevent environmental degradation .
Voluntary Human Extinction Movement
The leafy seadragon or Glauert's seadragon , [ 1 ] Phycodurus eques , is a marine fish in the family Syngnathidae , which also includes the seahorses .
Leafy sea dragon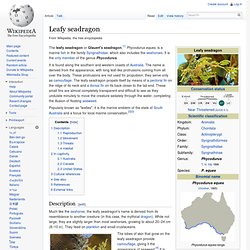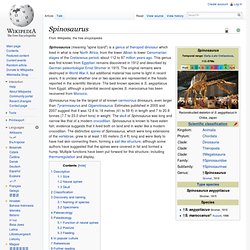 Spinosaurus
Spinosaurus (meaning "spine lizard" [ 1 ] ) is a genus of theropod dinosaur which lived in what is now North Africa , from the lower Albian to lower Cenomanian stages of the Cretaceous period , about 112 [ 2 ] to 97 [ 3 ] million years ago .
Mon ( 紋 ?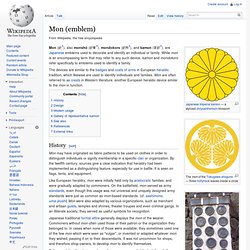 Mon (emblem)
Centralia, Pennsylvania
Centralia is a borough and ghost town in Columbia County, Pennsylvania , United States . Its population has dwindled from over 1,000 residents in 1981 to 12 in 2005, [ 1 ] as a result of a mine fire burning beneath the borough since 1962.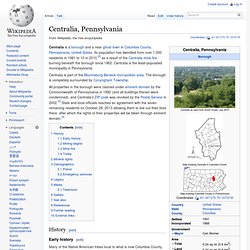 In economics, the Jevons paradox ( pronunciation: / ˈ dʒ ɛ v ə n z / ; sometimes Jevons effect ) is the proposition that technological progress that increases the efficiency with which a resource is used tends to increase (rather than decrease) the rate of consumption of that resource. [ 1 ] In 1865, the English economist William Stanley Jevons observed that technological improvements that increased the efficiency of coal use led to increased consumption of coal in a wide range of industries. He argued that, contrary to common intuition, technological improvements could not be relied upon to reduce fuel consumption. [ 2 ] The issue has been re-examined by modern economists studying consumption rebound effects from improved energy efficiency .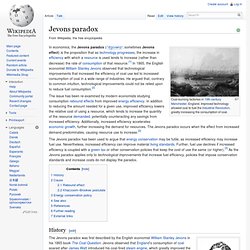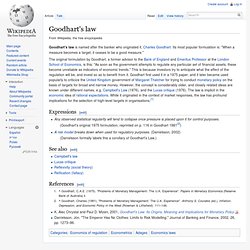 Goodhart's law is named after the banker who originated it, Charles Goodhart , although its most popular formulation, "When a measure becomes a target, it ceases to be a good measure," was created by British feminist anthropologist Dame Ann Marilyn Strathern . [ 1 ]
Goodhart's law
Theo Jansen
Theo Jansen (born 1948) is a Dutch artist. In 1990, he began what he is known for today: building large mechanisms out of PVC that are able to move on their own, known as Strandbeest .