Cooperative business
What are some advantages and disadvantages of cooperatives changing to a cooperation what would be the major reason to do so
American Worker Cooperative
Welcome | US Federation of Worker Cooperatives
The United States Federation of Worker Cooperatives is a national grassroots membership organization of and for worker cooperatives, democratic workplaces, and organizations that support the growth and development of worker cooperatives. We were founded in 2004, the result of several years of organizing on the part of worker cooperatives and regional groups from around the country. We provide support to our members and educational outreach to the public through conferences and events, resource referrals, and networking and training opportunities. Check out the various sections of our site to connect to resources and see what's happening in the dynamic and growing world of worker cooperatives!
Frequently Asked Questions About Worker Cooperatives | US Federation of Worker Cooperatives
One of the best-kept secrets in this country is the growing economy of worker cooperatives and democratic workplaces.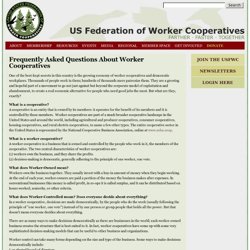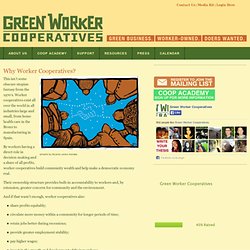 artwork by Ricardo Levins Morales This isn't some obscure utopian fantasy from the 1970's. Worker cooperatives exist all over the world in all industries large and small, from home health care in the Bronx to manufacturing in Spain. By workers having a direct role in decision-making and a share of all profits, worker cooperatives build community wealth and help make a democratic economy real.
Why Worker Cooperatives? - Green Worker Cooperatives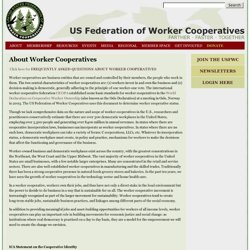 About Worker Cooperatives | US Federation of Worker Cooperatives
Click here for FREQUENTLY ASKED QUESTIONS ABOUT WORKER COOPERATIVES Worker cooperatives are business entities that are owned and controlled by their members, the people who work in them. The two central characteristics of worker cooperatives are: (1) workers invest in and own the business and (2) decision-making is democratic, generally adhering to the principle of one worker-one vote.
A cooperative ("coop"), co-operative ("co-op"), or coöperative ("coöp") is an autonomous association of persons who voluntarily cooperate for their mutual, social, economic, and cultural benefit. [ 1 ] Cooperatives include non-profit community organizations and businesses that are owned and managed by the people who use its services (a consumer cooperative) or by the people who work there (a worker cooperative) or by the people who live there (a housing cooperative), hybrids such as worker cooperatives that are also consumer cooperatives or credit unions, multi-stakeholder cooperatives such as those that bring together civil society and local actors to deliver community needs, and second and third tier cooperatives whose members are other cooperatives. In the United States, the National Cooperative Business Association (NCBA) serves as the sector's national membership association.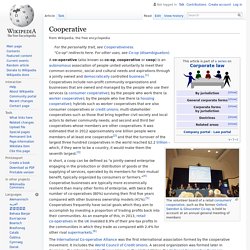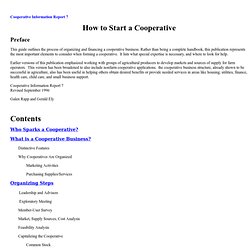 This guide outlines the process of organizing and financing a cooperative business. Rather than being a complete handbook, this publication represents the most important elements to consider when forming a cooperative. It lists what special expertise is necessary, and where to look for help. Earlier versions of this publication emphasized working with groups of agricultural producers to develop markets and sources of supply for farm operators. This version has been broadened to also include nonfarm cooperative applications. the cooperative business structure, already shown to be successful in agriculture, also has been useful in helping others obtain desired benefits or provide needed services in areas like housing, utilities, finance, health care, child care, and small business support.
How to Start a Cooperative