The Brain!
FUCK YEAH NERVOUS SYSTEM
Researchers from Japan's ATR Computational Neuroscience Laboratories have developed new brain analysis technology that can reconstruct the images inside a person's mind and display them on a computer monitor, it was announced on December 11. According to the researchers, further development of the technology may soon make it possible to view other people's dreams while they sleep. The scientists were able to reconstruct various images viewed by a person by analyzing changes in their cerebral blood flow. Using a functional magnetic resonance imaging (fMRI) machine, the researchers first mapped the blood flow changes that occurred in the cerebral visual cortex as subjects viewed various images held in front of their eyes. Subjects were shown 400 random 10 x 10 pixel black-and-white images for a period of 12 seconds each.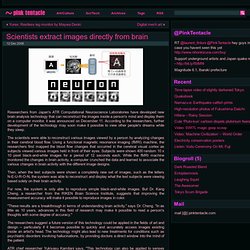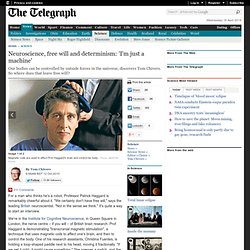 What does this mean in terms of free will? "We don't have free will, in the spiritual sense. What you're seeing is the last output stage of a machine. There are lots of things that happen before this stage – plans, goals, learning – and those are the reasons we do more interesting things than just waggle fingers.
Neuromarketing | Neuroscientific Consumer Testing | NeuroFocus
Brainfluence, Now In Russian The various editions of Brainfluence seem to have popped up early or without warning, and the new Russian translation is no exception. I noticed Amazon had a "paperback" listing for the book, which seemed odd – it's available in hardcover, Kindle/e-book, and audiobook formats, but not paperback. Imagine my surprise when I found this: