Software to the cloud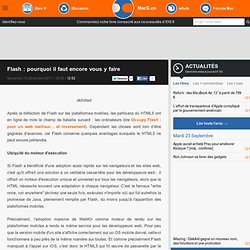 Après la défection de Flash sur les plateformes mobiles, les partisans du HTML5 ont en ligne de mire le champ de bataille suivant : les ordinateurs (lire Occupy Flash : pour un web meilleur… et inversement). Cependant les choses sont loin d'être gagnées d'avances, car Flash conserve quelques avantages auxquels le HTML5 ne peut encore prétendre.
Flash : pourquoi il faut encore vous y faire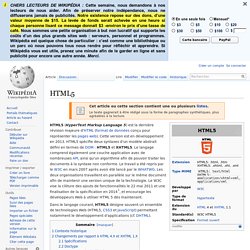 Un article de Wikipédia, l'encyclopédie libre. HTML5 (HyperText Markup Language 5) est la dernière révision majeure d'HTML (format de données conçu pour représenter les pages web). Cette version est en développement en 2013. HTML5 spécifie deux syntaxes d'un modèle abstrait défini en termes de DOM : HTML5 et XHTML5. Le langage comprend également une couche application avec de nombreuses API, ainsi qu'un algorithme afin de pouvoir traiter les documents à la syntaxe non conforme.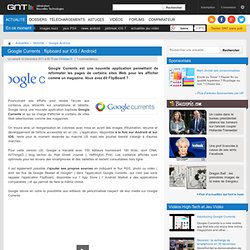 Google Currents : flipboard sur iOS / Android
INFORMATION : Si vous souhaitez la survie d'un accès gratuit aux sites web, nous vous remercions de bien vouloir désactiver votre bloqueur de publicité ou de nous mettre en liste blanche. Merci de votre compréhension afin de nous aider à continuer de vous fournir gratuitement de l'information de qualité.Plus d'explications Poursuivant ses efforts pour rendre l'accès aux contenus plus attractifs sur smartphone et tablette, Google lance une nouvelle application baptisée Google Currents et qui se charge d'afficher le contenu de sites Web sélectionnés comme des magazines. On trouve ainsi un réorganisation en colonnes avec mise en avant des images d'illustration, résumé et développement de l'article accessible en un clic. L'application, disponible à la fois sur Android et sur iOS, reste pour le moment réservée au marché US mais elle pourrait bientôt s'élargir à d'autres marchés.
Add your favorite content From leading publications, to blogs you follow, you can browse, read, and share favorite content, presented in a swipable magazine format. Follow breaking news stories Google search technology identifies and delivers the hottest breaking stories in categories such as world, entertainment, sports, science, and more. Designed for all your devices