Bloods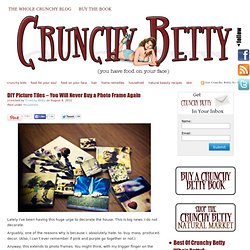 DIY Picture Tiles - You Will Never Buy a Photo Frame Again
Lately I've been having this huge urge to decorate the house. This is big news. I do not decorate. Arguably, one of the reasons why is because I. absolutely. hate. to. buy. mass. produced. decor. (Also, I can't ever remember if pink and purple go together or not.) Anyway, this extends to photo frames.
DIY: Dry-Erase Calendar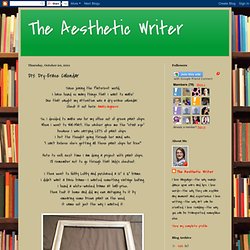 Since joining the Pinterest world, I have found so many things that I want to make! One that caught my attention was a dry-erase calendar. So, I decided to make one for my office out of green paint chips. When I went to Wal-Mart, the cashier gave me the "stink eye"
Seashell Lights - Martha Stewart Crafts
Potluck Recipe Ideas - Garden Tuna Checkerboard Sandwiches Recipe
Celebrations at Home Inspiration for Stylish Entertaining Eclectic And Whimsical Bridal Shower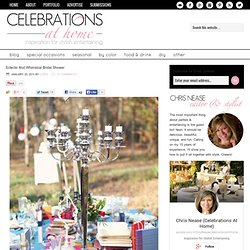 Eclectic And Whimsical Bridal Shower
"Keys To Success" Graduation Party Decor
Our final table display for the Anthropologie-inspired graduation party is totally "themed-out" and reinforces our idea more than any. I set up a "Keys to Success" guest table where they could write notes to the graduate, and pick up party favors. It all comes together with the addition of a Key display that's framed and placed prominently. You can see the coordinating seated table and dessert table here. Remember, auxiliary tables like this are a place where all guests will gather at some point so it's important to make sure it matches the rest of the decorated space.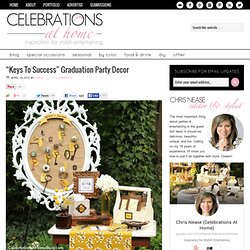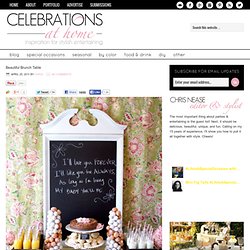 Beautiful Brunch Table
Celebrations at Home Inspiration for Stylish Entertaining Beautiful Brunch Table April 25, 2011 by Chris 48 Comments I love a brunch party almost as much as I love a cocktail party, and this brunch table styled by Trish of Frilly Milly Events, for a recent baby shower, is so appetizing and pretty to look at. I love Trish's inspiration which was the "old-fashioned comfort food" she used to enjoy at her grandparent's farm.
"Something Blue" Timeless Glass Photo Coasters (Set of 2)
Celebrate the time honored tradition of "something blue," as you offer something very special to your guests and bring an elegant pop of color to your reception tables. Perfect for your favorite black and white photo or used as a place card holder, these blue glass coaster favors make a beautiful impression. Features and facts:
Glass Photo Holder Coasters with Wood Caddy (Set of 4)
Forever Photo Frosted Glass Coaster (Set of 2)
Glass Photo Coasters - Set of Two Wedding Favors Coasters look so nice! 5 Cheryl (Branchburg, NJ), 6/24/2013 "The coasters were a perfect wedding favor and were just what we were looking for! We added our own insert and gave one to each guest.
Glass Photo Coasters - Set of Two Wedding Favors - Favor Favor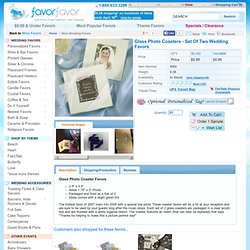 Do-it-Yourself DIY String Wedding Lanterns Yarn Chandeliers
Jessica of Wednesday Inc shows us how to make those gorgeous twine chandeliers from the inspiration shoot she shared with us this morning. Using balloons, glue and twine, you can also make these lanterns for your wedding – and then bring it home and use it as your very own mid century lampshade. What you will need are: balloons, glue, yarn, tray for glue, corn starch 1/2 cup of Corn starch, 1/4 cup of Warm water, clear fast drying spray paint, hanging lamp cord or fishing line (depending on your desired final product), and a lighting kit if you're looking for a fully functional lantern. Jessica recommends using a sharpie to mark on the inflated balloon how much room you need to leave for the lighting cord. She also recommends coating the balloon with vaseline prior to wrapping the yarn coated with glue so it doesn't stick on the balloon once it's dry.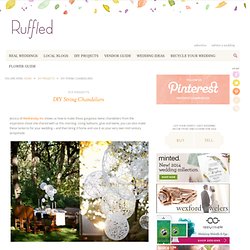 Budd Leather Lizard Print Calf Stud/Ring Box
en Key & Fleur de Lis Stacking Rings Color: please select a color + Add to My Designers x Remove From My Designers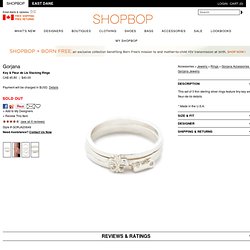 Gorjana Key & Fleur de Lis Stacking Rings
UPDATE: This post originally ran on March 23 2011, but with summer winding down we wanted to bring it back up for some late summer inspiration! a fellow fp girl sent this to me a couple weeks back and i've been thinking about it ever since! i can think of a million reasons why these would be awesome… as apartment décor, as outdoor party décor, and – wouldn't they be the best thing EVER for camping in general or at a festival? just let them sit in the sun all day, and they'll last all night! i am absolutely going to make some to bring with me to bonnaroo this year.
wednes-diy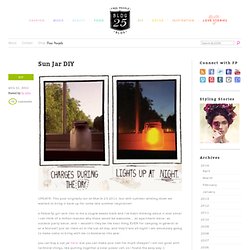 Glowing jar project – varázslat a lakásban (EN/HU) | from {panka} with love