Computers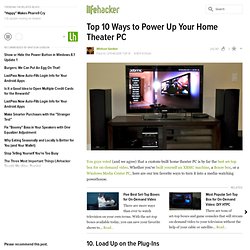 You guys voted (and we agree) that a custom-built home theater PC is by far the best set-top box for on-demand video . Whether you've built yourself an XBMC machine , a Boxee box , or a Windows Media Center PC , here are our ten favorite ways to turn it into a media-watching powerhouse. 10. Load Up on the Plug-Ins
You won't find a better media center than the open-source XBMC , but most people don't have the space or desire to plug a noisy PC into their TV. Instead, I converted a cheap nettop into a standalone XBMC set-top box. Here's how. In the spirit of our Winter Upgrades theme this week, this guide details how to turn a cheapo nettop (think netbook for the desktop) into a killer settop box running XBMC.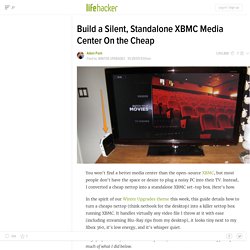 DIY: Turn a flashlight into a handheld burning laser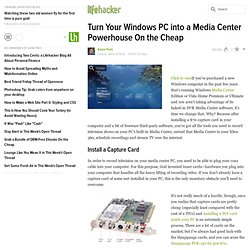 Turn Your Windows PC into a Media Center Powerhouse On the Cheap - Lifehacker
Click to view If you've purchased a new Windows computer in the past few years that's running Windows Media Center Edition or Vista Home Premium or Ultimate and you aren't taking advantage of its baked-in DVR Media Center software, it's time we change that. Why? Because after installing a $70 capture card in your computer and a bit of freeware third-party software, you've got all the tools you need to record television shows on your PC's built-in Media Center, extend that Media Center to your Xbox 360, schedule recordings and stream TV over the internet.