Business
This post originally appeared on the American Express OPEN Forum, where Mashable regularly contributes articles about leveraging social media and technology in small business. If you've already searched for some Fan Page inspiration and undertaken the task of building a custom landing page for your business's Facebook presence, you may now be in the market for some features that will further engage your fans. A nice feature of the modern social web is that it's modular.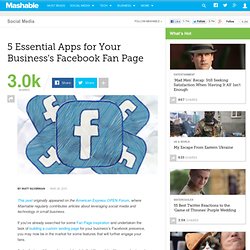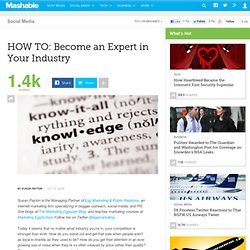 HOW TO: Become an Expert in Your Industry
Susan Payton is the Managing Partner of Egg Marketing & Public Relations, an internet marketing firm specializing in blogger outreach, social media, and PR.
Much has changed in the world of social media since we first published our Superlist of Social Media Case Studies in 2008.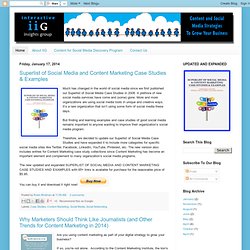 How-To: Influence Influencers- Bloggers, Tweeters & Others
Five Killer Press Release tips for Small Businesses | Small Business Trends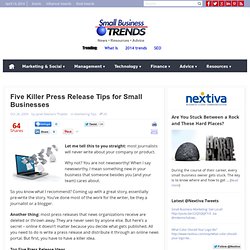 11Let me tell this to you straight: most journalists will never write about your company or product. Why not?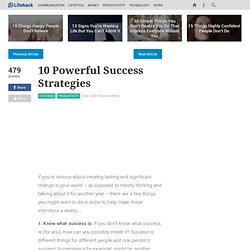 If you're serious about creating lasting and significant change in your world – as opposed to merely thinking and talking about it for another year – there are a few things you might want to do in order to help make those intentions a reality…
10 Powerful Success Strategies - Stepcase Lifehack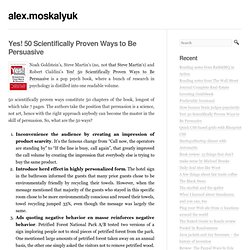 Noah Goldstein's, Steve Martin's (no, not that Steve Martin's) and Robert Cialdini's Yes! 50 Scientifically Proven Ways to Be Persuasive is a pop psych book, where a bunch of research in psychology is distilled into one readable volume. 50 scientifically proven ways constitute 50 chapters of the book, longest of which take 7 pages.
By JK Ellis Author of Mind Control 101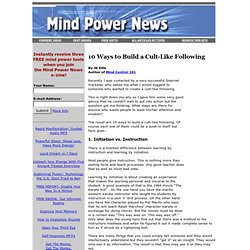 10 Ways to Build a Cult-Like Following
How to Write a Business Plan - Mahalo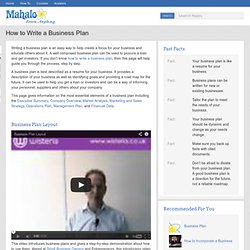 Writing a business plan is an easy way to help create a focus for your business and educate others about it. A well composed business plan can be used to procure a loan and get investors.
36 Startup Tips: From Software Engineering to PR and More! - ReadWriteWeb
This is a collection of startup tips covering software engineering, infrastructure, PR, conferences, legal and finance. They describe best practices for an early-stage startup. We hope that you will find these tips useful, but also please remember that they are based on subjective experiences and not all of them will be applicable to your company.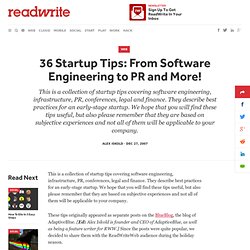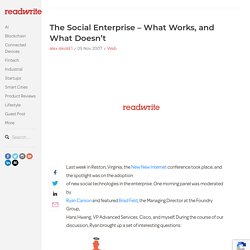 The Social Enterprise - What Works, and What Doesn't
Last week in Reston, Virginia, the New New Internet conference took place, and the spotlight was on the adoption of new social technologies in the enterprise. One morning panel was moderated by Ryan Carson and featured Brad Feld, the Managing Director at the Foundry Group, Hans Hwang, VP Advanced Services, Cisco, and myself. During the course of our discussion, Ryan brought up a set of interesting questions: Should enterprises embrace blogging?
How Not to Die (as an internet startup)
August 2007 (This is a talk I gave at the last Y Combinator dinner of the summer. Usually we don't have a speaker at the last dinner; it's more of a party.
Fire your Boss! The Successful Home Freelancer's Guide
Most people, at one time or another, have a job that rewards their time and effort with wages or salaries. An increasing number of people, however, are becoming dissatisfied with that time-and-effort economy and seek the greater rewards that a results economy can provide. Indeed, more and more managers are abandoning the safety of company careers to become consultants in their chosen fields.