Content Creation in PR
BMW, L'Oreal tackle shake-up in "path to purchase" model. The German car maker and French beauty brand fronted Cannes delegates yesterday with some unsettling news for media owners and sage advice for marketing colleagues.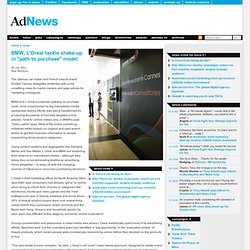 BMW and L'Oreal's customer pathway to purchase cycle, once underpinned by big mainstream media awareness raising efforts, was being transformed by producing thousands of narrowly targeted online articles, "how to" online videos and, in BMW's case, "really useful" apps. Most of the online publishing initiatives relied heavily on organic and paid search tactics to get their branded information to people researching those product categories. Using content creators and aggregators like Demand Media and Say Media, L'Oreal and BMW are lessening their reliance on mainstream media – although they stress they're not eliminating traditional advertising forms altogether – to keep up with the changing sources of influence in consumer purchasing decisions. RSA Animate - Crises of Capitalism. What does the rise of 'brand journalism' mean for your company? Rebecca Jarvis, business and economics correspondent for CBS News, discusses why companies are scooping up journalists to create rich content for their brands.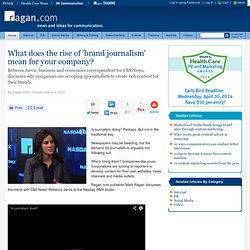 By Ragan Staff | Posted: March 9, 2012 Is journalism dying? Perhaps. But not in the traditional way. New Speakers & Content Added! Invalid quantity.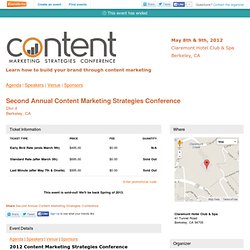 Please enter a quantity of 1 or more. The quantity you chose exceeds the quantity available. Old Spice Guy Now Making Custom Videos for Fans via Social Media. How do you get bloggers, fans and random Internet folks to make your campaign go viral?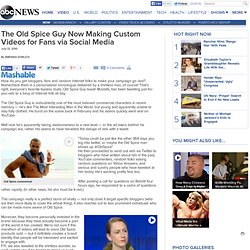 Namecheck them in a personalized monologue delivered by a shirtless man, of course! That's right, everyone's favorite topless dude, Old Spice Guy Isaiah Mustafa, has been tweeting just-for-you-vids to a bevy of Internet folk all day. The Old Spice Guy is undoubtedly one of the most beloved commercial characters in recent memory — he's like The Most Interesting Man in the World, but young and apparently unable to stay fully clothed.
He burst on the scene back in February and his videos quickly went viral on YouTube. Column Five Media - Infographic Design, Content Creation, Social Media Strategy, Interactive Infographics. Product Tour Video : TechValidate. TechValidate: Marketing is tough. We can help. Branded Content and How It Blurs a Line - Advertising. Storify Collects Strands of News on the Social Web. A Special Ford Invitation for Mathias Winks. A Special Ford Invitation for Tom Stone. Jane Lynch - LG Text Education. LG Text Ed with Jane Lynch, Class #4: DTXTR. Watson.
---