Luanmateus
Luan Mateus
Sócio Proprietário da Aviva Criação, criador do Missão Gospel e Web Designer na Accurate. Trabalhando com publicidade desde 2005 e web desde 2008.
Redes Sociais
Chaîne de videosluanmateus. Luan Mateus. Galerie de Luan Mateus. Sites. Luan Mateus - Só Jesus me faz filho de Deus | Designer & Program. Amigos. Marlon. Blogs. Publicidade. Ads of the World | Creative Advertising Archive & Community.
Workshop gratuito e online sobre finanças pessoais « DiSOP – Ter. O Instituto DiSOP de Educação Financeira convida você para o primeiro workshop online sobre finanças pessoais.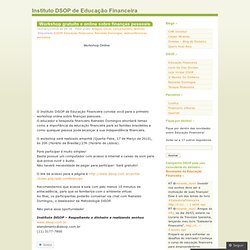 O educador e terapeuta financeiro Reinaldo Domingos abordará temas como a importância da educação financeira para as famílias brasileiras e como qualquer pessoa pode alcançar a sua independência financeira. O workshop será realizado amanhã (Quarta-Feira, 17 de Março de 2010), às 20h (Horário de Brasília)/23h (Horário de Lisboa). Para participar é muito simples! Basta possuir um computador com acesso à internet e caixas de som para que possa ouvir o áudio.
---
luanmateus Mar 17 2010

Your welcome. Sometimes I have headaches with these bugs in AS3...kkkkk

PED Mar 17 2010

Thx for the feedback! Working on it :)

luanmateus Mar 17 2010

Appeared an error. I think it has some null object. TypeError: Error #1009

luanmateus Mar 17 2010

Very crazy. I think I'll start a course in Java. Flex I know very little, but I will not have difficulties, as I work with AS3. =)

PED Mar 17 2010

The client is in flex. We use java for the server :)

PED Mar 16 2010

We launched the beta on december 2009 :-)

marlon Mar 16 2010

Falaaa luan to bom sim mano, iai ja pegou o jeito desse pearltrees?
---