Internet and Decision Making
Connectivism: A Learning Theory for the Digital Age December 12, 2004 George Siemens Update (April 5, 2005): I've added a website to explore this concept at www.connectivism.ca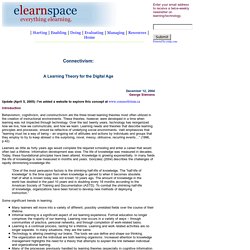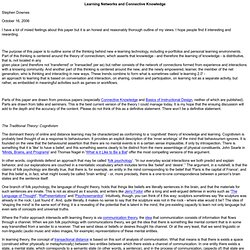 Learning Networks and Connective Knowledge (Downes, 2006)
Learning Networks and Connective Knowledge Stephen Downes October 16, 2006
The Strength of Internet Ties
The internet helps build social capital. This report confronts one of the great debates about the internet: What is it doing to the relationships and social capital that Americans have with friends, relatives, neighbors, and workmates? Those on one side of the debate extol the internet's ability to expand relationships — socially and geographically. Those on the other side of the debate fear that the internet will alienate people from their richer, more authentic relations.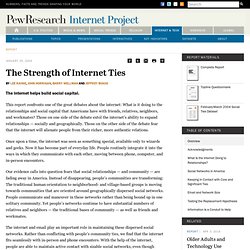 Strength of Internet Ties Report
Introduction Americans deal with a broad array of problems in their lives, from health care to education to employment to retirement. Many of these are personal matters having little or no relationship to the government. Others are personal matters that require dealing directly with the government, such as obtaining a military pension, Social Security benefits or a driver's license. Other matters, such as looking for a job or thinking of moving to a new city, could involve some contact with the federal, state or local government, if only as a provider of information and assistance . Here is the list of problems or questions and the percent of Americans who had dealt with each problem in the previous two years:
What search strategies do Americans use for problem solving?