Quilting
Granny Stripe Blanket :: the beginning. Hello my lovelies, great to be here in the Attic :: truthfully I should not be tucked up nattering in the Attic at all, should be attending to the business of making clean the piles of dirty laundry and packing/preparing for our trip away in Connievan tomorrow (woooooooohooooooo, four nights away by the coast!!!!)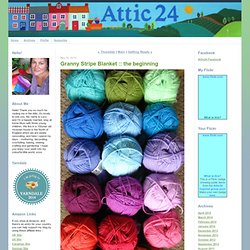 However..........before I leave to go jollying off on my giddy-trip to the seaside, I really, really desperately want to have a quick chat about Acrylic yarn and granny stripe goings on. Cos I need to share, and you need to know, right? It will NOT WAIT, right?? OK.....above yarn is my squishy big balls of Stylecraft Special DK :: 100% Acrylic :: working on a 4mm hook. StepLivelyFlowerPowerMist.pdf (application/pdf Object) Boxy Stars. This page has moved.
Please visit it at This is my latest "color controlled" version! The quilt below was donated to charity, and I needed a new one for a class sample. It was a challenge for me to try to use up some outdated fabric as well as the new stuff I was wanting to slice into. Hugs & Kisses (w/30's Repro Fabrics) Baby Quilt Pattern.
Introduction Hugs and Kisses is an adorable quilt pattern designed specifically to use in accordance with 1930's Reproduction Fabrics.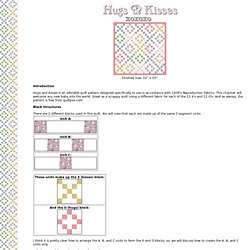 This charmer will welcome any new baby into the world. Great as a scrappy quilt using a different fabric for each of the 13 X's and 12 O's. And as always, the pattern is free from quiltpox.com Block Structures. I'm QUILTING Again!!! Center panel of baby quilt Since I had plenty of left-over squares from earlier baby quilts, this quilt came together very quickly.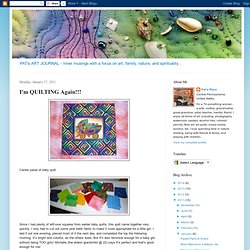 I only had to cut out some pink batik fabric to make it more appropriate for a little girl. I laid it out one evening, pieced most of it the next day, and completed the top the following morning. It's bright and colorful, as the others were. But it's also feminine enough for a baby girl, without being TOO girly! The Royal Sisters. Strip Twist pf. Quiltville Custom Approx 60 X76 including borders.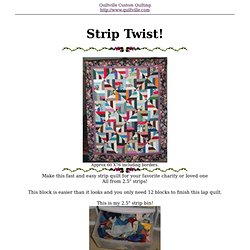 Make this fast and easy strip quilt for your favorite charity or loved one All from 2.5" strips! This block is easier than it looks and you only need 12 blocks to finish this lap quilt. Trying Out Mister Linky. Rainbow Scrap Challenge - feeling BLUE. I have joined the Rainbow Scrap Challenge that Angela from superscrappy.blogspot.com is hosting.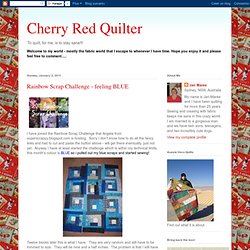 Sorry I don't know how to do all the fancy links and had to cut and paste the button above - will get there eventually, just not yet. Anyway I have at least started the challenge which is within my technical limits. this month's colour is BLUE so i pulled out my blue scraps and started sewing! Sew This is My Life. Happy Quilting. The Mad Quilting Librarian. Confessions of a Fabric Addict.
Gen X Quilters(&Y too!) Exuberant Color. Selvage Blog. Red Pepper Quilts. Stash Manicure. A Fabric Case. Alamode. One More Quilt. UFO Challenge 2011 | Patchwork Times by Judy Laquidara. Many online groups/guilds, as well as real life guilds have UFO Challenges each year.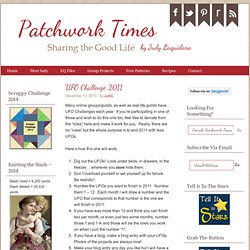 If you're participating in one of those and wish to do this one too, feel free to deviate from the "rules" here and make it work for you. Really, there are no "rules" but the whole purpose is to end 2011 with less UFOs. Here's how this one will work. Another UFO done and some more challenges. I decided to redo my header and thought I would show you what the actual quilted item was.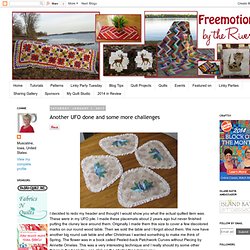 These were in my UFO pile. I made these placemats about 2 years ago but never finished putting the cluney lace around them. Originally I made them this size to cover a few discolored marks on our round wood table. Then we sold the table and I forgot about them. We now have another big round oak table and after Christmas I wanted something to make me think of Spring. Rainbow Scrap Challenge - Blue. Rainbow Scrap Challenge. Now is the time that people to start making plans for the new year.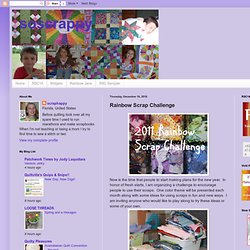 In honor of fresh starts, I am organizing a challenge to encourage people to use their scraps. One color theme will be presented each month along with some ideas for using scraps in fun and new ways. I am inviting anyone who would like to play along to try these ideas or some of your own. Nine Patch Blocks. Free Quilt Patterns!Nine Patches. Nine Patch Split. Tips & Techniques: Backing Yardage Charts!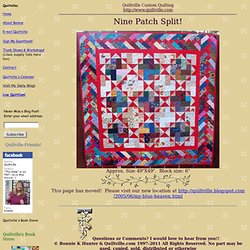 Bed Size Chart Before You Print It! Bias Binding Cutting Binding Hints. Andover Fabrics: Free Quilt Patterns. This is an archive of free quilt patterns offerred by Andover Fabrics. Current quilts and other projects are listed elsewhere on each group's page To sort by quilt name, date, or size, click on the column heading. Double click to reverse the sort order. Double Click on the picture or name of the quilt to download the free quilt pattern. How To's. Free Quilt Patterns ~ Stitchin' Post. Free Quilt Patterns. Free Hearts and Ribbons Quilt Patterns. Harvest Town. By Jacqueline Paton Jacqueline Paton's beautiful artwork is the emphasis of this striking table topper. The four scenic panel blocks anchor the sides of the design while a chain of coordinate prints outlines large setting triangles. A delicate pieced star forms the center and will be the focus of attention when this quilt is centered on your table. The large setting triangles simply beg for some fairly intricate quilting whether it be stippling or a defined pattern.
The motifs in the panel blocks can be outline quilted to emphasize their beauty. Free Mystery Quilt Pattern??? For anyone reading this I am thinking about offering a free mystery quilt pattern, but would like to know if there are enough people interested to make it worthwhile. It would work something like this; (suggestions appreciated) At the onset I would give a supply list and each month I would offer a set of instructions via PDF that would be emailed to you. It would take about 4 months to complete. Free quilt pattern: Crown of Thorns. Pink and Barbara: Free Pattern: Baby Bird Quilt. Victoriana Quilt Designs.
Adorable FREE Quilt Pattern at Bunny Hill Designs. P.s. i quilt: pinwheel sampler quilt along: block one. Quilt articles by topic including free quilting patterns, free quilt blocks, mystery quilts and more. Buckeye Beauty - FREE Pattern. Free Quilt Patterns, Blocks and Mysteries. Bargello Quilt. Quilting Information Article. Quilting Information Article. Quilting Information Article. Quilting Information Article. Quilting Information Article. Quilting Information Article. Scrap User's System. Easy Quilt Pattern. Quiltville.com. Free Quilt Patterns and Premier Quilting Patterns. Free Quilt Patterns. Star of the Garden Free Quilt Pattern. Search results for joy luck. Quilt Dad: Country Cabin | a free pattern! Free Pattern of the Week | Quilters TV. Nimble Thimbles. Quilt Soup :: Quilt Patterns :: Hand Made Quilts and Home Made Soups.
Quilt Soup :: Quilt Patterns :: Hand Made Quilts and Home Made Soups. Coffin Star Quilt Block and Quilt Pattern. Free Quilt Patterns - Thousands of Quilt Patterns, Quilt Blocks. Cherry House Quilts: Scrap Quilt Along. Quilt Patterns. Color Options from Quilts and More™ Fall 2009. Huge and Awesome Free Quilt Database. Free Batik Quilt Patterns. Free Quilt Patterns, Blocks and Mysteries. Scrap Quilts - Free Quilt Patterns - Learn How to Make Quilts. Quilt as you go |quilt-along| part one.
Quilting Basics. Pressing Like a Pro. Choose Fabrics with Confidence.
---