SWISS MUSIC PEOPLE
Querschleger - die verrückteste Trommelshow der Schweiz. STRAYMONK PLAYS MINGUS. Balkan Boy Records. Artists. The jtr agency proudly represents the following artists [click on artist's name to view artist's page] when downloading sound clips please be patient... some files are large.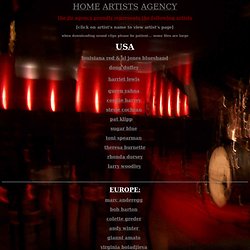 Www.heartland.ch/heartland-2013-May15-pressrelease-bilingual.pdf. Tonstudio MirrorLake Studio Recording Mixing Mastering Composing Beratung Sprecher Aufnahmen Zürich Seefeld. 2013. Langnau Jazz Nights: Home. Khainz's stream. Sas Delémont Concert Party Theatre - Programme. Culture and Congress Centre Thun: Welcome. Norient: Network for Local and Global Sounds and Media Culture. Afro-Pfingsten - The African and world music festival in Switzerland - Welcome. Aeronaut-CH. Christian Weber - Biography. Radio Radius. GDS.FM. Top Secret Drum Corps Drummers Strike With Military Precision In Mind-Blowing Video. Jazz Near You - Berne. Ofmvinyl. Boston duo Soul Clap has been flyin' high and doin' it right in 2012 with the release of their debut album EFUNK , yet another mega world tour and, last but not least, the launch of their very own label, Soul Clap Records .
Ofm vinyl had the honor of pressing the first vinyl for their label, a beautiful red and blue splatter 12″ for Nightplane's Heartbeat EP. Needless to say, we couldn't resist calling the Beantown boys to chat about vinyl. Andi pupato. Superterz & Simon Berz feat. Harald Haerter (17.11.2011) · · train · Chollerhalle Lautundspitz.com. Untitled Document. Harald Haerter and The Intercalactic Maiden Ballet 2010. Big in europe. KILBI IM ÜBERALL: Programm. Wide Ear Records | News. Make money with your music • restorm.com.
Tobias Meier. Bill gilonis language services. I work as a freelance translator (German to English), proofreader and editor.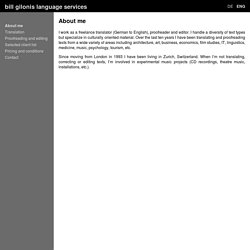 I handle a diversity of text types but specialize in culturally oriented material. Over the last ten years I have been translating and proofreading texts from a wide variety of areas including architecture, art, business, economics, film studies, IT, linguistics, medicine, music, psychology, tourism, etc. Since moving from London in 1993 I have been living in Zurich, Switzerland. When I'm not translating, correcting or editing texts, I'm involved in experimental music projects (CD recordings, theatre music, installations, etc.).
Home :: SUISA. Unit Records Switzerland. - - - abart club zürich - - - Kaleidoscope String Quartet / Home. Music Sales Ltd. Allblues.ch. INDIE-rave-ELECTRO-made FOR the DANCEFLOOR! Latin Wave - Live-Musik für Anlässe jeder Art. Unit Records Switzerland. KEEP≠REAL. Www.musicislife.ch.
---