SWISS MUSIC PEOPLE
www.heartland.ch/heartland-2013-May15-pressrelease-bilingual.pdf
Tonstudio MirrorLake Studio Recording Mixing Mastering Composing Beratung Sprecher Aufnahmen Zürich Seefeld
2013
Langnau Jazz Nights: Home
Khainz's stream on SoundCloud
Sas Delémont Concert Party Theatre - Programme
Culture and Congress Centre Thun: Welcome
Norient: Network for Local and Global Sounds and Media Culture
Afro-Pfingsten - The African and world music festival in Switzerland - Welcome
Aeronaut-CH
Christian Weber - Biography
Radio Radius
GDS.FM
Top Secret Drum Corps Drummers Strike With Military Precision In Mind-Blowing Video
Jazz Near You - Berne
Boston duo Soul Clap has been flyin' high and doin' it right in 2012 with the release of their debut album EFUNK , yet another mega world tour and, last but not least, the launch of their very own label, Soul Clap Records . Ofm vinyl had the honor of pressing the first vinyl for their label, a beautiful red and blue splatter 12″ for Nightplane's Heartbeat EP. Needless to say, we couldn't resist calling the Beantown boys to chat about vinyl.
Ofmvinyl
andi pupato
Superterz & Simon Berz feat. Harald Haerter (17.11.2011) · · train · Chollerhalle Lautundspitz.com
Untitled Document
Harald Haerter and The Intercalactic Maiden Ballet 2010
big in europe
KILBI IM ÜBERALL: Programm
Wide Ear Records | News
Make money with your music • restorm.com
Tobias Meier
I work as a freelance translator (German to English), proofreader and editor. I handle a diversity of text types but specialize in culturally oriented material. Over the last ten years I have been translating and proofreading texts from a wide variety of areas including architecture, art, business, economics, film studies, IT, linguistics, medicine, music, psychology, tourism, etc. Since moving from London in 1993 I have been living in Zurich, Switzerland. When I'm not translating, correcting or editing texts, I'm involved in experimental music projects (CD recordings, theatre music, installations, etc.).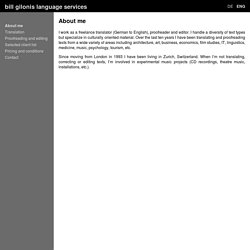 bill gilonis language services
Home :: SUISA
Unit Records Switzerland
- - - abart club zürich - - -
Kaleidoscope String Quartet / Home
Stans Music Days: Arrival
Extrabusse und Extrazüge mit Pin oder Konzertticket gratis Zur Anreise nach Stans empfehlen wir Ihnen den öffentlichen Verkehr zu benutzen. In Ergänzung zum regulären Fahrplan bieten die Stanser Musiktage wieder Extrafahrten für Spätheimkehrer auf folgenden Strecken an:Mo - Sa um 01.00 Uhr und Fr - Sa zusätzlich um 03.00 Uhr ab Bahnhof Stans nach- Stansstad, Hergiswil, Horw, Mattenhof, Allmend, Luzern- Ennetbürgen, Buochs, Beckenried- Dallenwil, Wolfenschiessen, Grafenort, Engelberg- Ennetmoos, Kerns, Sarnen, Alpnach Diese Extrafahrten sind mit dem Wochenlpin, dem Tageseintritt oder dem Hauptprogrammticket des jeweiligen Tages gratis. Ohne Pin, Tageseintritt oder Hauptprogrammticket kosten die Extrafahrten Fr. 10.–.
Music Sales Ltd
allblues.ch
INDIE-rave-ELECTRO-made FOR the DANCEFLOOR!
Latin Wave - Live-Musik für Anlässe jeder Art.
Unit Records Switzerland
www.musicislife.ch