SWISS MUSIC PEOPLE
www.heartland.ch/heartland-2013-May15-pressrelease-bilingual.pdf
Tonstudio MirrorLake Studio Recording Mixing Mastering Composing Beratung Sprecher Aufnahmen Zürich Seefeld
2013
Langnau Jazz Nights: Home
Khainz's stream on SoundCloud
Sas Delémont Concert Party Theatre - Programme
Culture and Congress Centre Thun: Welcome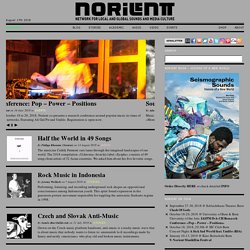 Norient: Network for Local and Global Sounds and Media Culture
Sonic Traces – Radio Show By Michael Spahr on January 16, 2014 By Michael Spahr on 16 January 2014 in EVENTS
Afro-Pfingsten - The African and world music festival in Switzerland - Welcome
Aeronaut-CH
Christian Weber - Biography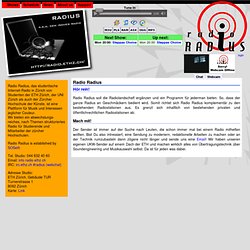 Radio Radius, das studentische Internet-Radio in Zürich von Studenten der ETH Zürich, der UNI Zürich als auch der Zürcher Hochschule der Künste, ist eine Plattform für Musik und Interessen jeglicher Couleur. Wir bieten ein abwechs­lungs­reiches, nach Themen strukturiertes Radio für Studierende und Mitarbeiter der zürcher Hochschulen. Radio Radius is established by SOSeth Adresse Studio: ETH Zürich, Gebäude TUR Turnerstrasse 1 8092 Zürich Karte: Link Hör rein! Radio Radius soll die Radiolandschaft ergänzen und ein Programm für jederman bieten.
Radio Radius
GDS.FM
Top Secret Drum Corps Drummers Strike With Military Precision In Mind-Blowing Video
Jazz Near You - Berne
Boston duo Soul Clap has been flyin' high and doin' it right in 2012 with the release of their debut album EFUNK , yet another mega world tour and, last but not least, the launch of their very own label, Soul Clap Records . Ofm vinyl had the honor of pressing the first vinyl for their label, a beautiful red and blue splatter 12″ for Nightplane's Heartbeat EP. Needless to say, we couldn't resist calling the Beantown boys to chat about vinyl.
Ofmvinyl
I'm a freelance percussionist based in Zurich, Switzerland. I worked live and in the studio with many internationally known artist as Andreas Vollenweider, Chico and the Gypsies, UMA, Nik Bärtsch's Ronin, Gotthard and many more. Over the years played on various Artist releases reaching gold status or more like Seven, Marc Sway, Polo Hofer, Caroline Chevin… I played percussion on many movie soundtracks like: "Nowhere in Africa", "Väter", "Alles auf Zucker", "Die weisse Massai", "Gripsholm" and many more. As a sound engineer I mixed various records from Nik Bärtsch's Ronin/Mobile: Randori, Live, REA, AER from 2001-2004 Recording of ECM-release Ronin Live 2012 2xCD-Album.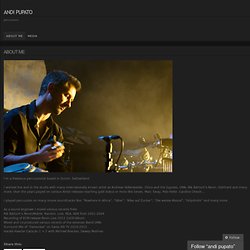 andi pupato
Superterz & Simon Berz feat. Harald Haerter (17.11.2011) · · train · Chollerhalle Lautundspitz.com
Untitled Document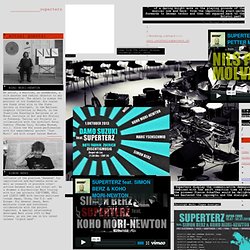 An artist, a musician, an assembleur, a silk painter and radical objector to any representation. The object is always the protocol of its formation. His traces are found inter alia in the State Gallery in Stuttgart, in the National Graphics Collection in Munich, in the Staatliche Kunsthalle Karlsruhe or at Morat Institute of Art and Art History in Freiburg. Various art Projects in collaboration with the architect Peter Zumthor (Therme Vals, Kolumba Museum, etc.).
Harald Haerter and The Intercalactic Maiden Ballet 2010
big in europe
in the last couple of months, FUSE released a (for me pleasantly surprising amount of) new CRATE DIGGERS episodes via youtube.. if you don't know the beloved vinyl collector series, you're in for a real treat.. the gist of it: producers, djs, musicians and/or collectors open their doors and talk about their vinyl record collections: their weirdest digging stories, their rarest gems and so forth.. ecstatic about these new episodes, i've decided to feature them on BIGINEUROPE as well, in no particular order.. to start off, this might be my favorite episode featuring one of my favorite djs: J.ROCC.. enjoy! http://www.youtube.com/watch?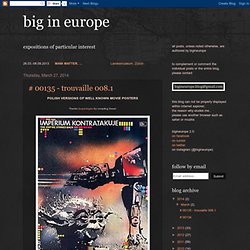 Cat Power annuliert Europatournee Leider müssen wir mitteilen, dass die geplante CAT POWER show vom 6. Dezember im Volkshaus aufgrund einer Krankheit von Chan Marshall abgesagt ist. Das offizielle statement von Matador Records: Malheureusement nous vous communiquons que le concert de CAT POWER du 6 décembre au Volkshaus a du être annulé par raison de maladie de Chan Marschall. Le statement officielle de Matador Records:
KILBI IM ÜBERALL: Programm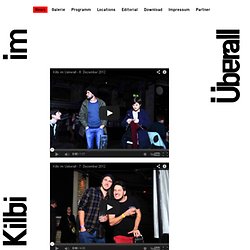 Wide Ear Records | News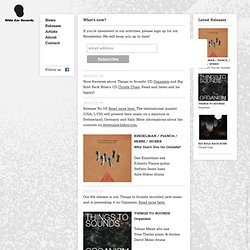 Release No.10! Read more here. The international quartet (USA/I/CH) will present their music on a mini-tour in Switzerland, Germany and Italy.
Tobias Meier
I work as a freelance translator (German to English), proofreader and editor. I handle a diversity of text types but specialize in culturally oriented material. Over the last ten years I have been translating and proofreading texts from a wide variety of areas including architecture, art, business, economics, film studies, IT, linguistics, medicine, music, psychology, tourism, etc. Since moving from London in 1993 I have been living in Zurich, Switzerland. When I'm not translating, correcting or editing texts, I'm involved in experimental music projects (CD recordings, theatre music, installations, etc.).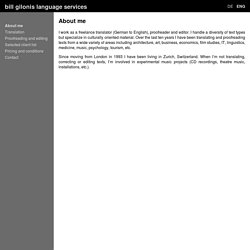 bill gilonis language services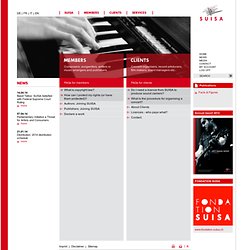 Home :: SUISA
Main navigation Navigation Language
Unit Records Switzerland
- - - abart club zürich - - -
Kaleidoscope String Quartet / Home
Stans Music Days: Arrival
Extrabusse und Extrazüge mit Pin oder Konzertticket gratis Zur Anreise nach Stans empfehlen wir Ihnen den öffentlichen Verkehr zu benutzen. In Ergänzung zum regulären Fahrplan bieten die Stanser Musiktage wieder Extrafahrten für Spätheimkehrer auf folgenden Strecken an:Mo - Sa um 01.00 Uhr und Fr - Sa zusätzlich um 03.00 Uhr ab Bahnhof Stans nach- Stansstad, Hergiswil, Horw, Mattenhof, Allmend, Luzern- Ennetbürgen, Buochs, Beckenried- Dallenwil, Wolfenschiessen, Grafenort, Engelberg- Ennetmoos, Kerns, Sarnen, Alpnach Diese Extrafahrten sind mit dem Wochenlpin, dem Tageseintritt oder dem Hauptprogrammticket des jeweiligen Tages gratis. Ohne Pin, Tageseintritt oder Hauptprogrammticket kosten die Extrafahrten Fr. 10.–.
Music Sales Ltd
allblues.ch
INDIE-rave-ELECTRO-made FOR the DANCEFLOOR!
Latin Wave - Live-Musik für Anlässe jeder Art.
Unit Records Switzerland
POZ – intro sideA Carte Blanche (remaster) Posted in: Only for Dj | Comments (0) Download : POZ – intro sideA Carte Blanche (remaster) Produit en 2003 chez G.D.S.
www.musicislife.ch