CHILDREN
The overwhelming correspondence I received in response to my last two articles (The Destruction and Restoration of Dignity, Comfort My People) reflected the most compelling questions of our times: "What can we do to protect our children from different forms of abuse?" "And what do we do once our children have been hurt? How can we help them heal from their wounds?" These are not questions confined to parents.
Simon Jacobson OP-ED Weekly > 08.22.08$Eikev: Protect Our Children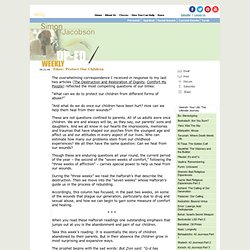 COUI Home Page
Moomins and the Comet Chase
This student film carries more of an emotional punch than most movies
TEDxJakarta - Zaini Alif - The Secret Meaning of "Hom Pim Pa"
‪Tips for Perfect Baby Hand and Foot Prints‬‏
Top 100 Baby Purees: 100 Quick and Easy Meals for a Healthy and Happy Baby (9780743289573): Annabel Karmel
ABC Children's - Home Page