AUDIO GUMBO
El Reza
Magic Purple Sunshine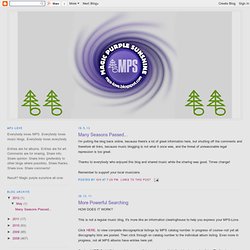 This is not a regular music blog, it's more like an information clearinghouse to help you express your MPS-Love. Click HERE, to view complete discographical listings by MPS catalog number. In progress of course--not yet all discography lists are posted. Then click through on catalog number to the individual album listing. Even more in progress, not all MPS albums have entries here yet.
Jacques Attali - NOISE - The Political Economy of Music
Download Attali-Noise-1.pdf for free - Ebookbrowse.com - Ebook Search & Free Ebook Downloads
Noise: The Political Economy of Music - Jacques Attali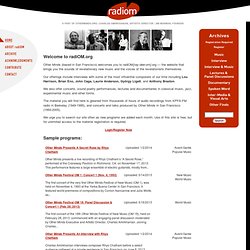 radiOM.org - New music, composers, poetry, video and audio streaming
Welcome to radiOM.org Other Minds (based in San Francisco) welcomes you to radiOM[ray-dee-om].org — the website that brings you the sounds of revelationary new music and the voices of the revelationists themselves. Our offerings include interviews with some of the most influential composers of our time including Lou Harrison, Brian Eno, John Cage, Laurie Anderson, György Ligeti, and Anthony Braxton. We also offer concerts, sound poetry performances, lectures and documentaries in classical music, jazz, experimental music and other forms. The material you will find here is gleaned from thousands of hours of audio recordings from KPFA-FM radio in Berkeley (1949-1995), and concerts and talks produced by Other Minds in San Francisco (1993-2005).
Music & Musical Instruments Directory
JazzFusionTrends
All-Star tribute concert to Jimi Hendrix recorded live- Open Jazz - in Stuttgart, Germany, July 1995. Different groups of musicians including Polytown-(David Torn, Mick Karn & Terry Bozzio), performing new arrangements of Hendrix classics. Nguyen Le, Vernon Reid, David Torn, Jean-Paul Bourelly, guitar; Adam Holzman, Howard Levy, keys; Pharoah Sanders, sax; Jack Bruce, Mick Karn, Victor Bailey, bass; Terry Bozzio, Trilok Gurtu, drums; Cassandra Wilson, vocals; and others.This DVD contains an hour of unrelenting music of JIMI HENDRIX.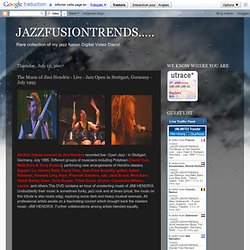 SugarMegs
music search engines/downloads
Welcome to Internet Archive's Live Music library. etree.org is a community committed to providing the highest quality live concerts in a lossless, downloadable format. The Internet Archive has teamed up with etree.org to preserve and archive as many live concerts as possible for current and future generations to enjoy. All music in this Collection is from trade-friendly artists and is strictly non-commercial, both for access here and for any further distribution. Artists' commercial releases are off-limits.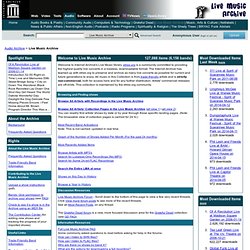 ▶ Lou Reed & The Tots - Live Shrine Mosque 1973 (Full Bootleg)
SOUND DEVELOPMENT
Arthur Rhames.net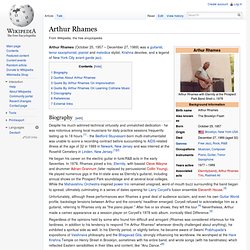 Arthur Rhames (October 25, 1957 – December 27, 1989) was a guitarist, tenor saxophonist, pianist and melodica stylist, Krishna devotee, and a legend of New York City avant-garde jazz. Biography[edit] Despite his much-admired technical virtuosity and unmatched dedication - he was notorious among local musicians for daily practice sessions frequently lasting up to 18 hours [1] - the Bedford Stuyvesant-born multi-instrumentalist was unable to score a recording contract before succumbing to AIDS-related illness at the age of 32 in 1989 in Newark, New Jersey and was interred at the Rosehill Cemetery in Linden, New Jersey.[1][2] He began his career on the electric guitar in funk/R&B acts in the early Seventies.
Arthur Rhames