AUDIO GUMBO
El Reza
Magic Purple Sunshine
Jacques Attali - NOISE - The Political Economy of Music
Download Attali-Noise-1.pdf for free - Ebookbrowse.com - Ebook Search & Free Ebook Downloads
Noise: The Political Economy of Music - Jacques Attali
radiOM.org - New music, composers, poetry, video and audio streaming
Music & Musical Instruments Directory
JazzFusionTrends
All-Star tribute concert to Jimi Hendrix recorded live- Open Jazz - in Stuttgart, Germany, July 1995. Different groups of musicians including Polytown-(David Torn, Mick Karn & Terry Bozzio), performing new arrangements of Hendrix classics. Nguyen Le, Vernon Reid, David Torn, Jean-Paul Bourelly, guitar; Adam Holzman, Howard Levy, keys; Pharoah Sanders, sax; Jack Bruce, Mick Karn, Victor Bailey, bass; Terry Bozzio, Trilok Gurtu, drums; Cassandra Wilson, vocals; and others.This DVD contains an hour of unrelenting music of JIMI HENDRIX.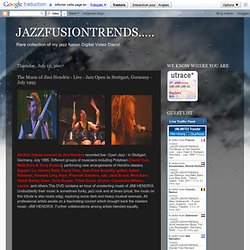 SugarMegs
music search engines/downloads
▶ Lou Reed & The Tots - Live Shrine Mosque 1973 (Full Bootleg)
SOUND DEVELOPMENT
Arthur Rhames.net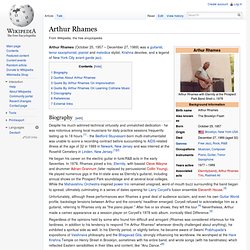 Arthur Rhames (October 25, 1957 – December 27, 1989) was a guitarist, tenor saxophonist, pianist and melodica stylist, Krishna devotee, and a legend of New York City avant-garde jazz.
Arthur Rhames