AUDIO GUMBO
JIMI 2
TONE SCIENCE 2. BILL DIXON. ALICE COLTRANE. Fuckyeahsufjanstevens.tumblr.com. Filling-everything asked: So, the National is going to be playing Calvin college on April 12th.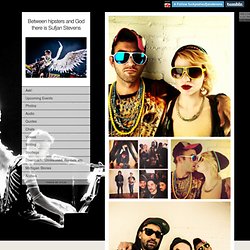 On the website, there is a "special guest" listed. Since Sufjan's fondness of Calvin, do you think he will be said special guest? BLOOD ULMER. NEIL YOUNG. GEORGE DUKE. ORNETTE. JOHN ZORN. MELVIN GIBBS.
El Reza. Magic Purple Sunshine. Jacques Attali - NOISE - The Political Economy of Music. Download Attali-Noise-1.pdf for free - Ebookbrowse.com - Ebook Search & Free Ebook Downloads. Noise: The Political Economy of Music - Jacques Attali.
EXOTICA
BURNT SUGAR. PETE COSEY. JB. FUNK 2. PRINCE. SONNY SHARROCK. PROG. AUDIO TECH. Sound. SOUND. RadiOM.org - New music, composers, poetry, video and audio streaming. Music & Musical Instruments Directory. MUSIC SHOPS.
JazzFusionTrends. All-Star tribute concert to Jimi Hendrix recorded live- Open Jazz - in Stuttgart, Germany, July 1995.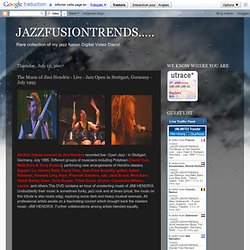 Different groups of musicians including Polytown-(David Torn, Mick Karn & Terry Bozzio), performing new arrangements of Hendrix classics. Nguyen Le, Vernon Reid, David Torn, Jean-Paul Bourelly, guitar; Adam Holzman, Howard Levy, keys; Pharoah Sanders, sax; Jack Bruce, Mick Karn, Victor Bailey, bass; Terry Bozzio, Trilok Gurtu, drums; Cassandra Wilson, vocals; and others.This DVD contains an hour of unrelenting music of JIMI HENDRIX. SugarMegs. Music search engines/downloads. Music reference/blog. Mp3skull.com - Free Mp3 Download. Freesound :: home page.
Free Music : Download & Streaming : Live Music Archive : Internet Archive. MP3 ARCHIVE. GLOBAL. GUMBO 2. ARTISTS. ROCK. Lou Reed & The Tots - Live Shrine Mosque 1973 (Full Bootleg)
MUSIC FESTIVALS. GUMBO. JAZZ. FUNK. P-FUNK. SOUND DEVELOPMENT. BEEFHEART. ZAPPA. Arthur Rhames.net. Arthur Rhames. Arthur Rhames (October 25, 1957 – December 27, 1989) was a guitarist, tenor saxophonist, pianist and melodica stylist, Krishna devotee, and a legend of New York City avant-garde jazz.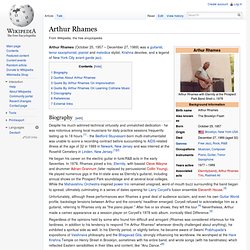 Biography[edit] Despite his much-admired technical virtuosity and unmatched dedication - he was notorious among local musicians for daily practice sessions frequently lasting up to 18 hours [1] - the Bedford Stuyvesant-born multi-instrumentalist was unable to score a recording contract before succumbing to AIDS-related illness at the age of 32 in 1989 in Newark, New Jersey and was interred at the Rosehill Cemetery in Linden, New Jersey.[1][2] He began his career on the electric guitar in funk/R&B acts in the early Seventies.
MILES. Ronald Shannon Jackson. JIMI.
---