Mode/Nähen
The Freelancer's Fashionblog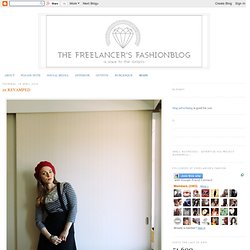 I am a list person. I need to make lists in order to get things in order, or, at least to feel things migh be getting into order at some point. The more there is to do, the more lists there are to be written, both on tasks and want-to's. Sometimes I even need to make a list of lists to be made. Here's a totally different kind of list that serves no actual purpose - I see these different question-lists circulate on blogs and I for some reason find them rather fun to read. Maybe for the same reason we click Like at people's pictures of their lunches on instagram...
Katzen & Spatzen
Wenn man lange Zeit ein schönes Buch gelesen und die Charaktere lieb gewonnen hat, ist es so traurig, es zu Ende gelesen zu haben und fast unmöglich gleich ein Neues anzufangen. Immerhin habe ich schöne, merkenswerte Sätze mitnehmen können. "Gleichzeitig aber spürte sie wie fragil dieser Fortschritt noch war, wie leicht es wäre, nachzulassen, zuzumachen und wieder dort zu landen, von wo aus sie gestartet war, den ganzen Tag im Bett zu verbringen, ohne schlafen zu können, voller Angst vor dem Tag und vor der Nacht gleich doppelt, nicht mehr ans Telefon zu gehen und nur noch Trost in dem Gedanken zu finden, nie wieder Trost zu brauchen." "Die Leute dachten, erwachsen zu werden hieße, dass die eigenen Handlungen plötzlich Bedeutung hatten; das Gegenteil war der Fall." "Doch die Menschen vergaben einem nicht für das, was sich richtig anfühlte – das war das Letzte, was sie einem verziehen." aus Die Kunst des Feldspiels von Chad Harbach
Born as a prince in the seclusion of Himalayan foothills, Siddhartha Gautama's father shielded him from seeing disease, old age and death since birth. It wasn't until at the age of twenty-nine, he met an aged man with a wrinkled face and bent back, outside the palace. The prince was shocked to hear from his charioteer that everyone's life will eventually come to an end.
Pure Vegetarian By Lakshmi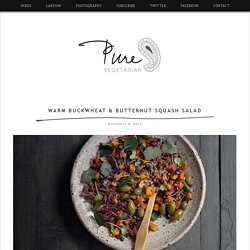 The Freelancer's Fashionblog
honey & jam | recipes + photos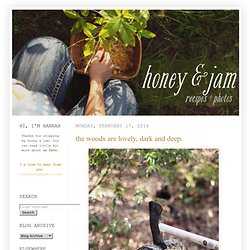 Hi! Remember me? The girl who used to blog round these parts? I'm sneaking in with a few photos and a recipe for something tasty and to say hi. Hi! I hope your summer has been grand.
Delightfully Tacky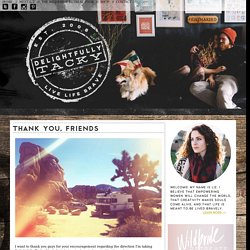 I've had part of this post written for months, but today the straw broke the camel's back and I had to finish it. Because people, I'm over it. I'm done with this idea that, as a grown woman, its gross, undesirable, unfeminine for me to have body hair. I hear this message over. and over. and over in our culture. But yesterday I heard it in probably the most unapologetic way I've heard it yet:
Hey there, sweet thing! Today is our one year anniversary. Exactly one year ago today I signed the paperwork that made you mine. I didn't even get to drive you home since I didn't have my license yet, only my permit. I was too nervous to drive on the highway, a highway that we would eventually move very close to and drive on almost every day.
The Dainty Squid
77/365 :: This was my favourite snack a few weeks ago. 78/365 :: I saw Kaylah post one of these patches and I freaked out. They are soooo neat! 79/365 :: I'm getting so much better about sending mail; it's really fun! I picked up a few cute (and cheap!)
♥elycia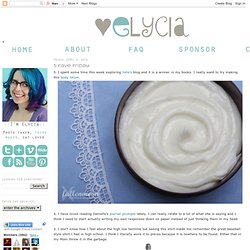 I've always had a special affection for the month of April. When I was seven, my parents took me to the shelter to adopt my first kitten. I was feeling particularly clever that day and decided, "Hey…this is the month of April, right? Let's name the cat April!".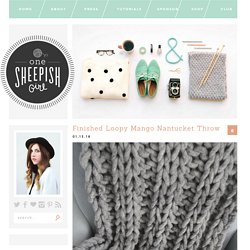 one sheepish girl
Make Do & Mend - Channel 4
There are a few things over the past few years that I've bought that I truly use daily, or nearly daily. Some were splurges that I researched, hemmed and hawed, and finally gave in…and they were totally worth it. The list is kind of a mish-mash of all kinds of things (makeup, fashion, entertainment), but they are truly things that adore.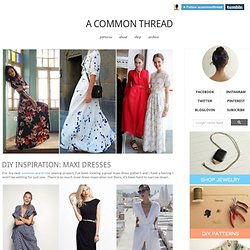 a common thread blog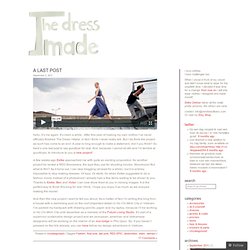 It's almost a year since I've started the challenge to create my own wardrobe and written the very first post of The Dress I Made. I've learned a lot from sewing all these clothes, and without this self-induced incentive of writing a blog I would never have started on a wintercoat for example. With making my own skirts, dresses and trousers, I learned about quality too.
The dress I made
~Ruffles And Stuff~
Today I was not doing the "happy" thing. I was doing the "bleah, I feel so blah and depressed for no reason so I'm just going to eat poptarts and browse instagram" thing. I definitely didn't make the most of the daytime.
Mademoiselle Chaos
Swellmayde