Jeux vidéo : histoire, culture, débat, etc.
Get flash to fully experience Pearltrees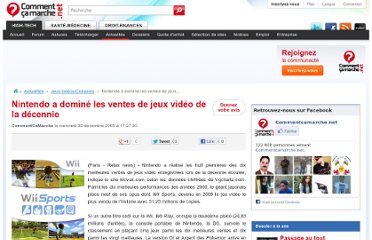 (Paris - Relax news) - Nintendo a réalisé les huit premières des dix meilleures ventes de jeux vidéo enregistrées lors de la décennie écoulée, indique le site Mcvuk.com selon les données chiffrées de Vgchartz.com. Parmi les dix meilleures performances des années 2000, le géant japonais place neuf de ses opus dont Wii Sports , devenu en 2009 le jeu vidéo le plus vendu de l'histoire avec 51,25 millions de copies. Si un autre titre sorti sur la Wii, Wii Play , occupe la deuxième place (24,83 millions d'unités), la console portable de Nintendo, la DS, survole le classement en plaçant cinq jeux parmi les dix meilleures ventes et dix parmi les vingt meilleures.
Amusement is a quarterly high-range French magazine dedicated to video games and digital entertainment. Its first issue was published in May 2008.
These are modern fossils.