Wikileaks
Manuel De Diplomatique - Arthur Giry - Google Books
WikiLeaks : armes en Irak, les estimations erronées d'Israël
LE MONDE pour Le Monde.fr | • Mis à jour le | Par Gilles Paris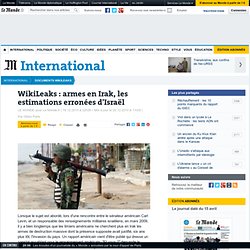 BOUSSOLE – WikiLeaks : où chercher les mémos ?
Le site WikiLeaks a commencé à publier dimanche soir une partie des 251 287 documents en sa possession, retranscrivant de nombreux échanges et rapports d'agents diplomatiques américains, parfois confidentiels, écrits entre 1996 et 2010.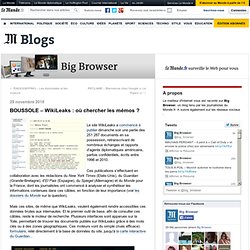 WikiLeaks Archive — A Selection From the Cache of Diplomatic Dispatches - Interactive Feature
Gráfico: : Gráficos en ELPAÍS.com
From WikiLeaks Unless otherwise specified, the document described here: Was first publicly revealed by WikiLeaks working with our source.Was classified, confidential, censored or otherwise withheld from the public before release.Is of political, diplomatic, ethical or historical significance. Any questions about this document's veracity are noted. The summary is approved by the editorial board. See here for a detailed explanation of the information on this page.
Afghan War Diary, 2004-2010 - WikiLeaks