Wikileaks
Manuel de diplomatique (work by Giry) -- Britannica Online ...His Manuel de diplomatique (1894), a guide to the study of ancient documents and charts, formed the basis ... Search Britannica for "Manuel de diplomatique" ...www.britannica.com/eb/topic-363147/Manuel-de-diplomatique Canton de Vaud : site officiel : BibliographieGiry, Arthur, Manuel de diplomatique : diplômes et chartes, ... Boüard, Alain de, Manuel de diplomatique française et pontificale, Paris, éd. ...www.vd.ch/index.php?id=15979&print=1&no_cache=1 Thélème. 2.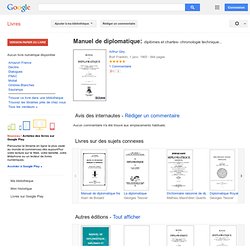 Manuel De Diplomatique - Arthur Giry - Google Books
WikiLeaks : armes en Irak, les estimations erronées d'Israël
LE MONDE pour Le Monde.fr | • Mis à jour le | Par Gilles Paris Lorsque le sujet est abordé, lors d'une rencontre entre le sénateur américain Carl Levin, et un responsable des renseignements militaires israéliens, en mars 2009, il y a bien longtemps que les limiers américains ne cherchent plus en Irak les armes de destruction massive dont la présence supposée avait justifié, six ans plus tôt, l'invasion du pays. Un rapport américain vient d'être publié qui dresse un constat accablant pour le renseignement américain. "Et vous ?"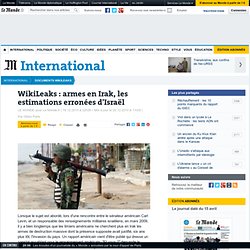 BOUSSOLE – WikiLeaks : où chercher les mémos ?
Le site WikiLeaks a commencé à publier dimanche soir une partie des 251 287 documents en sa possession, retranscrivant de nombreux échanges et rapports d'agents diplomatiques américains, parfois confidentiels, écrits entre 1996 et 2010. Ces publications s'effectuent en collaboration avec les rédactions du New York Times (Etats-Unis), du Guardian (Grande-Bretagne), d'El Pais (Espagne), du Spiegel (Allemagne) et du Monde pour la France, dont les journalistes ont commencé à analyser et synthétiser les informations contenues dans ces câbles, en fonction de leur importance (voir les dossiers du Monde sur la question). Mais ces sites, de même que WikiLeaks, veulent également rendre accessibles ces données brutes aux internautes. Et le premier outil de base, afin de consulter ces câbles, reste le moteur de recherche. Plusieurs interfaces sont apparues sur la Toile, permettant de trouver les documents publiés sur WikiLeaks grâce à des mots clés ou à des zones géographiques.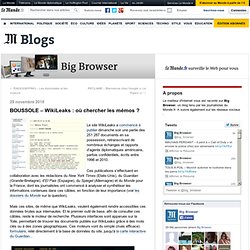 CABLESEARCH is an attempt for an user friendly search engine of documents from Wikileaks. It is aimed at reporters and an initiative of the soon to be launched European Centre of Computer Assisted Research endorsed by VVOJ . This search interface is based on 251287 cables, including ones that have been retracted from the original source. When searching, you can prepend the modifier "-" to signal words you don't want to appear in a document.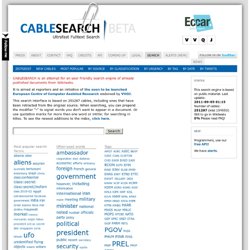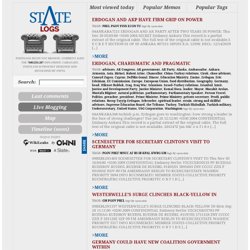 TAGS: PREL PGOV PINS ECON TU tags by opencalais 04ANKARA7211 ERDOGAN AND AK PARTY AFTER TWO YEARS IN POWER: Thu Dec 30 05:05:00 +0100 2004 SECRET Embassy Ankara This record is a partial extract of the original cable. The full text of the original cable is not available.S E C R E T SECTION 01 OF 05 ANKARA 007211 SIPDIS E.O. 12958: DECL: 12/14/2029 [...] >More
WikiLeaks Archive — A Selection From the Cache of Diplomatic Dispatches - Interactive Feature
Gráfico: : Gráficos en ELPAÍS.com
Iraqwarlogs.com shortlisted in Amnesty Media Awards The Bureau of Investigative Journalism's web project is shortlisted for a leading human rights media award. More coverage of the Bureau's Iraq investigation Journalism.co.uk reports on the Bureau's work on the Iraq war logs US troops hand over detainees to interrogation squad American troops transferred detainees to Iraqi interrogation squads despite allegations of violent practices
From WikiLeaks Unless otherwise specified, the document described here: Was first publicly revealed by WikiLeaks working with our source.Was classified, confidential, censored or otherwise withheld from the public before release.Is of political, diplomatic, ethical or historical significance. Any questions about this document's veracity are noted. The summary is approved by the editorial board. See here for a detailed explanation of the information on this page.
Afghan War Diary, 2004-2010 - WikiLeaks