Typographie
2OVMi.png (Image PNG, 800x4600 pixels) Erler Dingbats :: The World's first Complete Unicode Dingbats Font. Download Free Erler Dingbats To help support and encourage the use of the Unicode standard, publisher FSI FontShop International is giving away the Erler Dingbats completely free of charge.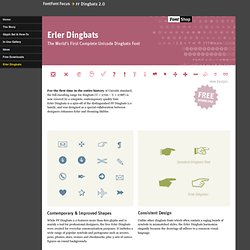 As more and more social media (Twitter, Facebook, etc.) and mobile devices (smartphones, tablets) are rapidly surging towards the use of Unicode, now is exactly the right time to provide this elegant, versatile set of modern communication symbols for use in tweets and status messages. The free Erler Dingbats will help propel this evolution forward. Web Symbols typeface. Codex: the journal of typography. Fonts, typefaces and all things typographical — I love Typography (ILT) Upscale typography. The Elements of Typographic Style Applied to the Web – a practical guide to web typography. WhatFont Tool - The easiest way to inspect fonts in webpages « Chengyin Liu.
← Back to Chengyin's main page What is the easiest way to find out the fonts used in a webpage?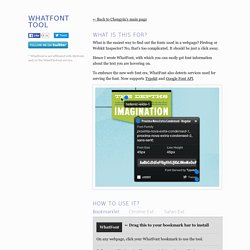 Firebug or Webkit Inspector? Folk : Marcelo Magalhães. Collection of illustrations for personal projects.Drawing, Illustration, Painting2013 Cover art for a Boogie Woogie Trio from Switzerlad.Graphic Design, Illustration, Packaging2013 This typeface is a ongoing project developed on the summer program of typeface design at The Cooper Union, NY.Typography2012 Visual identity and portfolio presentation for a photographer.Branding, Packaging, Print Design2012 Series of letterings/logos created for the sections of the website showlivre.comArt Direction, Graphic Design, Typography2013 Collection of Logos.Branding, Design, Graphic Design2012 Typeface design.Graphic Design, Typography, Branding2011 Some Advertisings for Rádio Eldorado.Advertising, Creative Direction2012 I was invited by my friends at Seis e Um Audiovisual to create the visual identity to theirs new weblog Audiovizuando, almost everything about gadgets, cams with a lot of humor.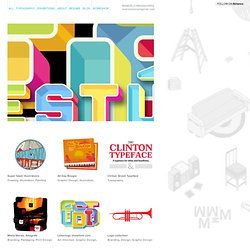 The League's Typelog. Beautiful Type - Links. We could say that 2010 was a great year for typography on the web...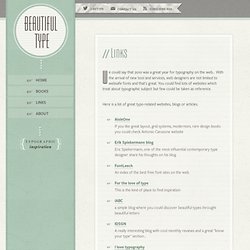 With the arrival of new tool and services, web designers are not limited to websafe fonts and that's great. You could find lots of websites which treat about typographic subject but few could be taken as reference. Fontleech: The best free fonts on the web.
Beautiful Type. Kern Type, the kerning game. Font Newsletter Archive. Our popular email newsletters are a benefit of FontShop.com membership.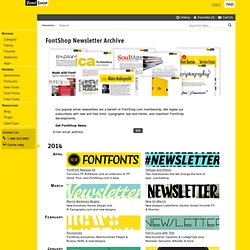 We regale our subscribers with new and free fonts, typographic tips and trends, and important FontShop developments. Get FontShop News: Ask H&FJ: Four Ways to Mix Fonts. The League of Moveable Type. Desktop and @font-face fonts | Fontspring. Top 10 fonts of 2008. Although 2008 was a very good year for sans-serifs, there was also an impressive crop of serif fonts.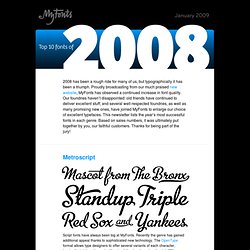 Strikingly original, Marat by Ludwig Übele was the most remarkable of them all: sturdy, compact, and very legible. Its superior quality and unique appearance met with great response from MyFonts' customers, making it 2008's best selling serif text font of the year. Although it works beautifully at small text sizes, its bold weights are full of character and can double as attention-grabbing headline faces. Museo Sans - a [free] font from exljbris Font Foundry.
Museo Sans, the sans with a familiar look Museo Sans is based on the well-known Museo.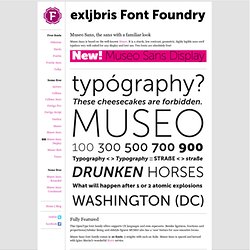 It is a sturdy, low contrast, geometric, highly legible sans serif typeface very well suited for any display and text use. The League of Moveable Type - League Gothic. League Gothic is a revival of an old classic, and one of our favorite typefaces, Alternate Gothic #1.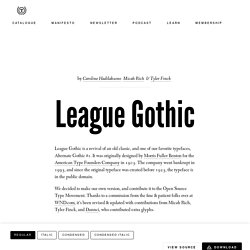 It was originally designed by Morris Fuller Benton for the American Type Founders Company in 1903. The company went bankrupt in 1993, and since the original typeface was created before 1923, the typeface is in the public domain. We decided to make our own version, and contribute it to the Open Source Type Movement. Abstract Fonts - 13,130 Free Fonts. Sans Serif Free Fonts. 9 New High-Quality Free Fonts. We're always trying to find new high-quality freebies.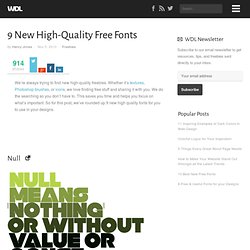 Whether it's textures, Photoshop brushes, or icons, we love finding free stuff and sharing it with you. We do the searching so you don't have to. Web Typography: Educational Resources, Tools and Techniques - Smashing Magazine. Advertisement Web typography has evolved a lot over the last years.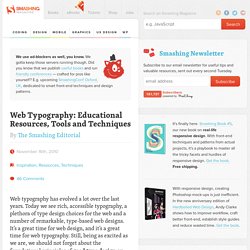 Today we see rich, accessible typography, a plethora of type design choices for the web and a number of remarkable, type-based web designs. It's a great time for web design, and it's a great time for web typography. Still, being as excited as we are, we should not forget about the foundational principles of good type design on the web and use them properly within our projects. Great choice is good, but, most importantly, we should be making meaningful typographic choices in our designs. Font Directory. 30 Modern Free Futuristic Fonts. Futuristic fonts best for those who have to have something new and ultra-modern. Everybody use serif, sans-serif, grunge and Gothic fonts in projects but futuristic fonts can add innovative sensation to your design.
Today we have collected 30 free futuristic fonts for your future projects.
---