Acteurs
..:: CALMELL GROUP ::..
es.wikipedia.org/wiki/Indra_Sistemas
Indra Sistemas , S. A. es una empresa multinacional de España , dedicada a las tecnologías de la información . Es la segunda compañía europea por capitalización bursátil de su sector y la segunda empresa española que más invierte en I+D , con una cifra de 184 millones de euros invertidos en este concepto en 2008. [ actualizar ] [ 2 ] En 2011 contaba con unos 36.000 empleados, oficinas en 30 países y clientes en 118 países. Sus ventas llegaron ese año a 2.688 millones de euros, repartidos a partes iguales entre el mercado interior y exterior. [ 3 ] [ 4 ]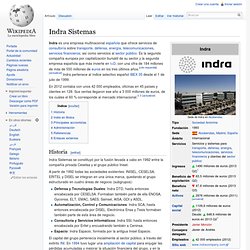 Institución
www.tecnalia.es/intranet/uploads/noticias/adjuntos/682_NP100215_smartTouch.pdf
QR NFC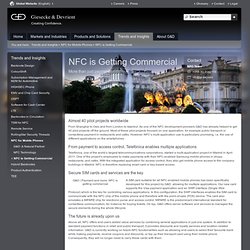 Almost 40 pilot projects worldwide From Shanghai to Oslo and from London to Istanbul: As one of the NFC development pioneers G&D has already helped to get 40 pilot projects off the ground. Most of these pilot projects focused on one application, for example public transport or contactless payment in restaurants and cafés. However, NFC's multi-application use is particularly promising, i.e. the use of different applications on the smartphones.
G&D | Payment and more: NFC is getting commercial
Coming events Some of the biggest names, important leaders and individuals from the early years care and education field will come together at the Bournemouth International Centre on the 26th and 27th April to network, debate, buy new equipment and source new solutions for their settings. We will present Daisy - a mobile solution for day cares and pre-schools. Past Events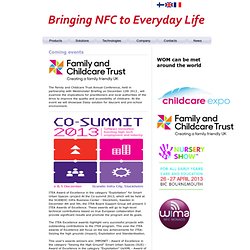 While on the Move - News
Bientôt disponible - Version française
Proxama - Leaders in Proximity Marketing and Mobile Wallets
GFI Informatique : Business consulting, Solution ERP, TMA - TRA, Solutions e-business, Emploi ingénieur informatique
Logica France - conseil en management, intégration de technologies et externalisation
NFC hub has made it easy to manage and view reports on which devices have interacted with your tag so it's simple to measure success. Customised Reporting Custom reporting provides you the power and flexibility to customise the specific date range and collect the unique site data most important to you. Tracking scans and conversion Understand visitor intent, find out what your customers are really looking for and speed up time to conversion with the customisable scanning and conversion report.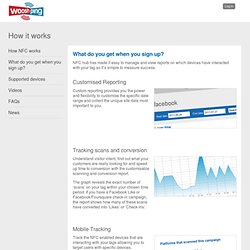 How NFC works | NFC hub | powered by Nokia
Solutions NFC
Les financements européens pour les projets TIC
Infopéenne
SMSC - NFC - Forum des services mobiles sans contact - site officiel du SMSC et NFC - Initiatives locales - A la Une
News - Smart Urban Spaces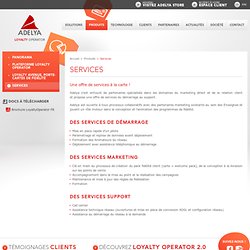 Une offre de services à la carte ! Adelya s'est entouré de partenaires spécialisés dans les domaines du marketing direct et de la relation client et propose une offre de services du démarrage au support. Adelya est ouverte à tous processus collaboratifs avec des partenaires marketing existants au sein des Enseignes et jouant un rôle moteur dans la conception et l'animation des programmes de fidélité. Des services de démarrage Mise en place rapide d'un pilote Paramétrage et reprise de données avant déploiement Formation des Animateurs du réseau Déploiement avec assistance téléphonique au démarrage Des services marketing
Services | ADELYA - carte de fidélité, programme de fidélisation, NFC, commerce, commerçants
AFSCM Association Française du Sans Contact Mobile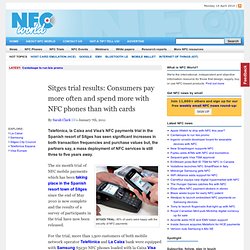 Sitges trial results: Consumers pay more often and spend more with NFC phones than with cards
By Sarah Clark | nfcworld.com | January 7th, 2011 | Last updated 1 April 2011, 17:16 Telefónica, la Caixa and Visa's NFC payments trial in the Spanish resort of Sitges has seen significant increases in both transaction frequencies and purchase values but, the partners say, a mass deployment of NFC services is still three to five years away. SITGES TRIAL: 85% of users were happy with the security of NFC payments The six month trial of NFC mobile payments which has been taking place in the Spanish resort town of Sitges since the end of May 2010 is now complete and the results of a survey of participants in the trial have now been released. For the trial, more than 1,500 customers of both mobile network operator Telefónica and La Caixa bank were equipped with Samsung S5230 NFC phones loaded with la Caixa Visa cards and 500 merchants in the town were equipped with contactless POS devices capable of handling NFC payments.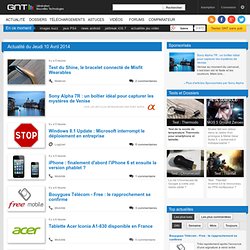 Gemalto (Euronext NL0000400653 GTO), leader mondial de la sécurité numérique, annonce qu'il fournit à Banco Santander, l'une des principales institutions financières européennes, une nouvelle technologie pour son programme de cartes d'identité universitaires en Espagne, dont le déploiement est déjà bien avancé. Gemalto livre ses cartes haut de gamme Optelio alliant des fonctions de paiement EMV, des applications d'identité pour la signature électronique, d'authentification forte et de contrôle d'accès sans contact sécurisé aux bâtiments du campus. De plus, Gemalto fournit une solution logicielle d'authentification forte permettant des applications de signature électronique. Acotec, un revendeur (« Value Added Reseller ») de Gemalto en Espagne, est en charge du déploiement de ces applications.
Gemalto combine l'EMV, le sans contact et la signature électronique pour le programme universitaire espagnol de Banco Santander
*Connecthings | *Connecthings - services mobiles sans contact NFC