Maintenance and repair
By BikeRadar | Tuesday, Jan 15, 2013 9.00am If you've let the muck build up on your bike, here's a step-by-step guide that will get it looking like new – and running much better – in less than an hour.
Workshop: How To Clean And Lube Your Bike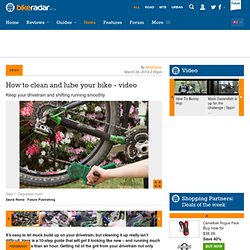 Easy Bicycle Maintenance Tips You Can Use at Home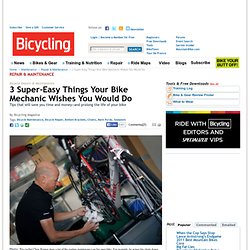 Bicycle Repair & Maintenance 3 Super-Easy Things Your Bike Mechanic Wishes You Would Do Tips that will save you time and money—and prolong the life of your bike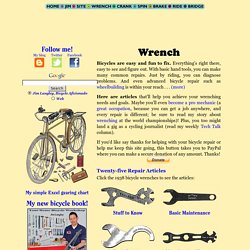 Bicycle Bike Repair Maintenance Mechanics and Tools by Jim Langley
Click to enlarge
16 Essential Bike Tools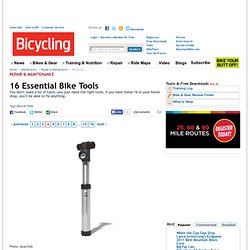 16 Essential Bike Tools You don't need a lot of tools—you just need the right tools. If you have these 16 in your home shop, you'll be able to fix anything.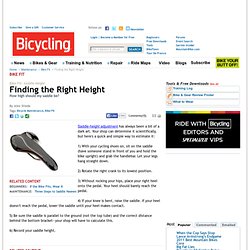 Bike Fit: Saddle Height Finding the Right Height How high should my saddle be? Saddle-height adjustment has always been a bit of a dark art. Your shop can determine it scientifically, but here's a quick and simple way to estimate it: 1) With your cycling shoes on, sit on the saddle (have someone stand in front of you and hold the bike upright) and grab the handlebar.
Bicycle Fit: Find the Right Saddle Height
Refurbish or Upgrade Old Steel Road Bicycles bikes, refurbishing, upgrading
Bicycle Refurbishing and Upgrading Tips This page includes some tips concerning the maintenance, refurbishing and upgrading of vintage bikes.