Blog qui représente le fun ,le cool l'energie
NO MORE BLUE JEANS
Mod Retro Vintage Clothing & Indie Clothes
Produits Bio - votre Magasin bio en ligne : beauté, hygiène, bébé et épicerie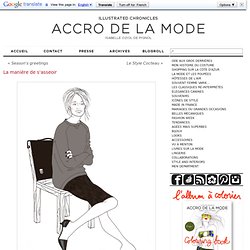 La manière de s'asseoir - Accro de la Mode
Certaines femmes ont une façon de s'asseoir qui me fascine. Leur manière de croiser leurs jambes, leur port de mains gracieux... rendent ces femmes immédiatement séduisantes. Revue de détails avec des filles stylées qui savent s'asseoir au risque de passer souvent pour des filles qui se la pètent .
DJs // Tête d'Affiche
Karl Lagerfeld's Guide to Life
PINK CHAMPAGNE
Pull Your Socks Up!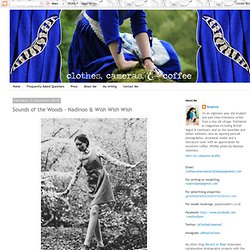 Getting up at 5.30am to be in make-up at 6am is never the most pleasant way of waking up – even if on this occasion it was the lovely Emily choosing my lip shade and expertly applying eyeliner. But shooting a video with Carrie directing, Nadia styling and Miguel shooting definitely ranks among the best things I experienced this autumn past. What I enjoy most about my blog is the unusual opportunities it occasionally throws up, that would have been inconceivable had I, in some 'Sliding Doors' style parallel life, not decided to create 'Clothes, Cameras and Coffee' on a day off from school several summers ago. This alternate Rosalind wouldn't have visited London Fashion Week twice, been honoured to be featured in a number of magazines and websites from around the world (including Grazia most recently – thank you so much to Hannah Almassi!)
Sounds of the Woods - Nadinoo & Wish Wish Wish
Toutes les citations de Oscar Wilde - 340 citations trouvées
Mario A. - Salon Paris Photo, au Carrousel du Louvre, jusqu'au 19 novembre 2006
KILT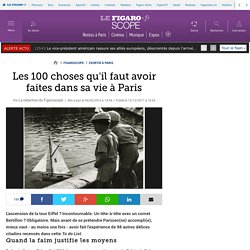 L'ascension de la tour Eiffel ? Incontournable. Un tête-à-tête avec un cornet Bertillon ?
NEWS | F.E.U. inc.
Tokyo Nail Expo 2011 Nail Art Competition And here's some more entries from the Nail Art Competition. I still have no word on the winner, but the event is still on for another few hours. These are not my work, just to be clear.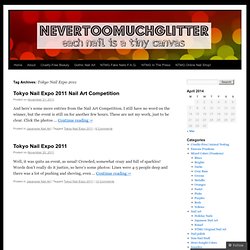 Tokyo Nail Expo 2011 « Nevertoomuchglitter's Weblog
Escarpins Keyté ELIAKA Rosso
Opérations Promotionelles : Toutes nos offres sont valables dans la limite des stocks disponibles. Opération Journées Magiques : Opération du 26 décembre 2012 au 28 février 2012 comprenant 2 périodes : 1. Du 26 décembre 2012 au 8 janvier 2013 : un accès en Ventes Privées à une sélection d'articles jusqu'à -60 % 2. Du 9 janvier 2013 au 28 février 2013 : un accès non restreint à une sélection d'articles jusqu'à -60 % NB: Offre valable sur tous les articles signalés par l'étiquette «Journées Magiques», dans la limite des stocks disponibles.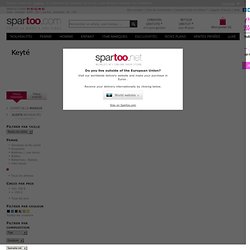 | MYMillionfashionblink
Blog MaraisUSA
Larissa | Marais USA
Accordéon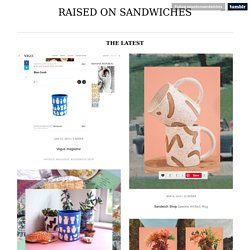 Raised On Sandwiches
There comes a time when you gotta let something go. After 5+ years of bloggin, I'm gonna lay Raised On Sandwiches to rest. This platform has evolved a great deal in that stretch of time. Among being a placeholder for funny bullshit and work I find inspiring its been an amazing way to connect with other incredibly creative people. I will still be lurking and soaking up all of the stimulus, but I am really excited to move on to a new project dedicated solely to original content. So keep your eyes and ears peeled.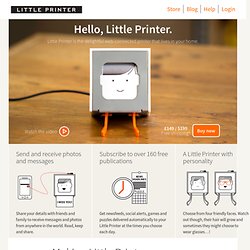 Publications Use Remote on your iPhone, Android smartphone or Windows Phone to browse, select and manage publications. Birthdays Never miss a friend's birthday; print a physical reminder of who will be celebrating this week.
Gals Rock
KMS Des seins des fesses des clopes & des guitares
Plume voyage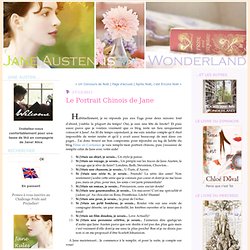 H abituellement, je ne réponds pas aux Tags pour deux raisons: tout d'abord, j'oublie la plupart du temps! Oui, je suis une tête de linote!! Et puis aussi parce que je voulais vraiment que ce blog reste un lieu uniquement consacré à Jane!
Le Portrait Chinois de Jane : Jane Austen is my Wonderland
Follow the yellow brick road...
Treets Looks | Treets looks sur treets tv, web tv du style et des looks branchés, classiques, excentriques, bobo, hipster, interviewe en video ceux qui portent les tendances d'aujourd'hui.
UGC Ciné-Cité les Halles (cinéma à Paris) - Horaires, salles et séances
PLACE A - Top e-shop !
Home
RAMDANE - Welcome
Avida Dollars « ZANZAN EYEWEAR
Emilie Simon
Narrative Table By Melody Rose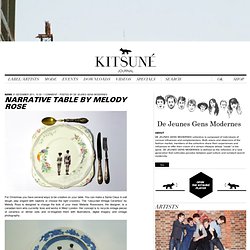 NEWS 21 December 2011, 12.33 | - POSTED BY De Jeunes Gens Modernes For Christmas you have several ways to be creative on your table. You can make a Santa Claus in salt dough, play origami with napkins or choose the right crockery.
Melody Rose Upcycled Vintage Ceramics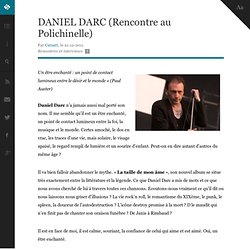 DANIEL DARC (Rencontre au Polichinelle)
Un être enchanté : un point de contact lumineux entre le désir et le monde » (Paul Auster) Daniel Darc n'a jamais aussi mal porté son nom. Il me semble qu'il est un être enchanté, un point de contact lumineux entre la foi, la musique et le monde. Certes amoché, le dos en vrac, les traces d'une vie, mais solaire, le visage apaisé, le regard rempli de lumière et un sourire d'enfant. Peut-on en dire autant d'autres du même âge ?
Alors que la course aux cadeaux bat son plein, voici quelques bonnes adresses pour vous faciliter la tâche dans le sprint final qui vous attend dans les jours qui viennent ! Ventes exceptionnelles et boutiques dernier cri se plient en quatre pour satisfaire toutes vos envies pour les fêtes. Voici ma sélection des lieux à fréquenter d'ici ce WE : 1) Vente créateurs, performances artistiques, concerts exceptionnels et ateliers pour petits et grands… c'est à une toute nouvelle adresse que vous retrouverez la programmation de Soon Famous pour cette édition de Noël.
5 ventes de Noël à ne pas manquer ! « Flanelle
Rock. Paper. Reckless
MaieDae
gift ideas | 2Market2