JS
Hook.js - Pull to refresh. For the web. Responsive jQuery Masonry · Osvaldas Valutis. …or Pinterest-style layout. jQuery Masonry is a jQuery-based plugin for a dynamic grid layout built by David DeSandro.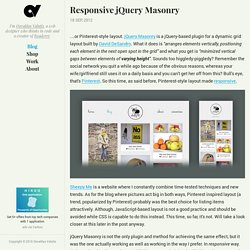 What it does is "arranges elements vertically, positioning each element in the next open spot in the grid" and what you get is "minimized vertical gaps between elements of varying height". Sounds too higgledy-piggledy? Timeline JS - Beautifully crafted timelines that are easy, and intuitive to use. jQuery.Shapeshift Demo. What is Shapeshift?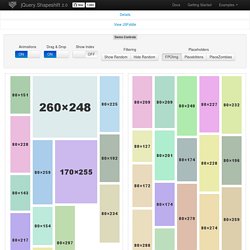 Inspired heavily by the jQuery Masonry plugin, Shapeshift is a plugin which will dynamically arrange a collection of elements into a column grid system similar to Pinterest. What sets it apart is the ability to drag and drop items within the grid while still maintaining a logical index position for each item. jQuery Toggles - Simon Tabor. Sequence Theme Demo - Apple Style. Morris.js. Getting started Add morris.js and its dependencies (jQuery & Raphaël) to your page. 1 <link rel="stylesheet" href=" <script src="//ajax.googleapis.com/ajax/libs/jquery/1.9.0/jquery.min.js"></script>3 <script src="//cdnjs.cloudflare.com/ajax/libs/raphael/2.1.0/raphael-min.js"></script>4 <script src="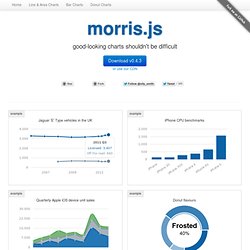 Create an interactive street view with jQuery. Net magazine is the number one choice for the professional web designer and developer.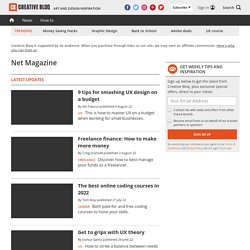 It's here that you find out about the latest new web trends, technologies and techniques – all in one handy package. Each issue boasts a wealth of expert tips and advice, including in-depth features and over 30 pages of advanced front- and backend tutorials on subjects as diverse as CSS, HTML, JavaScript, WordPress, PHP, and plenty more. net compiles the hottest new sites from around the web, and being the voice of web design, our mission is to source the best articles written by the best people in the industry and feature interviews and opinions crammed with inspiration and creative advice.
In short, If you're serious about web design and development, then net is the magazine for you. Page Scroller: A Simple Page Scrolling Plugin. NanoScroller.js. NanoScroller.js is a jQuery plugin that offers a simplistic way of implementing Mac OS X Lion-styled scrollbars for your website.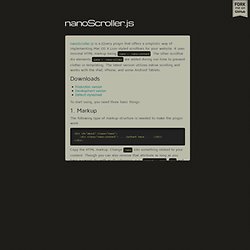 It uses minimal HTML markup being .nano > .nano-content. The other scrollbar div elements .pane > .nano-slider are added during run time to prevent clutter in templating. The latest version utilizes native scrolling and works with the iPad, iPhone, and some Android Tablets. Downloads To start using, you need three basic things: jQuery Masonry. 50 jQuery Tools for Awesome Websites. By now, everyone has heard of jQuery.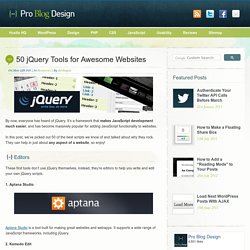 It's a framework that makes JavaScript development much easier, and has become massively popular for adding JavaScript functionality to websites. In this post, we've picked out 50 of the best scripts we know of and talked about why they rock. They can help in just about any aspect of a website, so enjoy! Editors. jRumble | A jQuery Plugin That Rumbles Elements. About The Plugin jRumble is a jQuery plugin that rumbles, vibrates, shakes, and rotates any element you choose.
It's great to use as a hover effect or a way to direct attention to an element. 10 Useful jQuery Plugins for Images. We all know and love jQuery for its flexibility and many uses.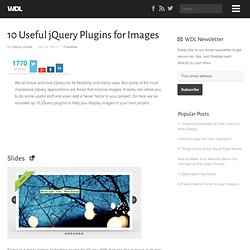 But some of the most impressive jQuery applications are those that involve images. It really can allow you to do some useful stuff and even add a "wow" factor to your project. So here we've rounded up 10 jQuery plugins to help you display images in your next project. Slides Slides is a crazy simple slideshow plugin for jQuery. Moment.js - A lightweight javascript date library.
---