Sides
Get flash to fully experience Pearltrees
Today Is Well since Monday I have been on my 30 day no junk food diet! So my carb loving self has been trying to stay away from pasta, bread and mashed potatoes. I ran across this recipe and looked to good not to try! It was wonderful!! I hope you enjoy it and much as my family did.
If you like this recipe then PIN IT on Pinterest Let me just say that my husband does NOT like veggies. Trying to make him eat a salad is almost impossible – but this dish…. Well lets just say I have to fight him for any of it. You get the freshness of the corn, mixed with the creaminess of the cream cheese and butter; a hint of heat from the red pepper flakes. Super easy to make and will be a favorite with any picky eaters.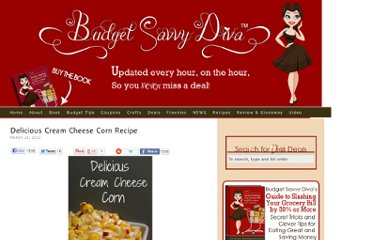 These fries ROCK plain and simple. Funny how one would still call them "fries" when really they are not "fried" in anything. Nope, these fries are too sophisticated for greasy oil, and much like a skinny swim suit model they prefer to be lightly oiled, slightly accentuated by a few minor spices and baked lying on a cookie sheet basking in the golden glow of the oven, BUT the one thing that sets these fries apart from the skinny swim suit model is that you can actually LOVE them instead of secretly hating them :) When we were still in PA, my neighbors RAVED over them and I mean RAVED! They could smell the wonderful aroma coming from the windows in the spring and would say "Oh my gosh" someone is cooking something that smells delicious! I once made the mistake of calling them "healthy French fries" and very promptly these little fry guys lost their appeal— that is UNTIL they tasted them!!!
I'm never going to make garlic potato fries any other way. These garlic fries, win hands down as the best garlic french fries I've ever made. Plus they are baked – so I won't feel too guilty if I make it every time I'm craving for some potato comfort. When I read that there is garlic infused oil involved, my heart skipped a beat (in a good way, not the way oil would otherwise treat your heart). I got down to making them immediately.
Make ahead foods are very close, dear friends of mine. When those make-ahead foods involve potatoes, cheese, & bacon - I'm all over it! The only thing is though, the rest of my family is all over 'em too. Even the baby!
Oh my gosh, now here is a gorgeous, delicious vegetable side dish that I absolutely adore. This is one of my mom's recipes, and I think could eat an entire plate of this buttery corn for dinner. She whipped it up for us this weekend and I knew I had to share it with you guys. What makes this corn so special is that it's got the best of both worlds. It has that wonderful creamy quality of creamed corn, but the corn itself is still crisp and fresh like it's straight off the cob.