Main Dish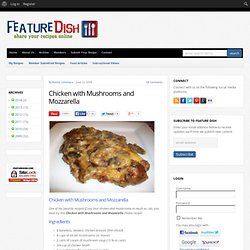 Chicken with Mushrooms and Mozzarella One of my favorite recipes!
Chicken with Mushrooms and Mozzarella | Feature Dish
Country Club Chicken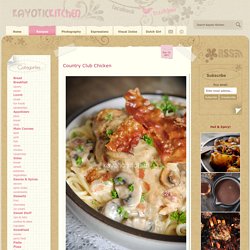 It wasn't until a friend of mine casually asked me what I had put into the chicken casserole that made it so creamy without making it greasy, that it dawned on me this is more an American than a European way of cooking. Using a concentrated soup as the basis of your casserole—turning it into a sauce like that—isn't really common in Dutch cooking.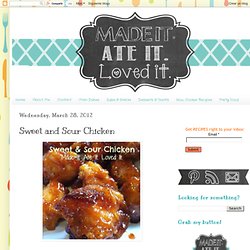 Sweet and Sour Chicken
My husband is a fan of sweet and sour chicken so I thought I would try this recipe. It was a huge hit in our house and even the boys ate tons of it! Definatly a keeper for a easy go to dinner meal
Joe's Crab Shack - Crab Cakes Recipe
Chronicles from a Vermont foodie: Sun Dried Tomato Chicken
My son has been bugging me for weeks to let him have a Facebook page. He's 14, and of course, all his friends are on Facebook ..... he even went so far as to say my not letting him on there was putting a kink in his social life! LOL!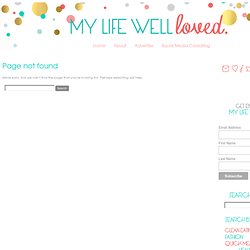 The Best Meatloaf, no, SERIOUSLY. - Saving Money Living Life
It looks like you're new here! You may want to subscribe to our RSS feed , Like Us on Facebook, or Follow Us on Twitter for recipes, DIY crafts, & savings tips and more. Thanks for visiting!
Crockpot Sweet and Spicy Meatballs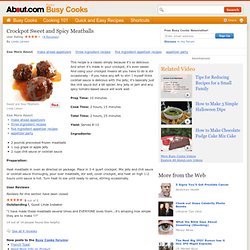 This recipe is a classic simply because it's so delicious. And when it's made in your crockpot, it's even easier. And using your crockpot means all you have to do is stir occasionally - if you have any left to stir!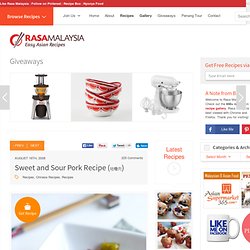 Sweet and Sour Pork Recipe (咕嚕肉)
(Popular and All-Time Favorite Chinese recipes : Broccoli Beef , Chow Mein , Egg Drop Soup , Kung Pao Chicken , Cashew Chicken , Fried Rice , Orange Chicken , Mongolian Beef , and more.) Sweet and Sour Pork , the ubiquitous and arguably the most well-known Chinese recipe in the world, is a classic Cantonese dish. Called "咕嚕肉" or " goo lou yok " in Cantonese dialect, sweet and sour pork is very pleasing to the palate because of the flavorsome sweet and sour sauce–the sweetness from sugar plus the tangy ketchup and sharp rice vinegar–with the crispy fried pork pieces.
Philly Cheesesteak Stuffed Peppers I can't believe I did not think of this sooner.
Philly Cheesesteak Stuffed Peppers
Red Lobster Recipes - Red Lobster Shrimp Scampi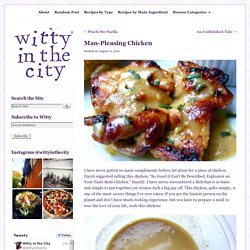 I have never gotten so many compliments before, let alone for a piece of chicken.
Sour Cream and Bacon Crockpot Chicken
Sour Cream and Bacon Crockpot Chicken
I receive a lot of questions about me and my blog. I thought it would be fun to collectively gather some questions I have been asked so you can get to know me better and maybe find some of the stuff useful for you. Q: What made you start this blog?
Bubble Up Enchiladas
Doritos Cheesy Chicken Casserole
This recipe is from Plain Chicken reader, Diane Blake.
Honey Sauced Chicken
Hi Pinterest visitors! This recipe is delicious, but I have a few others that we LOVE EVEN MORE!
I have a DELICIOUS recipe for you all!
3 Envelope Roast
Crafty Kitchen: Stromboli Recipe | Craft Buds
Pasta with Creamy Cajun Sauce
A recipe-- Fried Rice
P. F. Chang's Mongolian Beef Recipe - Food.com - 66121
Mexican Chicken
Homemade Chicken and Dumplings
Cream Cheese Enchiladas
My Name Is Snickerdoodle: Fabulous Food Friday #79
Crispy Cheddar Chicken
Mexican Casserole
Maryland Crab Cakes with Quick Tartar Sauce - Once Upon A Chef
Cheesy Chicken Lasagna
Quick Chicken Salad
Broiled Crab Cakes
Creamy Chicken Enchiladas