Teaching English
This Pearltree is about the craft of teaching literature and language. It contains things I think are interesting for English teachers.
What's happening in School? Teaching Jobs on Twitter. For your convenience, we've segmented our old Twitter account into 5 distinct teaching job/lifestyle accounts.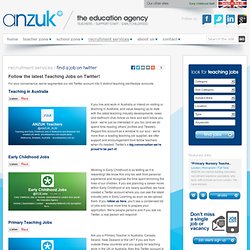 Teaching in Australia Listen. A List of 16 Websites Every Teacher should Know about. As part of their preparation for the new school year teachers try to look for new web resources and materials they can use to help them with their teaching.This is definitely not an easy task for one needs to live online in order to be able to keep up with the new releases and sift through the tsunami of web tools available online.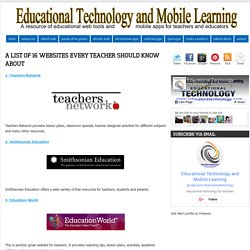 In this regard, Educational Technology and Mobile Learning has recently started posting a series of articles featuring some of the best free web resources for teachers across different educational spectrum. We have already published lists of free websites for teachers of ; Math, Science, Language Arts, Social Studies , Music Education , Economics, and Physical Education and Health, ESOL and today we are going to provide you with another list of great websites where teachers can find lesson plans, teaching tips and many more. Check out the list below and let us know what you think. Journey to Excellence: Socratic Seminars. Hexagonal Learning. After reading the inspirational post on The Learning Spy I decided to give this a go.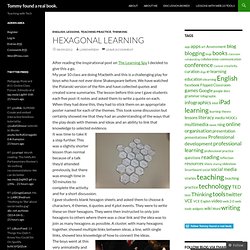 My year 10 class are doing Macbeth and this is a challenging play for boys who have not ever done Shakespeare before. We have watched the Polanski version of the film and have collected quotes and created scene summaries. The lesson before this one I gave students each five post-it notes and asked them to write a quote on each. Macbeth. TEDxTeen 2012. Special Section: INNOVATIVE EDUCATORS::Sir Ken Robinson, Part 1. Tuesday, February 21, 2012, Backstage @ Campbell Hall, UCSB The Santa Barbara Middle School Teen Press hands Sir Ken Robinson a blank check and asks him to use his imagination to design a learning place of his dreams.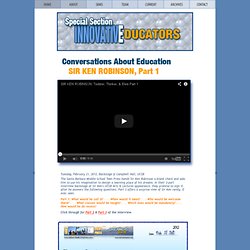 In their 3-part interview backstage at Sir Ken's UCSB Arts & Lectures appearance, they promise to sign it after he answers the following questions. Part 3 offers a surprise view of Sir Ken rarely, if ever, seen. Part 1: What would he call it? To Kill A Mockingbird (1962) - IMDb. Open Education Resources. Mind Mapping & Diagrams. Digital Literacy. 20 Must-Have Educational Resources For All Teachers | Edudemic | teaching with technology. eBooks. Scriblink - Your Online Whiteboard.
WordWeb iPhone Dictionary and Thesaurus. WordWeb English Dictionary for iPhone, iPad and iPod Touch Also available: the Chambers Dictionary and Chambers Thesaurus Up-to-date international English dictionary, based on WordWeb Fuzzy lookup with spelling and sounds-like suggestions Synonyms, similar words and many usage examples 285 000 words, phrases and derived forms 225 000 word sense definitions (Audio version) 70 000 professionally-recorded audio pronunciations 85 000 easy-to-understand text pronunciations Fast pattern-matching search (*, ?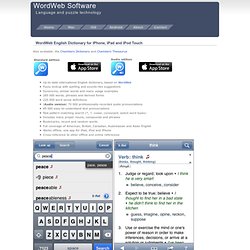 , vowel, consonant, select word types) Includes many proper nouns, compounds and phrases Bookmarks, recent and random words Full coverage of American, British, Canadian, Australasian and Asian English Works offline, one app for iPad, iPod and iPhone Cross-reference to other offline and online references On iPad: 25 Things You Should Know About Character - StumbleUpon.
Previous iterations of the "25 Things" series: 25 Things Every Writer Should Know 25 Things You Should Know About Storytelling And now… Here you'll find the many things I believe — at this moment!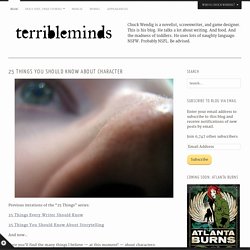 — about characters: Fictional Landscapes by UK-based artist Kyle. Webyarns.com: stories for the web. Inanimate Alice - Homepage. Visual Literacy Activities with Online Resources. Last week I talked about visual literacy in Visual Literacy Activities with Children's Picture Books.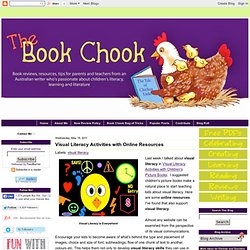 I suggested children's picture books make a natural place to start teaching kids about visual literacy. Here are some online resources I've found that also support visual literacy. Almost any website can be examined from the perspective of its visual communications. Encourage your kids to become aware of what's behind the type and placement of images, choice and size of font, subheadings, flow of one chunk of text to another, colours etc. This helps them not only to develop visual literacy skills they can use in their own projects, but also to become more media savvy as consumers. Reading/Language Arts Education Resources on the Web. Language Arts Resources Resources Bartlett Quotations Over 11,000 quotations, the first new edition of John Bartlett's corpus to be published after his death in 1905 keeps most of his original work intact.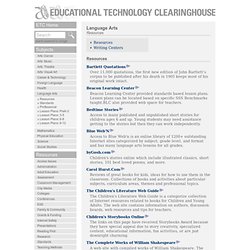 Beacon Learning Center. Reporting Links. Bubbl.us | brainstorm and mind map online. Warschauer/Whittaker - The Internet for English Teaching: Guidelines for Teachers (TESL/TEFL) | English Classes. Read & Discuss The Books You're Reading On Your iPad With Subtext | teaching with technology. Journey to Excellence: Socratic Seminars. Web Conferencing, Online Meeting, Web Meeting Software | Fuze Meeting | Digital Delights for Learners. Penguin Gifts. The Great Novels of Charles Dickens (Boxed Set) - Charles Dickens. The Australian Teachers of Media (Victoria) Teachit - English teaching resources | English Classes. Infographics as a Creative Assessment | Visual*~*Revolution. Digital fiction. English teaching resources. Information_Sheet_English_2011.
Digital Reading App, Online Reading with Friends, Ebook Reader App, iPad Ebook Reader. Web English Teacher | English Classes. AATE National Conference 2011 | English Classes. Victorian Association for the Teaching of English | English Classes. Socratic circles: fostering critical ... - Matt Copeland. The benefits and importance of Socratic seminars are widely recognized, but little has been written on how to make them happen successfully in the classroom.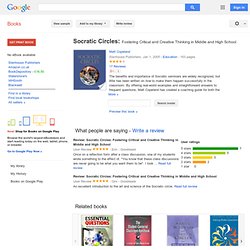 By offering real-world examples and straightforward answers to frequent questions, Matt Copeland has created a coaching guide for both the teacher new to Socratic seminars and the experienced teacher seeking to optimize the benefits of this powerful strategy. Socratic Circles also shows teachers who are familiar with literature circles the many ways in which these two practices complement and extend each other. Effectively implemented, Socratic seminars enhance reading comprehension, listening and speaking skills, and build better classroom community and conflict resolution skills. By giving students ownership over the classroom discussion around texts, they become more independent and motivated learners. iPad Book: Shakespeare In Bits Macbeth | iPad Books List. The Shakespeare In Bits for iPad series provides you this all-innovative fully-voiced and fully-animated study version of Macbeth presenting Fiona Shaw and Stephen Dillane.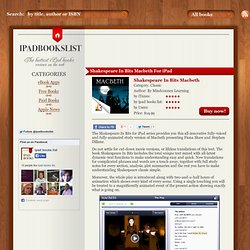 Do not settle for cut-down movie versions, or lifeless translations of this text. The book Shakespeare In Bits includes the total unique text mixed with all-latest dynamic-text functions to make understanding easy and quick. Explore e-books.
---