Programming
The Coder's Breakfast
03 avr. 2013 La semaine dernière se tenait l'édition 2013 de la conférence DevoxxFR, hébergée comme l'année passée dans les salons de l'hôtel Mariott, dont les motifs psychédéliques de la moquette ont marqué les esprits. Pour faire court, DevoxxFR c'est 3 jours de conférences en tous genres, plus de 1400 personnes, une trentaine d'exposants et de sponsors (dont Oracle et Google), et une équipe d'une vingtaine de personnes en polo rouge dopées à la caféine pour organiser tout ça (sacré boulot !). L'occasion d'en prendre plein les yeux, de remettre le cerveau en route, et de renforcer son réseau professionnel. Et comme j'ai toujours des bêtises à raconter, et que la programmation fonctionnelle revient à la mode, j'ai proposé une conférence sur la notion de Fold : "WTF - What's The Fold ?", qui a eu l'immense honneur d'être sélectionnée (seules ~12% des soumissions sont acceptées, pour des raisons évidentes de temps et de place !).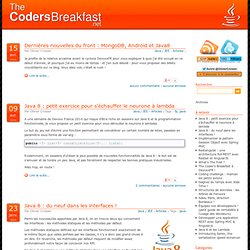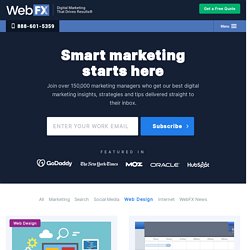 The Future of WordPress Starting with just a simple line of code 11 years ago, WordPress has evolved to become the platform of more than 74 million websites. Even with a vast array of competitors offering similar functionality, WordPress still dominates the CMS market with a 21.9% market share. continue reading » How to Make Distributed Design Teams Work With more and more technology companies adopting remote working environments, having team members in different parts of the world is not uncommon any more.
Popular JavaScript frameworks/libraries like jQuery, MooTools, Prototype, and YUI (to name a few of the most popular JavaScript frameworks out there) definitely have a solid foothold in the JavaScript framework arena. But for the more adventurous developers looking for new or alternative frameworks/libraries – there are some excellent frameworks outside the popular ones that's worth checking out. It's always good to consider all of your options before settling on a JavaScript framework that's right for you and/or your team – and though there's definitely a lot of compelling reasons to stick to the big names – it won't hurt you any to at least try the alternatives.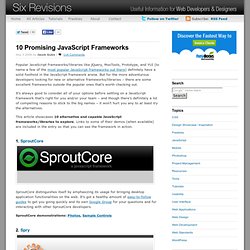 10 Promising JavaScript Frameworks - Six Revisions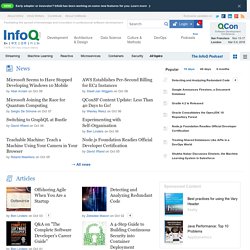 Robert Benefield on Business and Operations Collaboration Robert Benefield explains the importance of business and operations understanding each other better and how they can kickstart that understanding through collaboration. He talks about the need to find meaningful metrics for business. He discusses how methodologies for operations (ITIL, COBIT) and development (Scrum, Kanban) differ and what can be learned from both.
gotAPI/JavaScript DOM - Instant search in JavaScript DOM and oth