Wordpress-plugins
12 Wordpress Plugins to Display and Highlight Code within your Blog ... If you have ever tried to display code within a post you will know all about the problems this can cause.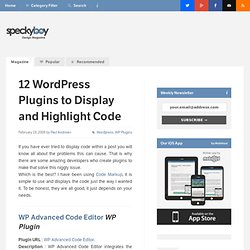 That is why there are some amazing developers who create plugins to make that solve this niggly issue. Which is the best? I have been using Code Markup, it is simple to use and displays the code just the way I wanted it. To be honest, they are all good, it just depends on your needs. Download LINQPad. SyntaxHighlighter:Brushes - Alex Gorbatchev.
Blog Cube. My CSS Menu - Menu Generator - horizontal menu, vertical menu.
---