Barnacles
Barnacles email. Barnacles Restaurant. CSV PDF Download Javelin TMFD. Gourmet Recipes, Cookery videos & Cookery Advice. Food. Chefs A-Z BBC. Sauces. Mother Sauce Recipes When you think of French food and classic French cooking you probably think of French sauces.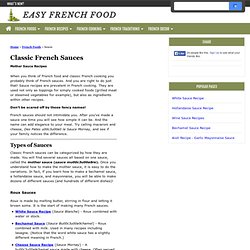 And you are right to do just that! LIVEBAIT RESTAURANTS - Fresh Fish and Seafood. Log me in. Office Live. Book a Chef. The URL you attempted to reach has an ISAPI or CGI application installed that verifies user credentials before proceeding.
This application cannot verify your credentials. Please try the following: Contact the Web site administrator if you believe you should be able to view this directory or page. Click the Refresh button to try again with different credentials. GooglyFish - Free Job Posting Service UK. Caterer.com. Christies. C Jay Enterprises catering equip. Fountain Candles. Matthew Clark. Andy Thornton. Costing a menu.
To cost a menu, it is necessary to identify the direct and indirect costs involved in operating the menu.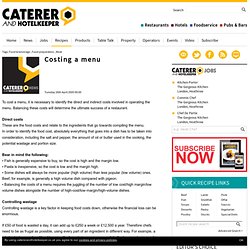 Balancing these costs will determine the ultimate success of a restaurant. Direct costs These are the food costs and relate to the ingredients that go towards compiling the menu. In order to identify the food cost, absolutely everything that goes into a dish has to be taken into consideration, including the salt and pepper, the amount of oil or butter used in the cooking, the potential wastage and portion size.
Bear in mind the following: • Fish is generally expensive to buy, so the cost is high and the margin low.• Pasta is inexpensive, so the cost is low and the margin high.• Some dishes will always be more popular (high volume) than less popular (low volume) ones. Direct Seafoods. M&J. TripAdvisor. QYPE. This was a really positive dining experience for my wife and I.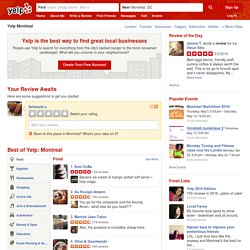 The oysters were not great but the cherry vinegar was a nice change of pace. My pork chop was cooked perfectly as was my wife's chicken. Just a very well executed meal. Holiday entitlements. Almost all workers are legally entitled to 5.6 weeks' paid holiday per year (known as statutory leave entitlement or annual leave).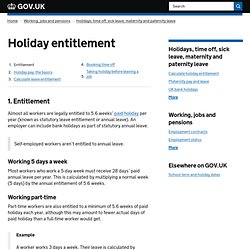 An employer can include bank holidays as part of statutory annual leave. Self-employed workers aren't entitled to annual leave. Working 5 days a week Most workers who work a 5-day week must receive 28 days' paid annual leave per year. 3663. Bookers. Cheese Suppliers Cheese Cellar. Nisbets. Nisbets Clearance Catering. Seafood Cutlery. Coffeecups | CoffeeCups. Barnacles restaurant. MailChimp - email marketing made easy. StatCounter. Barnacles place page. Website edit. Alex Burrows Design: Drupal themer and developer. Freeparking. Website editing.
---