Awesome sauce
Nom nom nom
Egypt's Muslims and Christians join hands in protest. 10 February 2011Last updated at 09:17 By Anne Alexander University of Cambridge Muslim and Christian shoulder-to-shoulder in Tahrir Square Just weeks after a New Year's Day church bombing rocked the port city of Alexandria, Egypt's religious tensions have been set aside as the country's Muslims and Christians join forces at anti-government protests.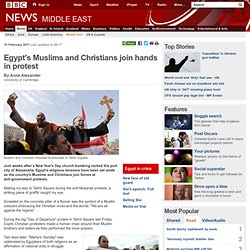 Making my way to Tahrir Square during the anti-Mubarak protests, a striking piece of graffiti caught my eye. Hackers target Microsoft Windows XP support system. 1 July 2010Last updated at 10:17 The bug affects well-established Windows XP operating system Hi-tech criminals are "escalating" attacks on an unpatched bug in the Windows XP help and support system.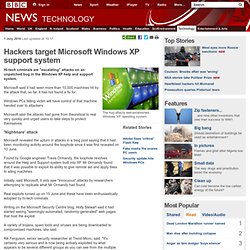 Microsoft said it had seen more than 10,000 machines hit by the attack that, so far, it has not found a fix for. Audio slideshow: Dark sky stargazers. 31 January 2011Last updated at 08:18 Look up into the night sky where you live, and the chances are that your view of the stars will be affected in some way by light pollution.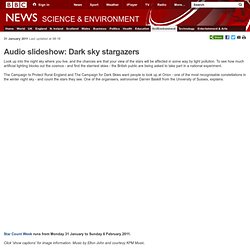 To see how much artificial lighting blocks out the cosmos - and find the starriest skies - the British public are being asked to take part in a national experiment. The Campaign to Protect Rural England and The Campaign for Dark Skies want people to look up at Orion - one of the most recognisable constellations in the winter night sky - and count the stars they see. One of the organisers, astronomer Darren Baskill from the University of Sussex, explains. Continue reading the main story. Google. Bros Like This Site. LOLplants- Because plants are funny, too. Cayucos Vacation Rental - VRBO 229569 - 3 BR Central Coast House in CA, Spectacular Pacific Ocean View. Fabulous time!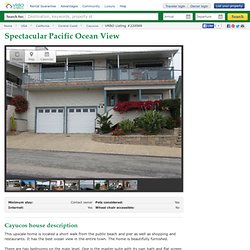 Fabulous time! Guest Lori B. (Stockton) Date of stay 06/16/11 Review Submitted 10/22/11 My family and I spent a wonderful week at this home. VolunteerMatch - Where Volunteering Begins. Protest over higher university tuition fees. Facebook Tries To Silence Lamebook: Removes Its Page, Blocks Links And Likes. Dominic - [LOJIK BOMB] It usually has to thump to some extent.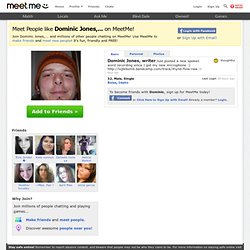 Music is a mood thing for me, but as a general rule I stick to the livelier, heavier type of music. My musical tastes are still very scatter-brained when it comes to burning a mix CD. Okcupid-pidgin - Project Hosting on Google Code. This plugin gets to be the only plugin ever made that will connect OkCupid's online messenger to the Pidgin Instant Messaging program ( It requires json-glib from the Pidgin-FacebookChat project to work sop please make sure to download it.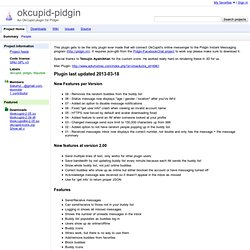 Special thanks to Temujin Ayamikhan for the custom icons. Breaking stories. Marié Digby | Official Website. Find single women or men, rate photos at HOT or NOT! Ited Nations Millennium Development Goals. The eight Millennium Development Goals (MDGs) – which range from halving extreme poverty rates to halting the spread of HIV/AIDS and providing universal primary education, all by the target date of 2015 – form a blueprint agreed to by all the world's countries and all the world's leading development institutions.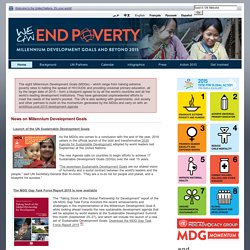 They have galvanized unprecedented efforts to meet the needs of the world's poorest. The UN is also working with governments, civil society and other partners to build on the momentum generated by the MDGs and carry on with an ambitious post-2015 development agenda. From this site, explore the efforts of the UN and its partners for building a better world. ... more News on Millennium Development Goals A historic moment to defeat malaria. Add-ons for Firefox. Wikispecies, free species directory. SECTOR 17 - DAMAGE LAB STUDIOS. For the first "Street Art Site of the Day" we had to go with Boise, Idaho's very own SECTOR 17 .
We're not sure where the line should be drawn between "Street Art" and "Commissioned work" but these guys have amazing talent--and if they can use it to get paid, what's wrong with that? And, they're doing two great things that make us love them that much more: 1) Helping to get Street Art recognized as a genuine and respectable art form, and 2) Representing Boise as well as anyone we've ever seen. Check 'em out, give 'em props.
They deserve it. MTTHEORY Clothing.
---