Body
Stony Mountain Botanicals - Natural Cleansers: Safe Alternatives to Commercial Cleaning Products. Safe Alternatives to Commercial Cleaning Products Do not copy or distribute any portion of this page without the authors written permission. © 1997 Contributed by Kimberly Weeks Baking soda uses:freshens, cleans and deodorizes.Good scouring powder.Softens water in creasing the cleaning power of soap.Do not use on aluminum - it will turn black.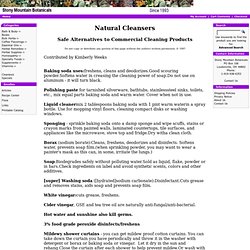 Polishing paste for tarnished silverware, bathtubs, stainlesssteel sinks, toilets, etc., mix equal parts baking soda and warm water. How to Go From Sedentary to Running in Five Steps | zen habits. As a runner, there is almost nothing in this world that can take me to the places that running does.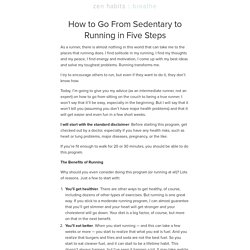 I find solitude in my running, I find my thoughts and my peace, I find energy and motivation, I come up with my best ideas and solve my toughest problems. Running transforms me. I try to encourage others to run, but even if they want to do it, they don't know how. Today, I'm going to give you my advice (as an intermediate runner, not an expert) on how to go from sitting on the couch to being a true runner. How to make your own apothecary, make a super simple linen spray, and feel like a wizard.
As a little girl I mixed up shampoos and lotions in my laboratory, trying to improve on the toiletries we had.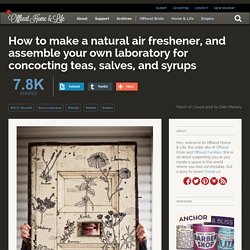 I never came up with anything worth mentioning, but I did once get scolded for spilling my mom's shampoo all over the bathroom rug. A friend of mine told me about the "laboratory" she'd had at age 12, in which she created, among other things, the cure for AIDs. You probably won't cure any diseases with your apothecary, but you will scratch that youthful itch to create something useful out of ordinary ingredients. narfmore I'll get your mad scientist career started with a list of ingredients to start a home apothecary, with which you'll be able to make herbal teas, salves, syrups, tinctures, eye pillows, and infused oils. Food Cravings? Here Is What Your Body Really Wants~ Chocolate Magnesium Raw nuts and seeds, legumes, fruits Sweets Chromium.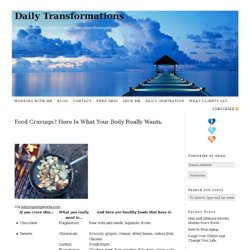 ---