LAYOUT
We show how to use the new AS3 text layout classes: TextFlow, ContainerController, TextLayoutFormat, and properties like TextFlow.flowComposer to lay out and format text programmatically.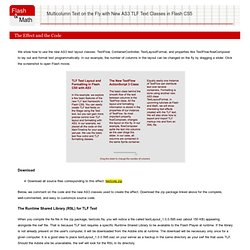 Multicolumn Text on the Fly with New AS3 TLF Text Classes in Flash CS5
FlexLayouts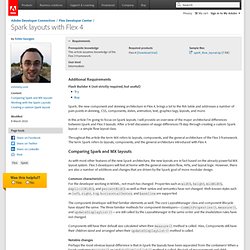 Spark layouts with Flex 4
As with most other features of the new Spark architecture, the new layouts are in fact based on the already powerful MX layout system.
Flex Layout – Types de Containers (Canvas, Form, Box, Grid …) « Adobe Flex Tutorial
Chaque type de conteneur présent dans le framework Flex a un ensemble de règles qui définissent la manière dont il arrange ses children.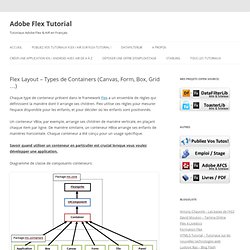 Posted by Holly Schinsky on Apr 26, 2010 in Flash , Flex 4 , Flex/AIR | 21 comments One of my favorite things about Flex 4 is that it now includes the Text Layout Framework (TLF) as the basis of many Spark text components such as RichText, RichEditableText, TextArea, and TextInput as well as any other components that utilize any of these as part of another component, such as the ComboBox, which includes a TextInput control for example.
Flex 4 and the Text Layout Framework | Devgirls Weblog