Financements
Home - Cyclos Project Site
Cyclos is a project of STRO, a leading organisation on monetary innovations. Cyclos offers a complete on-line payment system with additional modules such as e-commerce and communication tools. The Cyclos platform permits institutions such as local banks and MFI`s to offer banking services that can stimulate local trade and development. Cyclos is also used by many organizations and communities to provide community currency services. With the latest version it is possible to roll out mobile banking services such as SMS banking and apps for smartphones.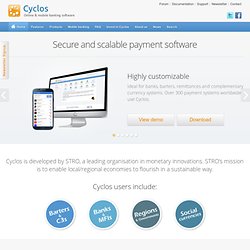 BitCoin - Virtual Currency
RippleWiki | Main / HomePage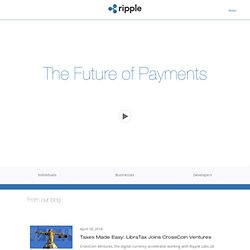 Ripple Debuts on "TV's No. 1 New Show" – NBC's The Blacklist Ripple is finding mainstream recognition as the fastest cross-currency exchange network, appearing last night on NBC's hit TV show The Blacklist. In a climactic scene, James Spader's character, Red, puts a suspected mole in the FBI to a high-pressure test: he must make a $5 million transfer before Red takes apart and reassembles his gun. […] New Year, New Team Members Ushering in 2014, Ripple Labs has welcomed three new faces to our business development, technology and product teams.
Complementary Currencies Virtual Currencies Community Exchange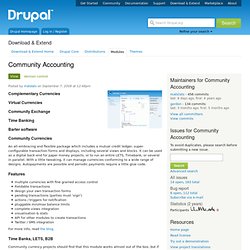 Local Currencies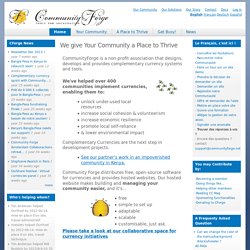 Free, online, local currency trading for your local economy | Community Forge
CommunityForge is a non-profit association that designs, develops and provides complementary currency systems and tools. We've helped over 400 communities implement currencies, enabling them to: unlock under-used local resources increase social cohesion & volunteerismincrease economic resilience promote local self-reliance& lowers environmental impact Complementary Currencies are the next step in promoting development projects. See our work in Kenya.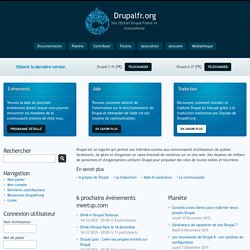 Maintenance des derniers jours Soumis par Guillaume Bec le Bonjour à tous,
Drupal France et francophonie
Fernie Exchange Resource Network | A currency for the Fernie community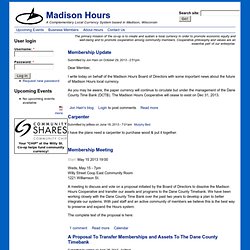 Friday March 29, 7pm at Wisconsin Institutes for Discovery Bernard Lietaer and Jacqui Dunne speak on their book Rethinking Money and talk about how we can create an economy of sustainable abundance here and now with tools we're already using. "This stunning book, should be required reading for every person who wants a world that works and a sustainable future for all of life." - Lynne Twist, Author of The Soul of Money RETHINKING MONEY: How New Currencies Turn Scarcity into Prosperity By Bernard Lietaer and Jacqui Dunne
Madison Hours | A Complementary Local Currency System based in Madison, Wisconsin
This module provides single entry accounting between members of your Drupal site. It is intended to run community currencies and barter networks, and is extremely flexible. About this demo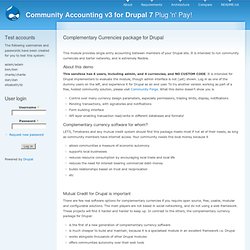 Complementary currencies for Drupal |
Richmond Independent Community Hours are an interest free local currency issued by mutual credit, meaning that anyone in the system with a need or want can issue it to anyone who has supplied that need or want. This decentralized approach means that RICH's are always in sufficient supply to go around, and can exist without the issuance of a central authority. This is an indirect time trading network. What we are trading is our time and effort represented by credits called Richmond Independent Community Hours or RICH's. The RICH's you earn can be spent with anyone in the system who is willing.
Richmond Independent Community Hours | In Each Other We Trust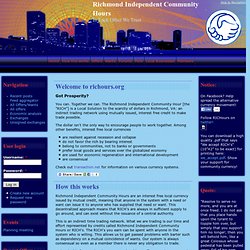 Flattr
Flattirl - Flattr goes IRL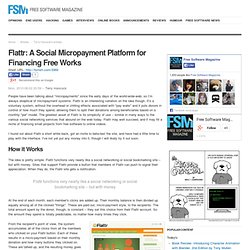 People have been talking about "micropayments" since the early days of the world-wide-web, so I'm always skeptical of micropayment systems. Flattr is an interesting variation on the idea though. It's a voluntary system, without the overhead or chilling effects associated with "pay walls" and it puts donors in control of how much they spend, allowing them to split their donations among beneficiaries based on a monthly "pie" model. The greatest asset of Flattr is its simplicity of use -- similar in many ways to the various social networking services that abound on the web today.
Flattr: A Social Micropayment Platform for Financing Free Works
Loans that change lives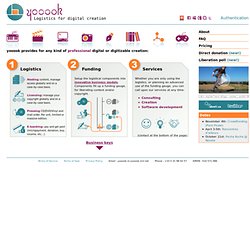 yooook - Logistics for digital creation
DownloadingLicensingPressingReward Once a content lies in the open on the Internet, any control of its copy becomes impossible. This dismisses remuneration models based on a per copy sale after the content's release. To remedy this yooook has invented a funding system placed before the release, where we still control the content.
Ulule.com | Make good things happen
Kachingle is a monetization, distribution, discovery, billing and co-marketing platform for apps and content. Kachingle utilizes network effect and allows users to customize their own bundles or select from pre-built bundles. Unique to Kachingle is the ability for partners to co-market with one another with just a simple API call. This, and our exclusive usage-based revenue sharing technology built on our proven micro-payment engine make Kachingle the monetization platform of the future. Kachingle - Different From Other App Revenue Models Many app vendors and content providers are not converting as many free and trial users to paying customers as they would like.
Kachingle - Social cents for digital stuff
Twollars | The currency of appreciation
Cet article a été publié il y a 3 ans 8 mois 5 jours, il est donc possible qu'il ne soit plus à jour. Les informations proposées sont donc peut-être expirées. En ces temps de crise financière, le moment idéal n'est-il pas venu pour créer votre banque ?
Des logiciels libres pour créer votre banque
BitCoin, un système monétaire décentralisé open source P2P et crypté
Cet article a été publié il y a 3 ans 5 mois 9 jours, il est donc possible qu'il ne soit plus à jour. Les informations proposées sont donc peut-être expirées. Vous avez du vous en apercevoir, la monnaie est un sujet auquel je m'intéresse depuis de nombreux mois.
Un article de Wikipédia, l'encyclopédie libre. Banque WIR La Banque WIR est une institution bancaire suisse qui émet sa propre monnaie pour faciliter les échanges économiques entre ses membres.
Banque WIR
Portail Banque WIR
PicoMoney
Boost web
LiquidBank
Matthew
Welcome on easyswap