Economics
It's the seedy underbelly of Washington, D.C. The hallways of Congress are often dark alleys of wasteful spending and pork-laden deal-making. Down these lanes, shadowy special interests and empire-building bureaucracies lie in wait to relieve innocent taxpayers of their hard-earned money. They spend billions on wasteful programs, pet projects, and the accumulation of personal power. They threaten to bankrupt our country as our national debt soars out of control. The victims often don't even know it's happening.
Dirty Spending Secrets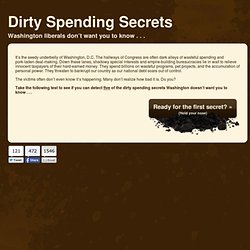 The clock is ticking. Every second, it seems, someone in the world takes on more debt. The idea of a debt clock for an individual nation is familiar to anyone who has been to Times Square in New York, where the American public shortfall is revealed. Our clock (updated September 2012) shows the global figure for almost all government debts in dollar terms. Does it matter? After all, world governments owe the money to their own citizens, not to the Martians.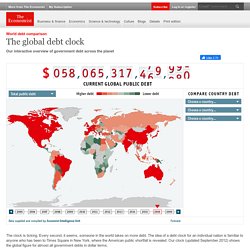 National Budget Simulation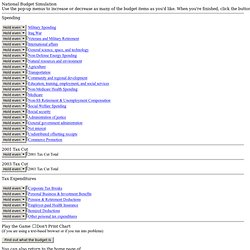 National Budget Simulation Use the pop-up menus to increase or decrease as many of the budget items as you'd like. When you're finished, click the button at the end of the document.
Visualizing the credit crisis
United States - Department of The Treasury - Homepage.
Any information you obtain from this site or made available to you from any site to which you may be directed is not intended to be legal, accounting, tax, investment or other professional advice. Although the information and recommendations at this Internet Web site (hereinafter "Information") are presented in good faith and believed to be correct, the author makes no representations or warranties as to the completeness or accuracy of Information. Information is supplied upon the condition that the persons receiving same will make their own determination as to its suitability for their purposes prior to use. In no event will the author be responsible for damages of any nature whatsoever resulting from the use of or reliance upon Information or the product to which Information refers. Third-party advertising companies may serve ads when you visit our website.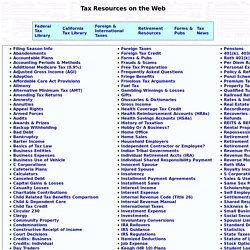 Tax Resources
Visual Guide to Deflation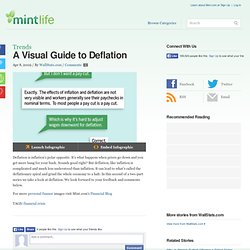 Deflation is inflation's polar opposite. It's what happens when prices go down and you get more bang for your buck. Sounds good right?
Update: See November 2009 Unemployment Rate for an updated look at the unemployment rate. The overall unemployment rate currently stands at 7.2 percent, a 15-year high according to Bureau of Labor Statistics. Each day since the current recession began, in December 2007, the news has been full of reports of job layoffs.
Unemployment Explained