Current Events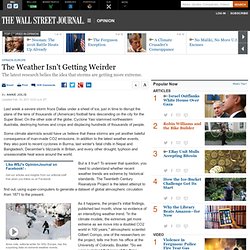 By ANNE JOLIS Last week a severe storm froze Dallas under a sheet of ice, just in time to disrupt the plans of the tens of thousands of (American) football fans descending on the city for the Super Bowl. On the other side of the globe, Cyclone Yasi slammed northeastern Australia, destroying homes and crops and displacing hundreds of thousands of people. Some climate alarmists would have us believe that these storms are yet another baleful consequence of man-made CO2 emissions. In addition to the latest weather events, they also point to recent cyclones in Burma, last winter's fatal chills in Nepal and Bangladesh, December's blizzards in Britain, and every other drought, typhoon and unseasonable heat wave around the world.
The Weather Isn't Getting Weirder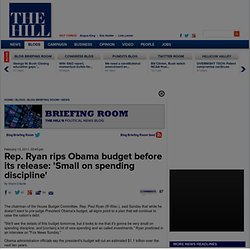 The chairman of the House Budget Committee, Rep. Paul Ryan (R-Wisc.), said Sunday that while he doesn't want to pre-judge President Obama's budget, all signs point to a plan that will continue to raise the nation's debt. "We'll see the details of this budget tomorrow, but it looks to me that it's gonna be very small on spending discipline, and [contain] a lot of new spending and so called investments," Ryan predicted in an interview on "Fox News Sunday."
Rep. Ryan rips Obama budget before its release: 'Small on spending discipline' - The Hill's Blog Briefing Room
U.S. National Debt Clock 2000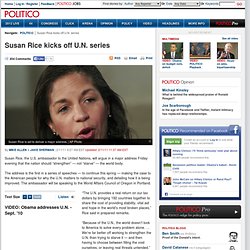 Susan Rice, the U.S. ambassador to the United Nations, will argue in a major address Friday evening that the nation should "strengthen" — not "starve" — the world body. The address is the first in a series of speeches — to continue this spring — making the case to the American people for why the U.N. matters to national security, and detailing how it is being improved. The ambassador will be speaking to the World Affairs Council of Oregon in Portland. Continue Reading VIDEO: Obama addresses U.N. - Sept. '10
Susan Rice kicks off U.N. series - Mike Allen and Jake Sherman
Gallup tracks daily the percentage of U.S. adults , ages 18 and older, who are underemployed, unemployed, and employed full-time for an employer, without seasonal adjustment. "Underemployed" respondents are employed part time, but want to work full time, or they are unemployed. "Unemployed" respondents are those within the underemployed group who are not employed, even for one hour a week, but are available and looking for work. Unemployment and underemployment are calculated as a percent of the workforce. Payroll to Population is a measure of those who are employed by an employer for at least 30 hours per week. Payroll to Population is calculated as a percent of the total population.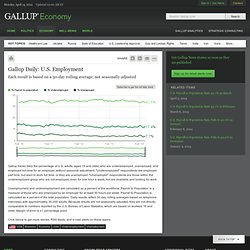 Daily: U.S. Employment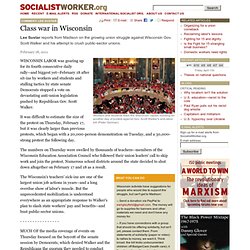 Class war in Wisconsin
Workers and students filled the Wisconsin capitol building for another day of protest against Gov. Scott Walker's anti-labor bill (Peter Gorman) WISCONSIN LABOR was gearing up for its fourth consecutive daily rally--and biggest yet--February 18 after sit-ins by workers and students and stalling tactics by state senate Democrats stopped a vote on devastating anti-union legislation pushed by Republican Gov.
Latest News - NCAA.org
Latest News Publish date: Mar 22, 2011 By Marta Lawrence NCAA.org Fans attending this year's March Madness games will be greeted by a video of Department of Homeland Security Secretary Janet Napolitano and NCAA President Mark Emmert encouraging them to "say something" if they see suspicious activities. The video, which will also appear at most other winter championship events, is part of a national campaign sponsored by Homeland Security to raise citizen awareness in high-profile environments such as major events and public transit. Security at the games has always been a priority for the NCAA, but the rapid growth of the Final Four in recent years has prompted the Association to assess security practices even more closely and to scale procedures to fit the constantly evolving environment.