Current Events
British Sites. Pundit Sites. The Weather Isn't Getting Weirder. Rep. Ryan rips Obama budget before its release: 'Small on spending discipline' The chairman of the House Budget Committee, Rep.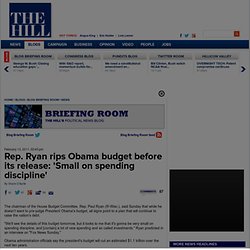 Paul Ryan (R-Wisc.), said Sunday that while he doesn't want to pre-judge President Obama's budget, all signs point to a plan that will continue to raise the nation's debt. "We'll see the details of this budget tomorrow, but it looks to me that it's gonna be very small on spending discipline, and [contain] a lot of new spending and so called investments," Ryan predicted in an interview on "Fox News Sunday. " U.S. National Debt Clock 2000. Susan Rice kicks off U.N. series - Mike Allen and Jake Sherman. Susan Rice, the U.S. ambassador to the United Nations, will argue in a major address Friday evening that the nation should "strengthen" — not "starve" — the world body.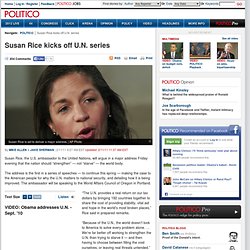 The address is the first in a series of speeches — to continue this spring — making the case to the American people for why the U.N. matters to national security, and detailing how it is being improved. The ambassador will be speaking to the World Affairs Council of Oregon in Portland. Continue Reading VIDEO: Obama addresses U.N. - Sept. '10. Daily: U.S. Employment. Gallup tracks daily the percentage of U.S. adults, aged 18 and older, who are underemployed, unemployed, and employed full-time for an employer, without seasonal adjustment.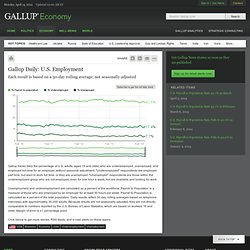 "Underemployed" respondents are employed part time, but want to work full time, or they are unemployed. "Unemployed" respondents are those within the underemployed group who are not employed, even for one hour a week, but are available and looking for work. Unemployment and underemployment are calculated as a percent of the workforce. Payroll to Population is a measure of those who are employed by an employer for at least 30 hours per week. Payroll to Population is calculated as a percent of the total population. Class war in Wisconsin. Workers and students filled the Wisconsin capitol building for another day of protest against Gov.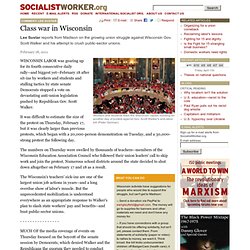 Scott Walker's anti-labor bill (Peter Gorman) WISCONSIN LABOR was gearing up for its fourth consecutive daily rally--and biggest yet--February 18 after sit-ins by workers and students and stalling tactics by state senate Democrats stopped a vote on devastating anti-union legislation pushed by Republican Gov. Atty. general: Ill. must release FOID card list. Preserving Cabrini-Green's images In the sharp sun of an April afternoon, Nate Lanthrum walks through the remains of Cabrini-Green giving away what he has taken.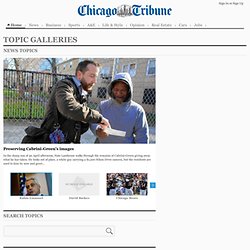 He looks out of place, a white guy carrying a $1,500 Nikon D700 camera, but the residents are used to him by now and greet... Blackhawks thrilled to have Brent Seabrook back Starting with Game 6 Sunday, Brent Seabrook's timeout will be over and the defenseman will be back on the ice — so long as he promises to play nice. The Blackhawks have done pretty well in Seabrook's absence, winning all three games the NHL...
---