Used
Font Preview - Google Font Directory
Good Web Fonts for Online Text
As we already know that the fonts are one of the most important parts of every web Project and choosing them is quit a difficult job for a web designer if his understanding of Typography is low. Our Last post 21 Most Used Fonts By Professional Designers helps you to get familiar with most used fonts which is not freely available. After getting several requests about professional fonts which is most famous and freely available for download in our last post in same series we again look around and end up with a list of 22 Most Used Free Fonts By Professional Designers on the basis of their usability and popularity. A Vintage or retro style design is meant to transport it's audience decades into the past. Designers try to do this by using various design elements such as textures and patterns from a certain time period. But it's also important to use accurate typography from the time period you are trying to represent.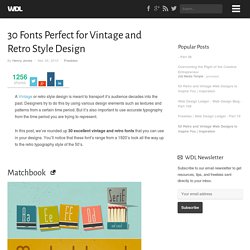 Hay redes sociales para todo tipo de gustos y aficiones. Desde las que agrupan a bigotudos hasta las que se preocupan por la salvación del alma, sin olvidar las dirigidas a o las que interpretan los sueños. El concepto de está ya bastante extendido, dado que entre los 400 millones de usuarios de Facebook cada vez es más difícil encontrar gente con intereses comunes, más allá de cultivar granjas virtuales o hacerse fan de grupos de señoras . Puestos a rebuscar, las hay de todo tipo.
Baquía: Las diez redes sociales más extrañas