Healthcare-Providers
Medical Careers
With over 9,000 community members, MomMD is the largest and best site devoted to women in medicine. Our goal is to encourage and support women physicians, residents, medical students, premeds and nurses not only in their careers but also in life and home. Physicians The challenges facing women physicians can appear daunting, but as our numbers grow healthcare institutions are beginning to recognize that they need to change.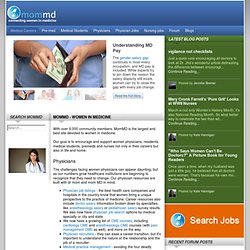 Physicians for Human Rights
Welcome to relaxdoc.com - A Physician's Community
American Association of Naturopathic Physicians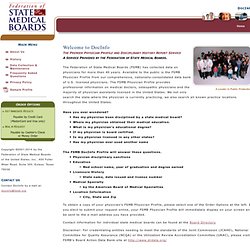 Welcome to DocInfo The Premier Physician Profile and Disciplinary History Report Service A Service Provided by the Federation of State Medical Boards. The Federation of State Medical Boards (FSMB) has collected data on physicians for more than 40 years. Available to the public is the FSMB Physician Profile from our comprehensive, nationally-consolidated data bank of U.S. licensed physicians. The FSMB Physician Profile provides professional information on medical doctors, osteopathic physicians and the majority of physician assistants licensed in the United States. We not only search the state where the physician is currently practicing, we also search all known practice locations throughout the United States.
DocInfo
Welcome to ABMS: Improving healthcare quality through board certification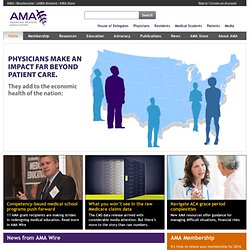 AMA Wire - 01/17/2014 AMA's leadership in medical ethics guides teachers and learners in medicine At its founding in 1847, members of the fledgling AMA revolutionized medicine through unanimous adoption of the world's first national code of professional medical ethics. Today, the AMA has three ethical opinions that emphasize the need for independence, transparency and accountability in continuing medical education and in interactions with the medical drug/device industry.
SF Doctors, New York City Doctor & DC Doctors — One Medical Group