Healthcare-Providers
Medical Careers. Physicians for Human Rights. Welcome to relaxdoc.com - A Physician's Community. American Association of Naturopathic Physicians. The Largest Online Network, Exclusive to Physicians | Sermo. DocInfo. Welcome to DocInfo The Premier Physician Profile and Disciplinary History Report Service A Service Provided by the Federation of State Medical Boards.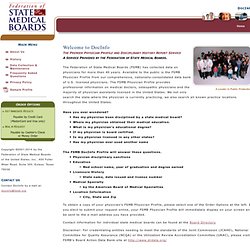 The Federation of State Medical Boards (FSMB) has collected data on physicians for more than 40 years. Available to the public is the FSMB Physician Profile from our comprehensive, nationally-consolidated data bank of U.S. licensed physicians. The FSMB Physician Profile provides professional information on medical doctors, osteopathic physicians and the majority of physician assistants licensed in the United States. We not only search the state where the physician is currently practicing, we also search all known practice locations throughout the United States.
Healthcare-Providers
Welcome to ABMS: Improving healthcare quality through board certification. American Medical Association - Physicians, Medical Students & Patients (AMA) SF Doctors, New York City Doctor & DC Doctors — One Medical Group.
---