Activites to make ASAP
Outdoor Color Match. For a fun time, put paint chip cards of different colors on a binder ring, and punch a large hole in each shade.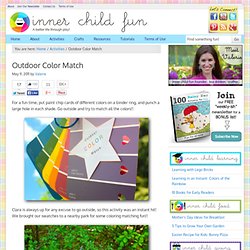 Go outside and try to match all the colors!! Clara is always up for any excuse to go outside, so this activity was an instant hit! We brought our swatches to a nearby park for some coloring matching fun!! There was lots of running — great exercise!! …and excitement when colors were matched! Quiet Time Boxes. I saw the best idea on another blog... i dont remember where or i would tell you, but anyways the idea was for quite time boxes.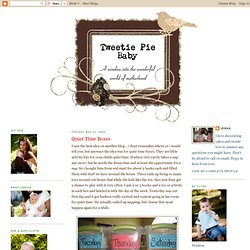 They are little activity kits for your childs quiet time. Hudson very rarely takes a nap any more, but he needs the down time and at least the opportunity for a nap. So i bought bins from wal-mart for about 2 bucks each and filled them with stuff we have around the house. There ends up being so many toys around our house that while the kids like the toy, they just dont get a chance to play with it very often. Quiet Book. I'm really excited to share this project with you.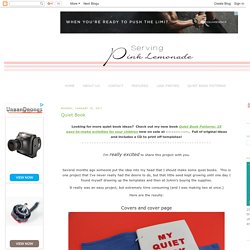 Several months ago someone put the idea into my head that I should make some quiet books. This is one project that I've never really had the desire to do, but that little seed kept growing until one day I found myself drawing up the templates and then at JoAnn's buying the supplies. It really was an easy project, but extremely time consuming (and I was making two at once.)
Here are the results: Covers and cover page. Wacky Sacks. Hopscotch. Car mat. Flannel Friday: Letter Puzzles | storytime katie. [Edited to add: I cannot upload these puzzles, as I do not have the right to distribute Microsoft Office clipart.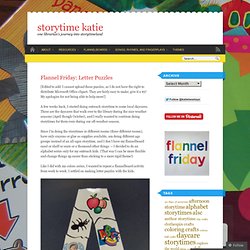 They are fairly easy to make; give it a try! My apologies for not being able to help more!] A few weeks back, I started doing outreach storytime to some local daycares. These are the daycares that walk over to the library during the nice weather seasons (April though October), and I really wanted to continue doing storytimes for them even during our off-weather-season. Church Busy Binder.
---