Pixel
Ascii
The Spriters Resource | Main Page. Play This Thing! | Game Reviews | Free Games | Independent Games | Game Culture. Pxfón : Create pixel type for use with Cufón. Flip Flop Flyin' - Minipops. J U D E B U F F U M [ I L L U S T R A T I O N + D E S I G N ] Game graphics for 3 online games to promote Polish energy drink "Tiger".Game Design, Illustration, Motion Graphics2014 Gallery: iam8bit Exhibition: SUPER iam8bit For iam8bit's (semi) annual mega art show celebrating the art of video games, I created Magna Arbor Vitae Deku (traslated "The Great Deku Tree of Life") a sprawling exploration of the evolutionary biology of the 200 most important species from the Legend of Zelda video game series.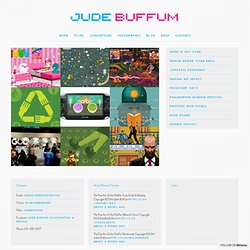 Complete with binomial Latin names (Zora bellator and Zora fluvialis share a common ancestor with the more peaceful species Zora sapien, for example), the brances of the Deku tree trace the evolution of each species over millions of years. Urban - Magazine participatif et interactif dédié aux cultures urbaines | Craig Robinson teste votre culture musicale : de Abba à Zappa. Chaque année le festival Rock en Seine présente une nouvelle exposition liée à la musique durant son festival.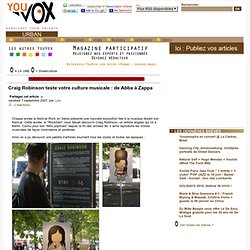 Cette année, le "Rockfolio" nous faisait découvrir Craig Robinson, un artiste anglais qui vit à Berlin. Connu pour ses "Mini popstars" depuis la fin des années 90, il aime reproduire les icônes musicales de façon minimaliste et pixélisée. vendredi 7 septembre 2007, par Lyte. Sprite Database:
Jude Buffum Art/Design/Illustration. Photoshop Pixel Art Tutorials - Search for Photoshop Tutorials on Pixel2Life. • babettedesign • » Pixel Art Tutorials. MATRIAX PIXEL ART TUTORIAL. ISOMETRIC KID'S SWIMMING POOL -Difficulty ( Medium ) 2003 PISCINA PARA NIÑOS ISOMETRICA-Dificultad ( Media ) 2003 ISOMETRISCHER SWIMMINGPOOL FÜR KINDER-Schwierigkeit ( Durchschnitt ) 2004 РАВНОВЕЛИКИЙ БАССЕИН - Затруднение ( Средство ) 2003 SHINING SURFACES -Dificulty ( Medium ) 2004 REFLEJOS -Dificultad ( Media ) 2004.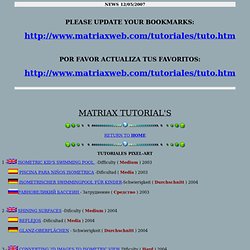 ---