Pixel
Hey everyone. After an incredibly stressful three days, we're back up to 100%. It took a lot of work and some interesting processes to make it happen but we've managed to recover everything that was lost. So, first of all, let me once again sincerely apologize for this huge screw-up on my part. It was a stupid mistake but one what was almost catastrophic and I'm truly sorry, both to the community for the inconvenience and to Dazz especially for almost ruining his site. And on the subject of Dazz, I'd like to extend an enormous thank you to Dazz, Charlie, and Rob, all of whom were instrumental in the recovery effort.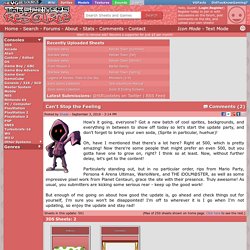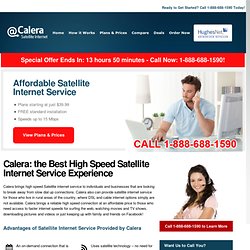 i saw her standing there is a nice little puzzle platformer with a fairly novel core mechanic and a somewhat disquieting backstory. You control the player character with WASD or the arrow keys; "up" is a jump. A second (pink, inevitably) character moves toward you when you are sufficiently close; your goal is to guide her to a cage ("I loved her but she was a zombie, so I kept her safe in a cage"). Since she is a zombie, if she touches you, you die and must restart the level; but apparently she doesn't mind being caged, because a heart appears above her when you guide her there. Not that it's really relevant to gameplay, but why is it that when games go here, the active character is always gendered male? And while I don't have any moral qualms about mutually consensual restraint (in face I, ah... better not go there), this is a pretty disquieting subtext from a gender political point of view.
Pxfón : Create pixel type for use with Cufón
Flip Flop Flyin' - Minipops
J U D E B U F F U M [ I L L U S T R A T I O N + D E S I G N ]
Game graphics for 3 online games to promote Polish energy drink "Tiger".Game Design, Illustration, Motion Graphics2014 Gallery: iam8bit Exhibition: SUPER iam8bit For iam8bit's (semi) annual mega art show celebrating the art of video games, I created Magna Arbor Vitae Deku (traslated "The Great Deku Tree of Life") a sprawling exploration of the evolutionary biology of the 200 most important species from the Legend of Zelda video game series. Complete with binomial Latin names (Zora bellator and Zora fluvialis share a common ancestor with the more peaceful species Zora sapien, for example), the brances of the Deku tree trace the evolution of each species over millions of years.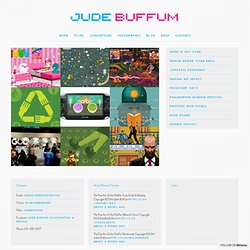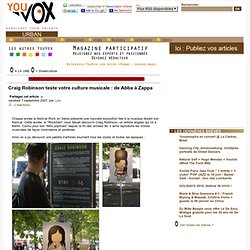 Urban - Magazine participatif et interactif dédié aux cultures urbaines | Craig Robinson teste votre culture musicale : de Abba à Zappa
Chaque année le festival Rock en Seine présente une nouvelle exposition liée à la musique durant son festival. Cette année, le "Rockfolio" nous faisait découvrir Craig Robinson, un artiste anglais qui vit à Berlin. Connu pour ses "Mini popstars" depuis la fin des années 90, il aime reproduire les icônes musicales de façon minimaliste et pixélisée. vendredi 7 septembre 2007, par Lyte
Hello, readers, and welcome to the new-for-2014 SDB. That's right, once again a new year has brought with it a new site design, and many new features along with it. For example: First off, the customs section. Customs now have ICONS! This feature took far longer to get done than I'd like to admit, especially since once I sat down and got to work on it, it wasn't hard at all.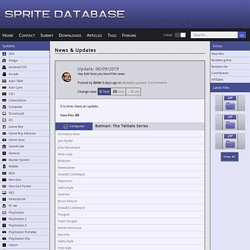 Jude Buffum Art/Design/Illustration - a set on Flickr
Photoshop Pixel Art Tutorials - Search for Photoshop Tutorials on Pixel2Life
• babettedesign •
» Pixel Art Tutorials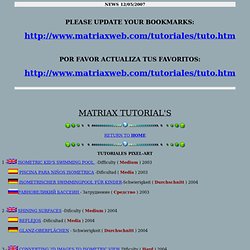 MATRIAX PIXEL ART TUTORIAL
ISOMETRIC KID'S SWIMMING POOL -Difficulty ( Medium ) 2003 PISCINA PARA NIÑOS ISOMETRICA-Dificultad ( Media ) 2003 ISOMETRISCHER SWIMMINGPOOL FÜR KINDER-Schwierigkeit ( Durchschnitt ) 2004 РАВНОВЕЛИКИЙ БАССЕИН - Затруднение ( Средство ) 2003 SHINING SURFACES -Dificulty ( Medium ) 2004 REFLEJOS -Dificultad ( Media ) 2004