DIY Chadeliers.
Paper Starburst Pendant Light. So I had a different project that I was going to post today, an update version of my Book Pages Pendant Lantern from Project 19, but then I started working on this light idea, and I am so excited by the results I just couldn't wait to show you guys!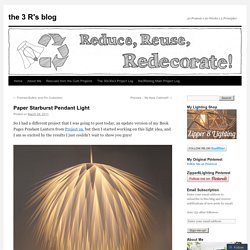 My inspiration and guide was this light from Design*Sponge, that I spotted on Pinterest. I really liked the idea, and I had a roll of white vellum lying around left over from college that I thought would look beautiful. So I started cutting triangles. And then I started glueing. And cutting more and glueing more. DIY Lightshade. Freshly Picked: How to Make a Chandelier. DIY Capiz Shell Chandeliers -Cant believe they're faux! To make a capiz shell chandelier is time consuming, but so worth the effort!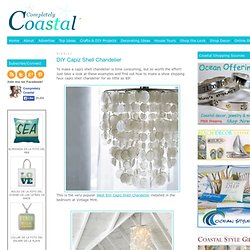 Just take a look at these examples and find out how to make a show stopping faux capiz shell chandelier for as little as $9! This is the very popular West Elm Capiz Shell Chandelier installed in the bedroom at Vintage Mint. And an even dreamier version! This one had been on Susan's wish list for a long time, but it was out of her price range. DIY Fabric Chandelier | DIY Projects. D.I.Y. Oversized Fabric Garland Chandelier. Make a statement piece in your home out of supplies you already have on hand!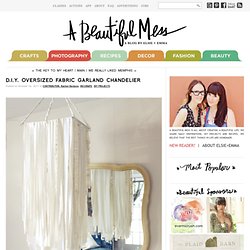 I designed my oversized fabric garland chandelier to fit over our table but you could also use it in a corner that needs a little more excitement, above a reading nook in a child's bedroom, or as the backdrop for your next holiday party. You'll need: 1 wire cooling rack, 2-3 yards of fabric in different shades, 1 strand of twinkle lights, 1 white extension cord, lace, chenille, embroidery thread, a needle, two hooks that screw into a wall, a drill. 1. cut strips of fabric in varying widths (1/2" - 2") for depth. 2. create texture with strips by stitching loosely through them with embroidery thread and then bunching them up before tying a knot.
Spread them out evenly along your thread and leave enough string at the end to tie it to the cooling rack.
---