Music
Welcome to Microphones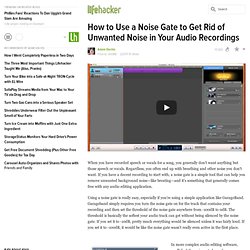 How to Use a Noise Gate to Get Rid of Unwanted Noise in Your Audio Recordings
When you have recorded speech or vocals for a song, you generally don't want anything but those speech or vocals. Regardless, you often end up with breathing and other noise you don't want. If you have a decent recording to start with, a noise gate is a simple tool that can help you remove unwanted background noise—like breating—and it's something that generally comes free with any audio editing application. Using a noise gate is really easy, especially if you're using a simple application like GarageBand. Garageband simply requires you turn the noise gate on for the track that contains your recording and then set the threshold of the noise gate anywhere from -100dB to 0dB. The threshold is basically the softest your audio track can get without being silenced by the noise gate.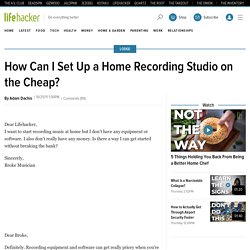 Dear Lifehacker, I want to start recording music at home but I don't have any equipment or software. I also don't really have any money. Is there a way I can get started without breaking the bank? Sincerely, Broke Musician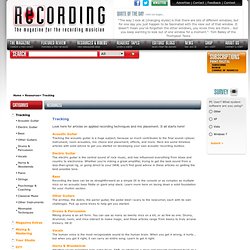 Look here for articles on applied recording techniques and mic placement. It all starts here! Acoustic Guitar Tracking the acoustic guitar is a huge subject, because so much contributes to the final sound—player, instrument, room acoustics, mic choice and placement, effects, and more.
- Tracking : Resource Library and More Information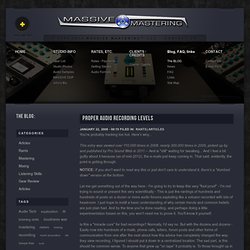 NOTICE: If you don't want to read any this or just don't care to understand it, there's a "dumbed down" version at the bottom. Let me get something out of the way here - I'm going to try to keep this very "fool proof" - I'm not trying to sound or present this very scientifically - This is just the rantings of hundreds and hundreds of posts on a dozen or more audio forums exploding like a volcano recorded with lots of headroom. I just hope to instill a basic understanding of why certain trends and common beliefs are just plain bad.
Making a Cello
As I showed in the previous posting, the top and back have different archings – the top has a pronounced saddle, or flattening, in the middle. To understand why we have to take a brief detour into the land of acoustics. But one as seen through the eyes of a violinmaker – which is the difference between an engineer explaining the airplane you're sitting in, cruising over the Atlantic four miles up, versus the guy with the tuna sandwich who was sitting out on the wing with a screwdriver an hour before you took off. Acoustics, like the instrument itself, is as much art as it is science; which means that when you get down to it, there's as much theory as there is settled fact. So what follows is a combination of what I've been told and what I've read, seasoned by thirty-five years of trial and (ok, very occasionally) error and over seventy cellos (I suppose you could count the violins and violas, too; they work the same way).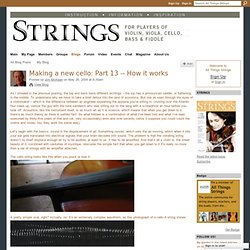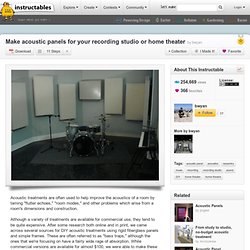 Acoustic treatments are often used to help improve the acoustics of a room by taming "flutter echoes," "room modes," and other problems which arise from a room's dimensions and construction. Although a variety of treatments are available for commercial use, they tend to be quite expensive. After some research both online and in print, we came across several sources for DIY acoustic treatments using rigid fiberglass panels and simple frames. These are often referred to as "bass traps," although the ones that we're focusing on have a fairly wide rage of absorption. While commercial versions are available for almost $100, we were able to make these panels for about $24 each. We can not take credit for this design, but have combined several people's ideas into a step-by-step guide.