Travel
Five Amazing Places Of Worship. Amazing Places Of Worship: Wat Rong Khun, Thailand An architectural wonder of Thai artist Chalermchai Kositpipat, Wat Rong Khun is found in Chiang Rai, Thailand.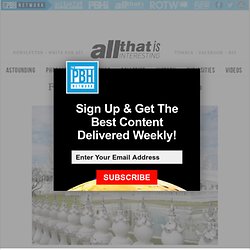 The beautiful Buddhist and Hindu temple is an all-white and highly ornate structure rich with mosaic mirrors and symbolism. The white color stands for Buddha's purity and the white glass stands for Buddha's wisdom that "shines brightly all over the Earth and the Universe." What's more, a bridge leading to the temple represents the crossing over from the cycle of rebirth to the Abode of Buddha; the small semicircle before the bridge represents the human world and the large, fang-filled circle represents hell and suffering. The temple's interiors are decorated with paintings and, amazingly, the building is still under construction! Muskegon MI Bed and Breakfast Muskegon Michigan Bed and Breakfast Muskegon Bed and Breakfast.
Cocoa Cottage B&B Award Winning Cuisine! Our most requested item is Larry's Cottage Eggs.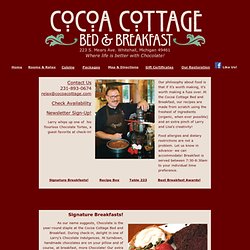 Baked and served in a delicate crepe cup with Gruyere cheese, shallots and a hint of tarragon. Maple smoked bacon is served as the perfect compliment. Canadian Train Travel, Trips, Rail Journeys, Vacations, Holidays: Rocky Mountaineer. Hashima aka Gunkanjima: Photos of desolate Battleship Island off the coast of Japan. By Kerry Mcqueeney Published: 20:44 GMT, 6 April 2012 | Updated: 23:44 GMT, 7 April 2012 Deserted, decaying and crumbling into the sea.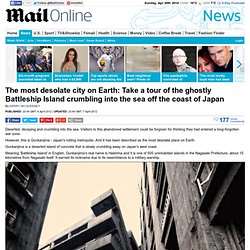 Visitors to this abandoned settlement could be forgiven for thinking they had entered a long-forgotten war zone. However, this is Gunkanjima - Japan's rotting metropolis. The Town With No Roads. TRAILER PALACE. Nick, I'm staying at the most wonderful place in Joshua Tree!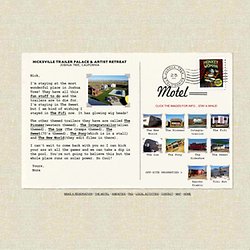 They have all this fun stuff to do and the trailers are to die for. I'm staying in The Sweet but I am kind of wishing I stayed in The Fifi now. It has glowing wig heads!
---