Interesting
Pop Danthology 2012 - Mashup of 50+ Pop Songs. The Latest & Greatest Resources Online. Bookmarking useful websites in college is on every student's to do list.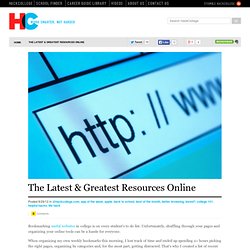 Unfortunately, shuffling through your pages and organizing your online tools can be a hassle for everyone. When organizing my own weekly bookmarks this morning, I lost track of time and ended up spending 2+ hours picking the right pages, organizing by categories and, for the most part, getting distracted. That's why I created a list of recent web pages & online tools for HC- saving you time and bringing you online updates you'll definitely use at some point in your college career. There are so many useful sites out there today, and this is only a fragment of the lists I have put together in the past. Instructables - Make, How To, and DIY. 25 Handy Words That Simply Don't Exist In English. Approximately 375 million people speak English as their first language, in fact it's the 3rd most commonly spoken language in the world (after Mandarin Chinese and Spanish).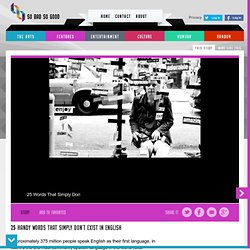 Interestingly enough it's the number 1 second language used worldwide - which is why the total number of people who speak English, outnumber those of any other. But whilst it's the most widely spoken language, there's still a few areas it falls down on (strange and bizarre punctuation rules aside). We look at 25 words that simply don't exist in the English language (and yet after reading this list, you'll wish they did!) 1 Age-otori (Japanese): To look worse after a haircut 2 Arigata-meiwaku (Japanese): An act someone does for you that you didn't want to have them do and tried to avoid having them do, but they went ahead anyway, determined to do you a favor, and then things went wrong and caused you a lot of trouble, yet in the end social conventions required you to express gratitude. DIY Ideas. Hostels and Guest Houses | Inbedme. Email Large Documents Free - LargeDocument.com Beta1.
Norton Safe Web, from Symantec. Sleepyti.me bedtime calculator. Love & Sex. LucyPhone.com - Never Wait on Hold Again. Adorn your wall with rasterbations. Rasterbating is by far the cheapest, easiest and coolest way to fill an entire wall with art.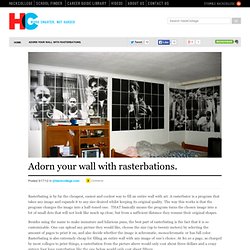 A rasterbator is a program that takes any image and expands it to any size desired whilst keeping its original quality. The way this works is that the program changes the image into a half-toned one. Instant Grammar Check - Online Proofreading | Grammarly. Dashboard. User Manual, users guide, operation instruction - StumbleUpon. Why "High-Functioning" Psychopaths Rule The World. In general, most people are very complex and can exhibit different personality traits at different times.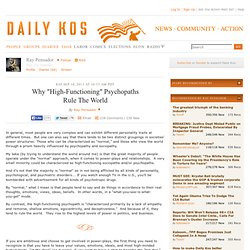 But one can also say that there tends to be two distinct groupings in societies' power structures: Those who can be characterized as "normal," and those who view the world through a prism heavily influenced by psychopathy and sociopathy. My take (by trying to understand the world around me) is that the great majority of people operate under the "normal" approach, when it comes to power-plays and relationships. A very small minority could be characterized as high-functioning sociopaths and/or psychopaths.
And it's not that the majority is "normal" as in not being afflicted by all kinds of personality, psychological, and psychiatric disorders... Proxify® anonymous proxy - surf the Web privately and securely. Playtype | Typographer's Glossary. Serif: Serif's are semi-structural details on the ends of some of the strokes that make up letters and symbols.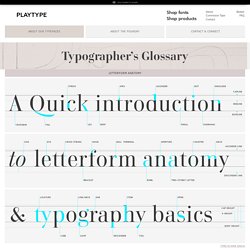 A typeface that has serifs is called a serif typeface (or seriffed typeface). Some of the main classifications of Serif type are: Blackletter, Venetian, Garalde, Modern, Slab Serif, Transitional, and Informal. Fonts in each classfication share certain similiar characteristics including the shape or appearance of their serifs.
---